A Conservative spokesman says a "donate now" button that appeared on a party website urging Canadians to stand up to terrorism after this week's Paris attack was not part of a fundraising drive, and was removed to avoid "confusion."
Cory Hann, director of communications for the party, made the remarks to The Huffington Post Canada via email after a number of people online accused Tories of using the French tragedy to solicit donations.
Liberal foreign affairs critic Marc Garneau posted a screengrab of the site to Twitter Friday morning, accusing Tories of crassly "fundraising off an ongoing terrorist act."
But others suggested that since a button soliciting donations can be found in the top right corner of most Conservative Party pages, it was likely part of a template.
Hann says that's exactly the case.
"This was not, and is not, a fundraising campaign," he said in the email Friday. "This was to inform Canadians about the Prime Minister's strong remarks yesterday against the despicable terrorism in Paris."
Hann said the donation button is a built-in feature that exists on every page of the site.
"That said, to avoid any confusion we have had our web editor remove the button from this particular page," he said.
The site features a video of Prime Minister Stephen Harper reacting to the attack on French satirical newspaper Charlie Hebdo. On Thursday, Harper called the shooting an assault on freedom of expression, freedom of the press and democracy itself.
But the page also invites supporters to provide information that would be very useful for a party building up its voter database.
"Add your name to support strong leadership," the site reads, with open fields for a visitor to enter his or her name, email, and postal code.
While collecting such information is a common practice for many political parties, including the Liberals, some didn't see much of a distinction between seeking donations after the Paris attack and seeking names for potential fundraising lists to be used later.
New Democrat MP Charlie Angus told The Canadian Press he was sick in his stomach when he saw the site, accusing the Conservative party of trying to make money off of horrific bloodshed.
"So now what they're doing is they're collecting your information, if you want to be really angry about this, and then they'll send you a fundraising request afterwards,'' Angus said.
"They are using for their own political advantage the deaths of innocent people in other countries."
Amid the hubbub on Friday, a few pointed out on Twitter that a donation button could also be found on a Liberal Party site page featuring Justin Trudeau's speech after the shootings in Ottawa.
A small green "donate" icon was present in top right corner of the NDP website on Wednesday, above Thomas Mulcair's comments about the Paris tragedy.
Here is a screengrab of the Conservative site as it originally appeared, with the red donation button in the top right.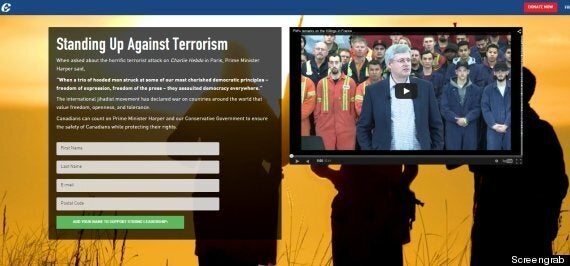 With files from The Canadian Press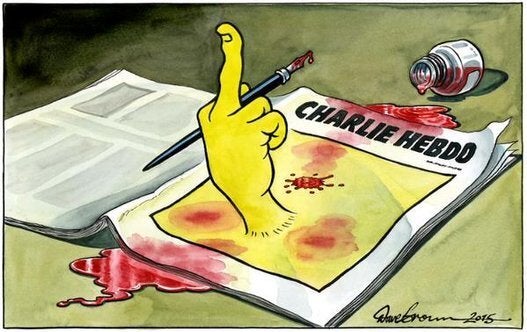 Cartoonists React To Paris Attack