By now we can all pretty much expect Paris Hilton to wear something sexy for Halloween, so we weren't disappointed when the heiress attended a Halloween party in a revealing costume.
The former "The Simple Life" star accessorized the racy outfit with a quilted Chanel bag, blue pumps and white sunglasses
Paris didn't wear just any plain ol' bunny suit. Kim Kardashian's former bestie styled her blue bustier with sparkling crystals and massive furry ears, as opposed to the more traditional bunny costume.
Luckily for us, the blond beauty posted a ton of pics of her outfit on her Instagram page.
Even "Karl Lagerfeld" was at the party!
"By the way, to all the people who can't take a joke. I was kidding," she said. "I wasn't really dressed as a #PlayboyBunny. I was 5 years old & had no idea what that was. I was just dressed as a bunny on Halloween."
Paris isn't the only celebrity who's dressed up for Halloween: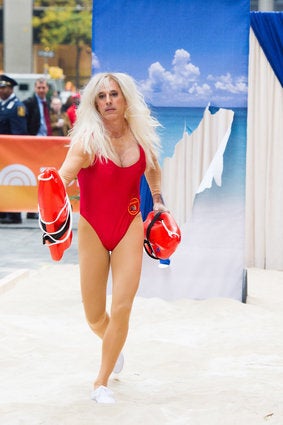 Amazing Celebrity Halloween Costumes