Another Conservative MP has spoken out against Ontario's new sexual education curriculum and attempted to link the policy to federal Liberals, this time through a taxpayer-funded mailout.
Brampton–Springdale MP Parm Gill sent a letter to his constituents seeking "feedback" about the curriculum, which he disparaged as "graphic and explicit." However education policy is set by the provinces, meaning Gill and the federal government have no jurisdiction over the curriculum. A photo of the letter was posted to social media this week.
At no point in the mailout does Gill draw a distinction between Kathleen Wynne's Ontario Liberals, who are updating how sex ed is taught in the province for the first time in 17 years, and the federal Liberals who have nothing to do with the policy.
Gill states in the letter that many constituents have contacted him to voice opposition to the curriculum change and that, as a father of three, he shares those concerns.
"This attack on parents' right as first educators builds on the Liberal agenda of attacking our family values," he writes.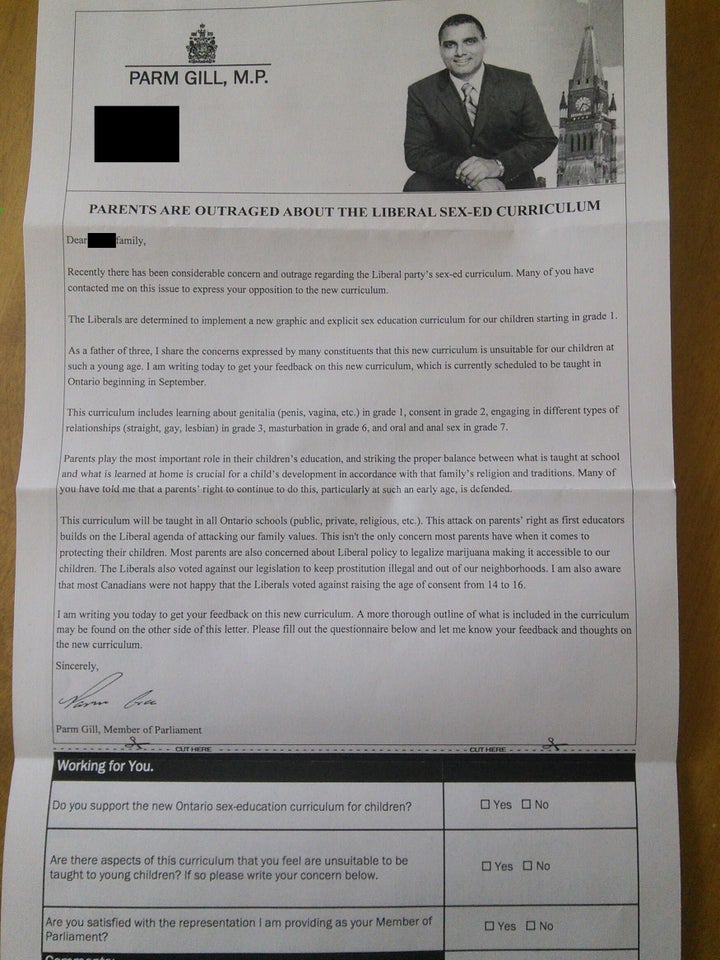 Gill then shifts to discussing decisions made by federal Grits.
"Most parents are also concerned about Liberal policy to legalize marijuana making it accessible to our children," he writes. "The Liberals also voted against our legislation to keep prostitution illegal and out of our neighbourhoods.
"I am also aware that most Canadians were not happy that the Liberals voted against raising the age of consent from 14 to 16."
Federal Liberal Leader Justin Trudeau maintains that legalizing and regulating pot will actually do more to keep it out of the hands of kids. Liberals voted against Bill C-36, the Tories' anti-prostitution legislation.
Canada's age of consent was increased from 14 to 16 as part of an omnibus crime bill that passed the House of Commons in 2007, before Trudeau was even elected as an MP. Liberals voted for the bill, but walked out of a later confidence vote in February, 2008, that sought to force the Senate to pass the legislation quicker.
The mailout also includes a questionnaire asking whether or not constituents support the Ontario sex ed curriculum, believe some aspects are unsuitable for children, and are satisfied with the job Gill's doing as MP.
Gill's letter comes a month after Tory MP Cheryl Gallant rose in the House of Commons to "demand" Trudeau "order" Wynne to scrap the curriculum.
Gallant claimed the policy was written by Benjamin Levin, a former deputy minister of education who has pleaded guilty to child pornography charges.
"If withdrawal of this Liberal policy can prevent one child from being groomed for exploitation, it really must be withdrawn," she said.
Ontario Liberals deny Levin, who was on Wynne's transition team when she took office, had anything to do with developing the curriculum. Ontario Education Minister Liz Sandals called the MP's rant "outrageous" and "disgusting."
Under the changes to Ontario's sex ed curriculum, Grade 1 students will — like in the past — learn the proper names for body parts, including genitalia.
Grade 3 students will learn about same-sex relationships, kids in Grades 4 and up will learn more about the dangers of online bullying, while lessons on the dangers of sexting will come in Grade 7.
Lessons on puberty will move from Grade 5 to Grade 4, while masturbation and "gender expression" are mentioned in the Grade 6 curriculum.
Sandals has accused Conservative groups of pushing opposition to the changes. Wynne, Canada's first openly gay premier, has also said some of the protesters are motivated by homophobia.
With files from The Canadian Press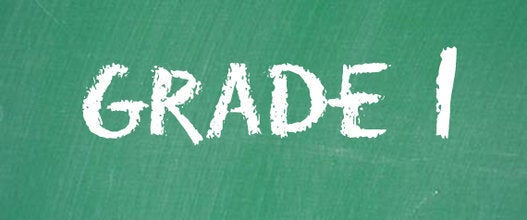 Sex Ed In Ontario

Popular in the Community