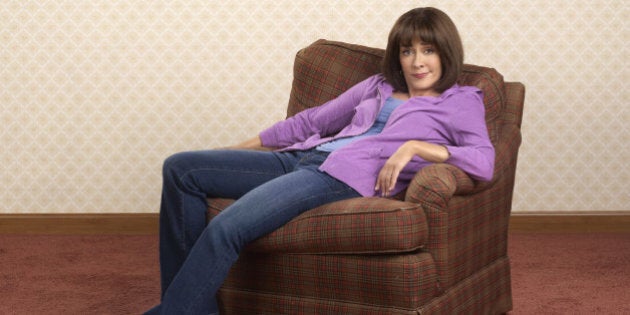 There's no denying it: everybody loves Patricia Heaton. After nine seasons of "Everybody Loves Raymond," the Emmy Award-winning actress struck gold again with "The Middle." The sitcom -- now in its fifth season -- revolves around suburban mom Frances "Frankie" Heck and her husband Mike's (Neil Flynn) parental woes as they raise their three quirky children. Heaton took time out of her busy schedule to chat with HuffPost Canada TV about stepping back into mommy territory, being inspired by real-life antics and how "The Middle" should end.
HuffPost TV: Looking at "Everybody Loves Raymond" and now "The Middle," what keeps playing a TV mom and wife fresh?
Patricia Heaton: When I got the script for "The Middle," I thought to myself, "Gee, do I really want to play another mom on a sitcom?" Yet as I looked at it, I realized Frankie is the Ray Barone of the series. I was the long-suffering wife Debra to Ray's bumbling, fumbling well-intentioned, but always-messing-up husband. And now Neil is the long-suffering husband to Frankie Heck, who is bumbling and fumbling and well-intentioned and always messing up. So, now I get to play the other side of it. It's more like playing Lucille Ball. It's more like "I Love Lucy," where it's the wife at the centre. I hadn't seen that for a while.
You've stated in the past that a lot of "The Middle" resonates with you. If art imitates life, when was the last time you had a sense of déjà vu?
I have given story ideas to them that we've executed. We will have conversations. In my house a few years ago, I insisted over the objections of my husband and children that we host a foreign exchange student. It happened when I was growing up. The people across the street hosted these four Italian guys that they met at a church pot luck dinner and brought them home to stay with them. It also brought the outside world into our little Midwestern life. I thought it would be great to have my boys have this person and see this. We got this very silent Japanese boy for 10 days, who kind of stood in a corner and stared at us. It was like "The Ring." I just felt like, "It's the ugly Americans." Everything we had was too much, too big or too loud.
I said to Elieen Heisler, who created the show, "I have a lovely life. If I feel bad about somebody coming in and watching our lives, can you imagine how the Hecks would feel?" As a result, we had this episode where this Japanese student comes and stares at them for 10 days.
Can you preview your next two holiday-themed episodes, "Thanksgiving V" and "The Christmas Tree"?
The Thanksgiving episode is about everybody hiding secrets. We think we're going to have a very simple holiday with just my parents. It ends up being 11 people. Unexpected people show up. Everyone has a secret that explodes during the evening. Christmas is where nobody is coming to our house. Mike is so happy that it's just going to be us [immediate family]. I'm so happy because Axl (Charlie McDermott) is coming home from school and we get to have him for a couple of weeks during his holiday break. He doesn't want to spend any time with us. He wants to go off with his friends. There's a big fight about him spending time with his family and how to treat him as an adult.
That really resonates with me. My oldest son is in college. You miss him so much that you just want to hang out with them when they come home and frankly, they have completely independent lives. They have friends you don't know and they go places you haven't been. It's hard to connect with them and they want to be on their own. It's a hard adjustment for parents to make and that's what Frankie goes through.
How surreal was it reuniting with your "Everybody Loves Raymond" co-stars Ray Romano and Doris Roberts on "The Middle?"
It was fantastic. In fact, I think we're trying to get Brad Garrett too. The wonderful thing about show business is the people you meet and the opportunity to act with them again. To have projects connect and overlap like that is so much fun. It's a celebration and acknowledgement of your history together. Everybody has gone through a lot to get where we are. We all have war stories about struggling and then fond, funny stories about working together. It's these warm homecoming feelings when you get back together that are so great.
What did it mean to be hitting that milestone 100th episode this season? And how much longer do you think "The Middle" could and should go on?
It was incredible to hit the 100th episode. It's like when you have kids. When they're little, there are times when the day just won't end. If you have to put in another tape of "Dora The Explorer," you're gonna put a gun in your mouth. Then, suddenly, they're in college and you're like, "Oh my God, it went so fast." The 100th episode is like that. Right now, where we're shooting in the season, we're all feeling a little like, "Oh, if we can just get to Christmas break. We're tired." Then, suddenly, it's like, "Oh my gosh. The season is over. How is that possible?" It's that same, weird time-expansion feeling that goes on with kids that you have with the show. It's unbelievable that we're in our fifth season. I don't know where it went and sometimes I feel we all just met each other a few months ago.
As for how long it should go, we discuss it a lot. The writers have done a successful transition of Axl to the local college, so that he comes home if he wants to get food or laundry done. He can come home for the holiday breaks and I love going to his dorm room. I love seeing him there. This past week, Axl brought Brick (Atticus Shaffer) to school to help him with all the classes he's failing. Axl has his own life, but he's still a part of the show and the family. Sue (Eden Sher) is a junior in high school chronologically, so next year would be her last year there. We've discussed what's going to go on with her and how to keep that going. So, it's a matter of wanting to do stuff in an organic way that maintains the integrity of the show. I think you could do it at least for a seventh season.
Frankie was forced to re-evaluate her job situation after being fired in Season 4. How do you envision her further evolving?
Because Sue is getting out of the house, it would be interesting to see Frankie and Mike's relationship change, or have them look at their relationship. You get in the groove of how the family operates. Who's taking the kids to school? Who's doing the football games on the weekend? Are we taking a family vacation this summer? You get in this cycle and it would be funny for Frankie and Mike to have to break out of that and look at each other and who they are together.
It sounds like you have plenty of input into the scripts. Whenever the series ends, what do you think the very last story should be?
Oh my gosh. You're making me tear up just thinking about it. I hope it ends with a baby. Maybe Darrin (John Gammon) is the one for Sue. Maybe they get married. Or maybe Axl gets married and Sue gets a great job at some corporation. I don't know. Now that you put that question to me, I'm thinking maybe we do have a couple of more years to go.
"The Middle" airs on Wednesdays at 8 p.m. EST on ABC in the U.S. and on City in Canada.