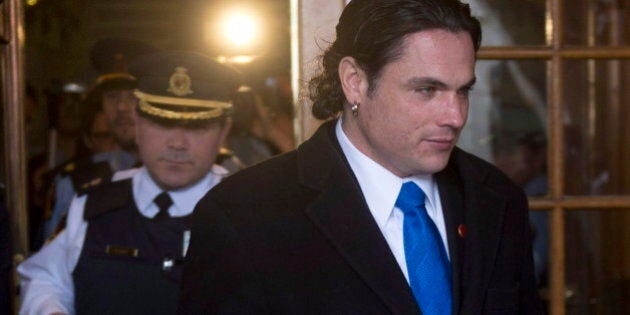 Senator Patrick Brazeau's office is denying a report from a Quebec radio station that he was arrested Monday night.
The details of the report have not been confirmed.
But Debby Simms, assistant to Brazeau, denied the arrest in an email to HuffPost Canada on Tuesday.
"The rumour of an arrest is false. I can offer that officially," she wrote. "But I have no information beyond that at this time."
Simms reiterated that message in another email to HuffPost on Wednesday.
"We appreciate the many messages of concern and must reiterate that there has been no arrest," she wrote. "Canadians reasonably expect some measure of privacy regarding their personal health related information and we would humbly ask the media to respect that privacy."
The Ottawa Citizen reported police and paramedics responded to Brazeau's home twice early Tuesday morning after someone called 911 saying a man was feeling ill.
When police and paramedics arrived, the patient refused treatment. Then, two hours later, paramedics and police responded again after someone called 911 around 4 a.m. It was a call about a depressed man, and paramedics transported the patient to hospital.

It is not known how long the patient spent in hospital, but by Tuesday night, the Gatineau Hospital confirmed that the patient was no longer at the hospital.

Gatineau Police issued a release Tuesday evening saying they got a call for an "intervention," but did not name Brazeau.
A search warrant filed in court says an argument over aboriginal issues with a woman at his home escalated into a physical and sexual confrontation and back-to-back 911 calls to local police.
Brazeau, 38, formally pleaded not guilty to charges of assault and sexual assault.
His arrest on Feb. 7 came a day after a Senate committee announced it had hired independent auditors to examine Brazeau's housing expense claims. Those claims are the subject of an ongoing RCMP investigation.
Court records revealed in August the Mountie investigation into Brazeau has expanded to include personal tax exemptions he claimed as a status Indian.
Brazeau has been accused of breach of trust by filing allegedly inappropriate travel and housing claims.
In 2008, he made history as one of the youngest people ever appointed to the upper chamber.
With files from The Canadian Press