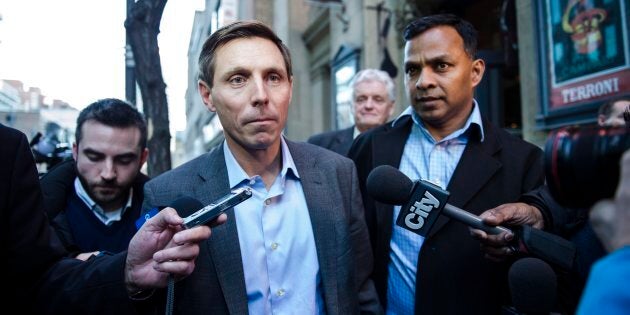 Former Ontario Progressive Conservative leader Patrick Brown has officially entered the race to replace himself.
"This isn't about me, this isn't about the PC party," Brown told reporters at the PC headquarters in Toronto Friday after registering as a candidate just before the deadline.
"This is about making sure that on June 7, the PC party is successful," he said, referencing the date of the next provincial election. "Because we're not going to settle for an Ontario that is a have-not province. We're not going to settle for an Ontario that is doing everything it can."
Brown resigned as leader in late January after two women accused him of sexual misconduct in a CTV News report. He denies the accusations and has said he will sue CTV over what he calls a fabricated story. CTV stands by its journalism.
Speaking to reporters with his sisters beside him, Brown echoed comments he made to the National Post and Global News in recent days, painting himself as the victim of a character assassination.
"It's like getting hit by a truck and then getting hit by a truck all over again," Brown said. "But what I can tell you is in that period, I found strength."
With the support of the party faithful, he said, the "project" of defeating Kathleen Wynne's government can get back on track.
He did not take questions from reporters.
Brown, who is the MPP for Simcoe North, has also taken to social media in recent days to claim that the unnamed women who accused him of misconduct are liars or pawns of political adversaries. Brown has urged them to try to file police charges.
CTV originally reported that one of Brown's accusers was still in high school when she alleges Brown plied her with alcohol and asked for oral sex at his home more than 10 years ago. This week, CTV reported the woman now says she was not under the legal drinking age or in high school at the time of the alleged event.
The woman says the core of her allegations is unchanged and a second accuser also stands by her story to CTV.
Rivals blast Brown's decision as a 'distraction'
Brown's stunning entrance into the race has been panned by the other candidates aiming to lead the party.
Caroline Mulroney tweeted that a leadership election is not the place for Brown to try to clear his name.
"Our focus should remain squarely on beating Kathleen Wynne in less than 100 days. This is a distraction from that and I am disappointed," Mulroney wrote.
Christine Elliott also released a brief statement to media.
"With fewer than 100 days, now is a time for unity," she said in the release. "I am the leader that can unite the party and beat Kathleen Wynne."
Doug Ford released a statement saying the party is "objectively stronger" without Brown, pointing to what Fedeli dubbed the "rot" his predecessor left behind in party. Ford also blasted Brown's move a distraction.
"Ontario deserves better," he said.
Social conservative candidate Tanya Granic Allen blasted Brown during the first PC leadership debate Thursday, accusing him of interfering in nomination battles and bullying grassroots members. She said Brown should not be allowed to run for the PCs because of the "corrupt manner in which he has run this party into the ground."
Ontario Tories select their new leader on March 10.
​​​​​With files from Emma Prestwich