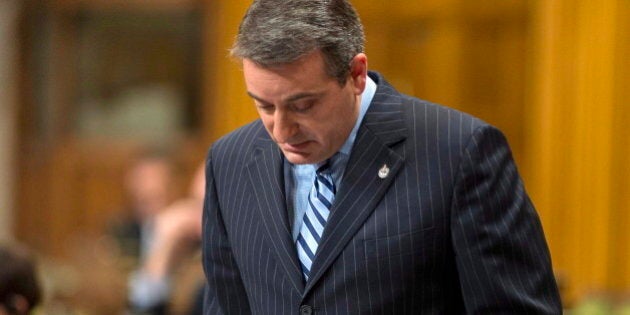 It appears the Conservative MP who tearfully apologized months ago for his performance in question period is back to his old ways.
Paul Calandra, the parliamentary secretary to Prime Minister Stephen Harper, had a busy afternoon Monday fielding queries at the first question period in two weeks. Harper, NDP Leader Thomas Mulcair, and Liberal Leader Justin Trudeau were all absent.
Yet, Calandra's answers to questions on suspended Senator Mike Duffy — currently on trial facing 31 charges — were ostensibly about counterattacking New Democrats and Liberals.
Deputy NDP leader Megan Leslie began a question early on, pointing out that a Crown attorney in the Duffy trial alleged the senator was "not eligible" to sit in the upper chamber in the first place. (Lawyer Mark Holmes actually said Duffy was "probably ineligible" to represent Prince Edward Island.)
"(Duffy's) presence was fraudulent from the beginning," she said. "Yet, the prime minister told this House that all senators meet the residency requirements.
"Is the prime minister still of the belief that Mike Duffy conformed to Senate constitutional requirements when he appointed Mr. Duffy to the Senate in 2008?"
Calandra replied that the constitutional practice on appointments has been clear for more than 150 years.
"What's also very clear to Canadians is the fact that you can't use House of Commons resources for partisan political purposes, Mr. Speaker," he said. "That's why I encourage… the 68 members of the NDP caucus who owe Canadian taxpayers $2.7 million for illegal offices to pay it back."
The MP also urged Mulcair to repay "the $400,000 that he personally owes taxpayers for illegal offices."
Calandra was referencing the tab that a secretive committee of MPs says the NDP owes for using House resources to hire staff in satellite offices outside Ottawa. New Democrats maintain they've done nothing wrong and won't repay the money.
"We are not talking about fake allegations from a Conservative kangaroo court," said NDP MP Peter Julian. "We are talking about a real criminal trial with a real judge."
However, Calandra repeatedly brought up the NDP controversy instead of answering questions about Duffy.
"What did the prime minister like so much about Mike Duffy's work?" she asked.
Though Speaker Andrew Scheer reminded the MP that questions should focus on "administrative responsibilities," Calandra replied anyway.
"Certainly touching on the administration of the House, I think, is very important," he said. "That's why there are 68 members of the NDP who owe taxpayers $2.7 million for illegal offices. This member herself owes over $25,000 to the taxpayers."
NDP MP Charlie Angus then mentioned how 74 Tory MPs leaned on Duffy, in happier times, to attend fundraisers and events.
"Why did the prime minister have Duffy travelling around the country working for the party when his job was supposed to be representing the people of Prince Edward Island?" Angus wondered. "What was Duffy's special role to the prime minister?"
Calandra responded by rhyming off the amount of money certain NDP MPs owe for satellite offices.
Angus shot back that the Tory MP was likely "touchy" because he previously called on Duffy to attend his events.
Liberals get nowhere, too
Things weren't much different when Liberals tried to get answers on the Duffy scandal.
Grit MP Wayne Easter brought up that a makeup artist whose services were used by Harper told the trial she was paid from the same taxpayer-funded account used by Duffy.
"Why did the prime minister's budget not pay for his makeup rather than taxpayers being stuck with that bill?" Easter asked.
In response, Calandra pivoted to the sponsorship scandal.
"I am very surprised to be getting a question about expenses from that particular member of Parliament," he said. "Like, really? Honestly, this is coming from a party that has $40 million outstanding?"
The Tory MP said taxpayers did not foot the bill for Harper's expenses.
"Back to the topic, of course, of expenses and makeup, I would suggest that he turn around and look at the Liberal member of Parliament for, I think it's Mississauga—Brampton, who was accused of charging taxpayers for makeup expenses during a campaign," he said.
But the Calandra on display in the House of Commons Monday was very different from the one Canadians saw back in September.
Back then, the Tory MP apologized to Mulcair for responding to a straightforward question on Canada's mission in Iraq with a non-sequitur about Israel.
Yet, Calandra also said he was "fairly certain" there'd be other times he'd answer questions in a way colleagues won't appreciate.
"I don't think this will be the last time that I'll get up and answer a question that doesn't effectively respond," he said at the time, choking back tears.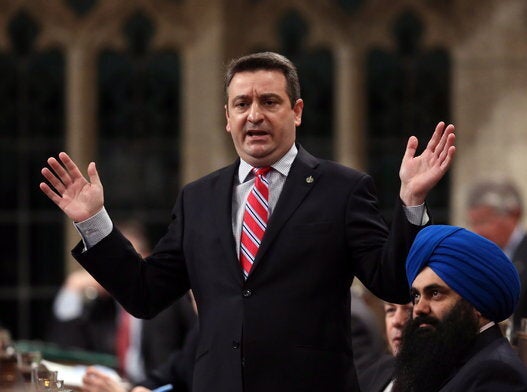 Things Paul Calandra Has Said