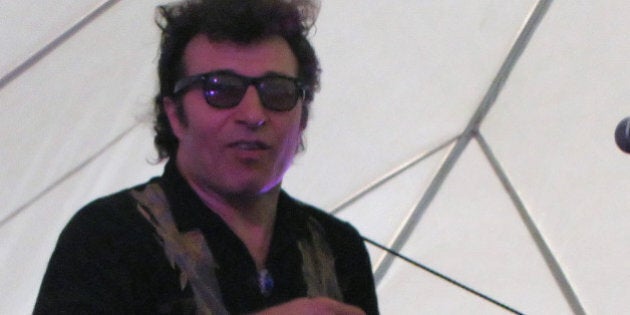 Canada's blues crusader Paul James is a national treasure, and were it not for the shifting, sliding, finicky tides of the music business -- he'd be known around the world -- after all, he's toured in bands throughout the world, and Bob Dylan once told him if he moved to L.A., he'd make the big time.
But who knows how the musical gods choose the shapeshifters and shamans who make the big time, and those who may be lesser known, but still get to live blissfully as full time musicians? I just hope James feels like a million bucks after the Paul James Band's 65th Birthday show at the Phoenix Concert Hall in Toronto Saturday night because it was a million dollar bash!
With the devastating news in music that started off the planetary month of January -- Bowie's passing made planet earth blue -- but there is something we can do -- get out there and support and play with the musicians in our towns.
On stage, as James was just about to introduce his harmonica player... he began, "Put your hands together for the famous..." but before he got to finish someone yelled... "ALMOST Famous!" to which James replied, "No, no, that's me, I'm almost famous!"
A few songs later, James introduced Susan Chater, or "Sweet Sue" as he called her, (who capably played percussion on a few songs including James's Hey Rosita), he threw his arms around her, thanked her -- the two of them looking like a couple of rock n' roll love birds.
Who needs fame when you've got love?
And besides, seeing the Toronto born, Paul James Vigna is just as exciting as getting to see any of the big blues guys. The club was packed up to the second floor balcony, and it was delightful to see more than a few older white haired men and women bopping along with every other age and race on the dance floor. James was born to be on stage, playing that guitar... strutting the Chuck Berry Duck Walk, and spinning round with his trusty Gibson, and/or Fender, or whatever guitar he chooses to bring along for the ride.
At 65, James defies his age, looking more like a 50s icon (he says Willy got him slicking his hair back).
He lets his guitar do most of the talking, singing even, or more like wailing and moaning, tantalizing and provoking -- he and it are one -- and certainly on fire -- flipped over on his back, up in the air, down low, or by his side, it's cliche but I just can't help myself because it's true -- he plays that thing like he's a-ringing'-a-bell -- go, go!
James has played with many of the greats -- Bob Dylan, Bo Diddley, Willy DeVille, Edgar Winter, John Lee Hooker, Ronnie Hawkins -- the list is very long. No doubt having to ignore Dylan's advice to move to L.A. because of family issues was painful and probably intercepted some of the magical pixie dust from the music gods -- not to mention the business power of the L.A. music scene, but like a staunch, no nonsense bluesman standing at the crossroads, you get the feeling James has always known which way to go -- hard knocks and luck besides.
I remember meeting James in the early 80s when we both played at the Hotel Isabella in Toronto (long before its renovation), I was playing 'downstairs' Paul was 'up stairs' (for obvious reasons) -- it was a regular hang out at the time for Jeff Healey -- I can still see Healey sitting at the bar -- he had such a gentle aura. Now I am certain that Paul James doesn't remember meeting me, but I've never forgotten meeting him. He was bashful and sweet... in an utterly modish way -- a seasoned pro, without guile.
Over the years I've briefly met a lot of guitar players and musicians with similar demeanours, players like Mink DeVille, Nils Lofgren, Ringo Starr, Clarence Clemmons, Rick Danko -- sweet souls, with a certain kindness -- things those who knew Bowie say he had in abundance -- writer Bill Flanagan called him, "gracious, witty, generous." CBC's Laurie Brown called him, "Kind." And Emm Gryner said he was, "Gracious to people from all walks of life."
I set out to write a story about Paul James that seemed to so easily mesh with the impact Bowie's passing had on me (and millions of others); and while sadly I know known of these musicians personally, I have been, and continue to be, impacted by their music. It's always about the music; and while musicians and music lovers may be from, and in, different orbits, through the years -- as Bowie so brilliantly taught us, we're all from the same intergalactic family.
It's clear that the Juno and Maple Blues Award winner Paul James is in it for the love and lure of music's promises -- its healing, and most of all its satisfaction... that is, when the stars align in his corner of the universe.
Paul James thanked everybody for "48 beautiful years in the music business." Thank YOU, Paul! -- And here's to 48 more!
Follow HuffPost Canada Blogs on Facebook