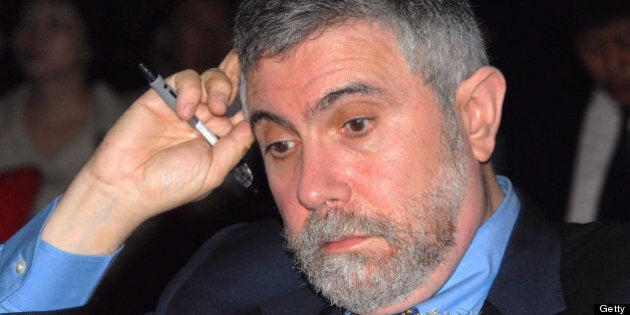 Renowned economist Paul Krugman is worried about Canada's economy.
By "ought," he means he's not quite sure. But he sees warning signs in the fact that a very large spread has developed between U.S. and Canadian house prices, and Canadian household debt levels are reaching levels seen in the U.S. just before that country's own "deleveraging shock."
House Prices, U.S. vs. Canada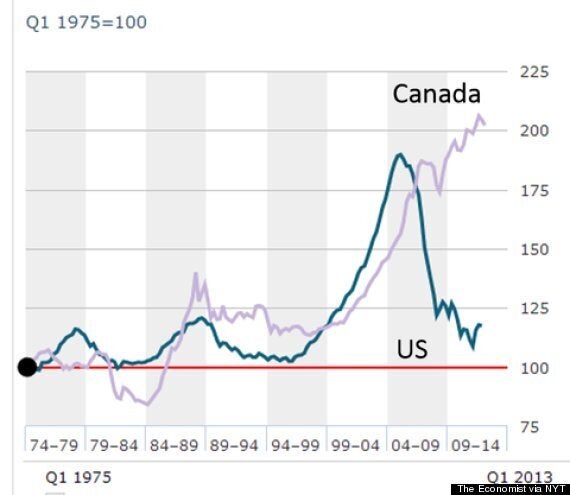 He sees Canada as a "test case" for theories as to why the U.S. has been struggling for so long to come out of its economic slump.
One such theory -- which Krugman himself gives credence to -- says that it wasn't the bank crisis that caused the slump, but rather the "overhang of private debt" from the country's housing bubble.
If that's the case, Krugman argues, then the fact that Canada's banks didn't get involved with the "toxic" mortgage-backed assets that sank U.S. banks won't stop the country from experiencing the same sort of economic stagnation and high unemployment that has plagued the U.S. for the past half decade.
But for that to happen, the housing market would have to actually crash -- and, as Krugman notes, the market isn't crashing.
"People have been [predicting a crash] for several years, and it hasn't happened yet — but remember, the US housing bubble took a long time to pop, too," he wrote.
Many economists argue that for a bubble to pop, there needs to be an "event" -- such as an economic slowdown, or a bank crisis -- and that no such event is on the horizon for Canada's economy.
The Economist and the OECD have both recently declared Canada to have one of the most overvalued housing markets in the developed world, and at least one U.S. hedge fund manager is staking all his clients' money on a Canadian housing downturn.
He pointed to the fact that the fundamentals of Canada's housing market have turned positive recently, after slumping for many months, and that Canada's bank profits are holding up despite predictions for nearly a year they would turn south.
And there are many who continue to argue it was fraudulent business practices and poor regulation in the U.S. that caused the collapse.
Popular in the Community