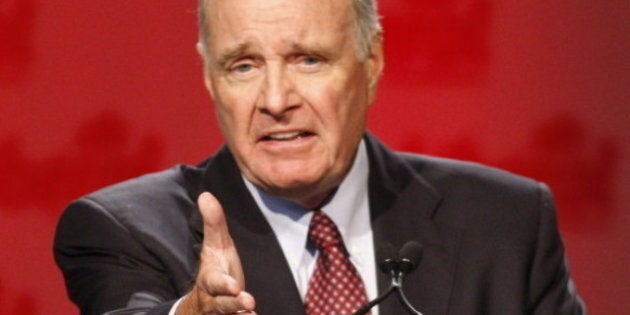 The Conservative government is wrongheaded if it thinks general broad-based cuts will fix Canada's economic woes, former Liberal prime minister Paul Martin says.
"I do not believe that cuts across the board of any percentage make any sense at all," Martin said in an interview with The Huffington Post. "All that demonstrates is that you don't have priorities."
Martin, who orchestrated deep cuts to government spending as finance minister in the 1990s, was trumpeting his record after a British think tank urged the U.K. government to follow Canada's example by cutting deeper to achieve higher growth and a lower national debt.
"A 5 per cent across-the-board cut will not have a lasting impact," they warned.
While the federal Liberals imposed cuts in nearly every sector, Martin said, his government did it "as a way of strengthening government by focusing on our priorities."
The only area spared from the axe was spending on Aboriginal Peoples, he said, but even they saw their spending capped.
Martin told HuffPost he spent lots of time on the road and meeting with fellow caucus members in small groups to sell them on the coming spending cuts. Having the party and Candians buy into the cuts was necessary, he said.
"My argument was not, I'm doing this to please the markets, my argument was that we're doing this to preserve our social programs. That if we don't do this now, these social programs will go to the waste basket," he said. "You may say cutting health care, cutting education, you may wonder how that preserves them. Well, what it does is that it's a heck of a lot better to cut them a little bit now and to increase them later than to find yourself in a situation such as Greece subsequently found itself, where in fact, you can't hold on to anything."
The massive cuts were sold as one shot of bad medicine, Martin said. "My commitment to (Canadians) was that we are going to do it once and we are going to solve the problem. That is asboslutely crucial," he said. "If you ask people to sacrifice and then you find out that sacrifice has been in vain, then you're in trouble."
The former Liberal finance minister and prime minister said he was convinced that there would be a sucession of financial crises and that he had wanted to protect Canada from any future shocks.
"It wasn't enough to simply eliminate the deficit. I wanted to start building substantial surpluses, which we did. We wanted to have the ability to stimulate our economy without going back into deficit," he said.
But, according to Martin, the current Government has squandered the Liberals' gift of government surpluses early in its mandate.
"I don't want to be partisan here but the new Government who took over from us, one of the first things they did was to wipe out our surplus. That's before the recession hit. Consequently, they didn't have room to move. The new Government went into deficit in Canada before the recession hit, which was a major mistake."
Like Huffington Post Canada's Ottawa Bureau Chief Althia Raj's reporter page on Facebook and follow her onTwitter for all the latest news from Parliament Hill.
althia.raj@huffingtonpost.com