Pulitzer Prize-winning photojournalist and author Paul Watson says he quit The Toronto Star after he was repeatedly told to back off from reporting a story he thought merited "significant public interest."
"The reporting ban is what set off alarm bells in my head," Watson said in an interview with The Huffington Post Canada. "They had concerns, they weren't explicit about them."
He said his editors banned him from working on the story six weeks ago. He quit on Tuesday after his editors wouldn't budge on the issue.
Since last year, Watson had been pursuing a story about complaints from federal civil servants and experts involved in the search for the Franklin expedition in the Arctic. The project was touted by Ottawa and the discovery of Franklin's ship last year was announced by Prime Minister Stephen Harper himself.
However, Watson said many of those working on the project felt the facts around the discovery of the long-lost HMS Erebus had been distorted. He wanted to write the story but says the newspaper's editor in chief, Michael Cooke, disagreed.
"At the end of it he said, 'We're not interested in that story,'" Watson said.
"In other words, the Star was killing it."
In May, Watson received a copy of a letter former BlackBerry co-CEO Jim Balsillie sent to Environment Minister Leona Aglukkaq and to the Prime Minister's Office.
In the letter, Balsillie raises concerns about the "misleading characterization" of the search project presented in the CBC's documentary "Franklin's Lost Ships" which aired April 9. Balsillie is a founder of the Arctic Research Foundation, a group that helped fund the project by providing a boat that carried government personnel working on the search.
"I am concerned that the documentary contains information that runs contrary to the planning meeting we held in your office on June 9th, 2014 and filmed for the prime minister's online news channel," Balsillie writes.
Balsillie appeared in the segment of Harper's video series about the Franklin discovery in early September:
Balsillie's letter takes aim at The Royal Canadian Geographical Society in particular for creating "new and exaggerated narratives" in the CBC documentary for its own "exclusive benefit" and that of its partners.
Balsillie goes on to list other errors in the CBC documentary.
"Government partners, in particular the Government of Nunavut, Canadian Hydrographic Service and the Canadian Coast Guard are shown as supporting players to RCGS and Akademik Sergey Vavilov when the opposite is true," he wrote.
"Having been involved with the project since 2008 I can attest to the fact that these and many other government agencies and departments have been providing key leadership, expertise and support in the search for Franklin's ship for years."
Balsillie never received a response to his letter.
Human history being 'distorted'
"It's a symptom of a broader disease in this country where people working for the federal government, I presume provincial governments too, are too afraid to speak out because politicians are silencing them for their own purposes," Watson said.
"It's not right, it's not healthy for democracy, and I think if more people take a stand against it, we can fix it. And that's why I took a stand."
Watson asserts his intention was to report on behalf of people who are "too afraid to speak out," adding that Balsillie's letter was the extra support he needed to push it forward.
"A quarrel over the search of two ships that sank in the middle of the 19th century probably doesn't strike people as the best reason to turn your back on a six-figure salary and walk the plank," Watson wrote in a blog post explaining his resignation.
"To understand why, you only need to know this: I've lost track of the times I was nearly killed because I knew I had to give a bigger voice to frightened, intimidated people who couldn't stand up to power on their own."
He pointed the finger at "a peripheral member" of last year's search crew with access to the Prime Minister's Office "as well as editors at The Star."
Watson identified Royal Canadian Geographical Society CEO John Geiger as that "peripheral member" to HuffPost. Geiger is also a former editorial board editor at The Globe and Mail and is married to Toronto Star special sections deputy editor Marina Jimenez.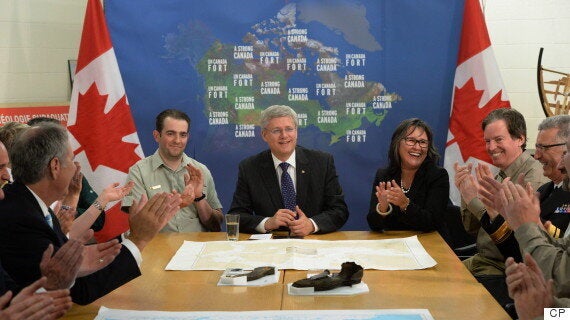 Prime Minister Stephen Harper sits at a table with John Geiger, seated next to Environment Minister Leona Aglukkaq, in Ottawa on Sept. 9, 2014. THE CANADIAN PRESS/Sean Kilpatrick
"My fear is that somebody went to somebody. I don't know if it's an editor or if it's a Torstar board member. I don't know who it is. But the timing was odd to me," Watson told Brown.
Star spokesperson Bob Hepburn told The Canadian Press the paper doesn't suppress stories and holds a strong track record of serving public interest with its reporting.
The Conservative government has repeatedly put a priority on establishing Arctic sovereignty since coming to power in 2006. When the discovery of one of the Franklin ships was confirmed last year, Prime Minister Stephen Harper praised it as the resolution to "one of Canada's greatest historical mysteries."
Watson, a Toronto-born journalist, is the author of a memoir "Where War Lives," published in 2007. He worked at The Star before leaving for a post with the Los Angeles Times as a foreign correspondent.
He won the Pulitzer Prize in 1994 for his photo of the body of American soldier Staff Sgt. David Cleveland being dragged through the streets of Mogadishu, Somalia by a cheering crowd.
In 2009, The Toronto Star announced Watson's return to the newspaper to head a "multimedia Arctic-Aboriginal beat." For the past year, he's been following archaeologists and divers in their search for HMS Terror and the now-found wreck of HMS Erebus.
"Those 129 men died trying to expand the horizons of human knowledge," Watson said.
"That's a story of human history and if facts are being misrepresented, that's distorting a piece of human history. That to me is not a small thing."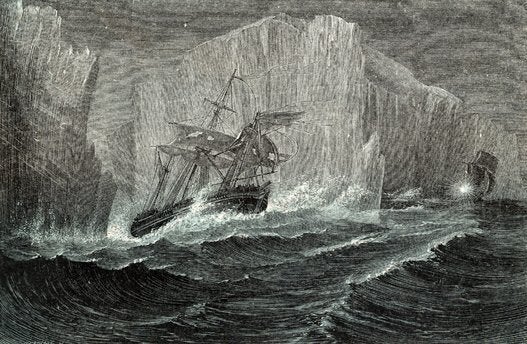 Franklin Expedition
Popular in the Community