Sometimes it's best to just stick with tradition!
Paulina Gretzky and fiance Dustin Johnson have named their baby boy Tatum, sticking with the Gretzky family tradition of using names that begin with the letter T for all their sons. (Paulina's brothers are named Trevor, Ty and Tristan.)
The pic was captioned, "What really matters. Little Tatum and parents DJ & Paulina."
Update: Paulina shared a close-up photo of her newborn baby on Instagram on Friday, and obviously he's adorable. Gretzky captioned the pic, "So in love with my little boy.Tatum Gretzky Johnson ♡ @djohnsonpga." Awww!
Dustin released the following statement expressing his joy and gratitude:
"Paulina and I are happy to announce the arrival of our baby boy, who was born in Los Angeles on Monday morning. Both Paulina and the baby are healthy, resting comfortably and in great spirits! We sincerely appreciate the outpouring of love and support we have received and plan to release further details in the coming days! Sincerely, Dustin."
Knowing her, she'll be back in her bikinis in no time! Meanwhile, let's see more pics of baby Tatum!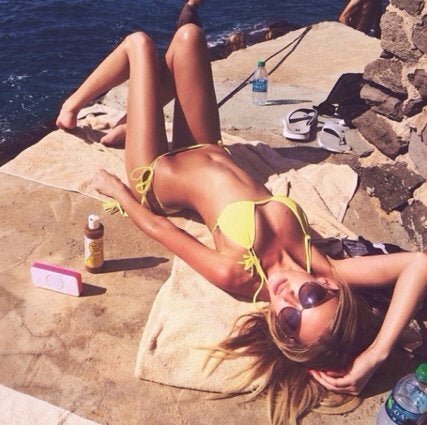 Paulina Gretzky's Best Moments Of 2014