We all know Paulina Gretzky loves herself a good bikini, but it turns out she's just as big a fan of Halloween costumes as she is skimpy swimwear.
So in honour of Halloween, we've decided to rank Paulina's best costumes for your viewing pleasure.
Okay, to be honest, we don't really know what Paulina was going for here, hence why it's the lowest-ranked. While one editor thinks this is some form of sexy Ninja Turtle, another thinks it's Xena, Warrior Princess. Also, the quality of this pic is pretty low-res, but considering it's from 2013 when no one's Instagram game was really that strong, we'll let it slide.
This was Tatum Gretzky's mom's costume last year, and we have to say, she executed it pretty well. That dark wig is a nice disguise, and the dripping blood from the mouth is a nice touch. Bonus points for her punny name though (Vamp-ire, get it?).
We mean, the caption says it all. But let's not forget this epic photo:
Considering Katy Perry's "California Gurls" was a huge hit in 2012, this costume was very relevant. And again Paulina committed with a wig.
We're getting total Britney Spears vibes here. Not complaining.
Paulina, you're under arrest for looking too hot.
Okay, okay. This is just Gretzky in her ringleader costume with a Deadmau5 head over top. BUT THE CAPTION, GUYS! Seriously, Paulina's ability to make reference to one of the greatest movies of our time, "Mean Girls," is the real winner here.
Don't ever change, Paulina. And please bless us with plenty more sexy costumes this year.
In the meantime, here's a sneak peek of what Tatum will be this year: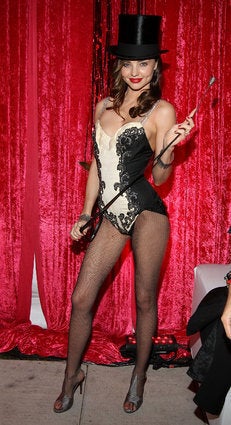 Amazing Celebrity Halloween Costumes