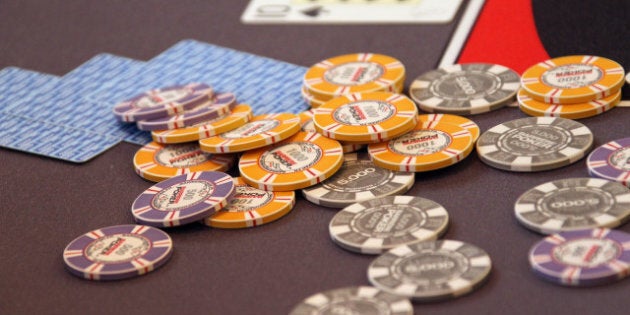 Within a few short days the chair of BC Pavilion Corporation (PavCo), both announced, then dis-announced a signed deal with Paragon Gaming, the owners of Edgewater Casino. This daring manoeuvre, the Fassbender Flip-Flop, should only be attempted by trained professionals.
When a Money-losing Crown Corp Meets a Casino, What Could Possibly Go Wrong?
Riddle me this, Batman: if the formerly bankrupt Edgewater Casino's size and earning potential is capped at current levels, how is it going to manage the costs associated with a massive construction project on prime Vancouver real estate?
We're all going to need Bruce Wayne's balance sheet--because the answer is that B.C. and Vancouver tax dollars will get this done through a series of obscure subsidies that will never be returned. We'll have to send Alfred to fetch some bullion from Mother's safety deposit box to help cover this thing.
First there's the discount on the lease. According to BC Place general manager Howard Crosley, PavCo will likely eat at least half the original $6 million a year lease revenue. Over 75 years (or more, if reports are correct), this amounts to an extra $225 million subsidy to Edgewater Casino's owner, Paragon Gaming.
Then there's the small matter of the Cambie Bridge off-ramp re-construction, required to maximize the building footprint. Tag another several million dollars on. Add at least three years of lost lease revenue since 2010, when the original $6 million contract was awarded. There goes another $18 million.
But wait, there's more! There is the huge construction project itself, to be subsidized by the BC Lottery Corporation to somewhere between $8 and $17 million a year. Typically, the BC Lottery Corporation under-writes approximately 42% of private casino developer construction costs. Over 20 years this could total at least another $160 million.
It's not hard to see the final tally of this move could cost the B.C. taxpayer some $400 million. Wasn't that easy? Alfred should also bring a nice crisp Okanagan pinot gris to help wash down the debt we'll be eating for the foreseeable future.
Hitting the Revenue Ceiling
It would be one thing if this debt were off-set by increased net revenues, but that's not going to happen. A hard ceiling on slot machines and gaming tables is a hard ceiling on potential earnings. New facilities and great marketing won't dent it.
And here's the kicker: the BC government and City of Vancouver derive their share from the operation's net revenue, a number now imperiled by Paragon's ambitious over-reaching. In other words, we could lose even more money if this casino is built according to current plans.
Consider the following: in its original license application, Edgewater Casino promised the City of Vancouver some $10-12 million in annual revenues. It has never come close, and even went bankrupt once along the way. In 2012, the City of Vancouver's take was under $6 million--40% below projections made nine years ago. If Edgewater's expenses rise sharply without a concurrent increase in revenues, Vancouver will actually lose money, and so will the BC Treasury. And what if Edgewater goes belly up yet again?
Paragon's move to BC Place is a loser for every government and Crown corporation that touches it.
Unless There's a Secret Plan...
That is, unless somebody's crossing their fingers behind their back, ready to force a huge mega-casino expansion on Vancouver after the provincial election. That's about the only way the public's not going to lose its shirt on this deal.
PavCo has learned nothing from its mistakes of 2009. Yet again, discussions and proposals between the parties are cloaked in mystery, completely contrary to the Gaming Control Act.
This is the reason Vancouver Not Vegas has revived its legal challenge to the casino relocation. The plans and financial viability of casino projects must be publicly demonstrated before approvals are given. Bizarrely, the public knows even less about this project than we did when it was originally announced in 2010.
A Modest Proposal: Fair Market Value
Here's what should happen: the public is entitled to fair market value for our land. The lease of BC Place lands should be rescinded based on Paragon's inability to meet its original bid. The lands should be put out to tender again (with Paragon eligible to submit a fresh bid in an open competitive process). If Paragon cannot compete in the open marketplace, it should relocate to a less expensive site, probably on industrial land, as is typical for casinos such as the River Rock, Burnaby Gateway, and others. The public doesn't owe a free ride on prime publicly owned real estate to a private casino developer.
The original agreement between PavCo and Paragon was inherently risky, as it depended on Vancouver City Council rubber-stamping a massive casino expansion. This colossal error in judgment is now about to be compounded by PavCo's obstinate pursuit of yet another losing proposition.
Let's stop throwing good money after bad and do the right thing for the B.C. taxpayer, who's taken a helluva bath on BC Place already. Cancel the original deal, put the BC Place lands (which have no doubt increased in value since 2009) back on the auction block and get top dollar for them.
Let Alfred go back to tinkering on the Batmobile and cleaning seagull poop in the stadium.
And as for the Edgewater Casino, let the chips fall where they may.