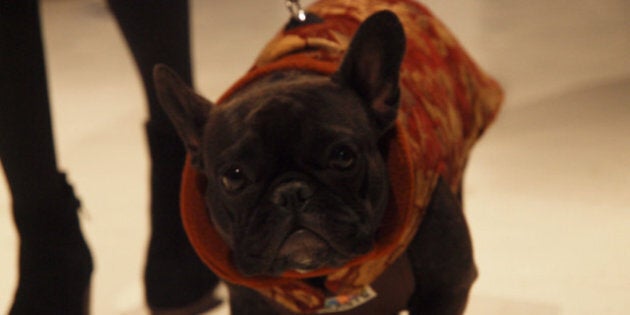 What's cuter than dogs wearing Halloween costumes? Dogs modelling couture clothing.
Which is exactly what some lucky Toronto pooches did recently. Decked out in duds designed by Philip Sparks and accoutrements from Babies & Beasts, the canines gathered last week for Paws For The Cause (PAWS), a charitable initiative aimed at improving the lives of pets across Ontario.
The fashionably forward concept was developed by Laura Serra (and co-chair Paul Smith), who came up with the idea after her chihuahua was hit by a car -- Serra had to make the decision to put her pup down or to pay $10,000 for a surgery to fix her spine. Serra was able to afford said treatments, but she realized not everyone would be so fortunate. "I really wanted to spare other pet owners from having to struggle with the decision of keeping their pet -- who could be like a child -- alive." After a few meetings with friends and chatting with some of her fashion industry colleagues, PAWS was born.
It's an idea that's paid off -- last year, PAWS raised more than $25,000 for their benefactor, the Ontario Veterinary College Pet Trust Fund. Serra and her other committee members were even able to establish a PAWS scholarship, which will be presented to a veterinary student at the University of Guelph who has excelled in the area of canine critical care.
The ultimate goal would be to take the organization national and to plan year-round fundraising events.
"We're doing so many great things when it comes to research and saving the lives of animals. We'd love to get more people involved."
So how can you help? The organization accepts charitable donations online, via PayPal, year-round. You can also take part in one of the many events PAWS organizes, including their popular lemonade stands and pamper-your-pet-in-a-park days. And if you're online, join the discussion around animal rights by following PAWS on Twitter and Facebook.
Check out some images of the fashionable dogs that strutted the catwalk for the cause.