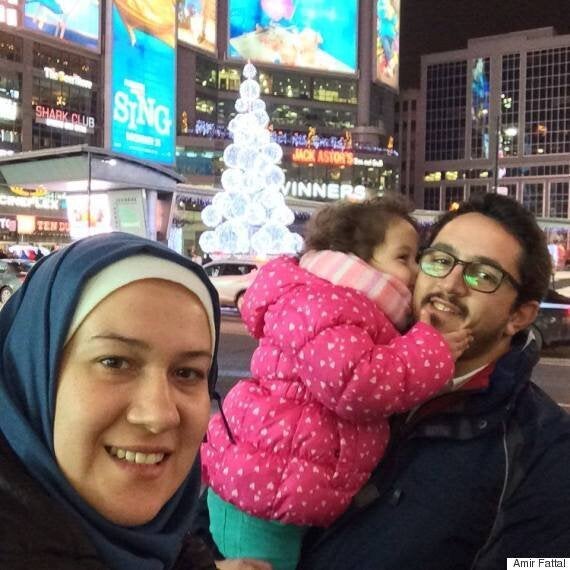 Six months into his new Canadian life, Amir Fattal pulls out a second-hand rocking chair and presents it as a deal of a lifetime. "I bought this chair for $20," he proudly proclaims. A wide smile forms on his face. "I can sit here like Queen Elizabeth and see the TV."
His unbridled enthusiasm over a wooden chair and its flattened floral cushion makes his family giggle.
Amir is a Syrian refugee. He arrived in Toronto this summer with his young family under Canada's private sponsorship program.
It's winter now and the heat is humming in their basement apartment. Donated carpets cover the cool concrete floor. Noor, his wife, pours hot red tea sprinkled with ground cardamom into cups. She sets down a plate of cookies.
Their two-year-old daughter Sally plays by her feet and occasionally interrupts the grown-ups' conversations with peals of laughter.
* * *
War broke out right when Amir finished university. The increasing conflict split his family apart, forcing them to move to Turkey or Dubai.
Amir and Noor are both from Aleppo, a city besieged for more than five years. Noor's family still lives there; her father refuses to leave.
Despite enjoying living in Istanbul, Amir and Noor say staying there long-term was never an option because of politics beyond their control.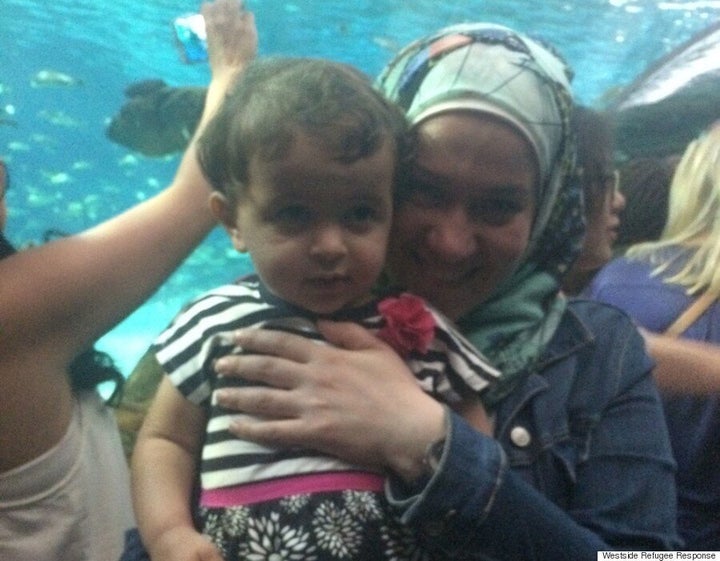 Turkey has a two-tier system that gives more rights to migrants from Europe than anywhere else. According to Amnesty International, the country hosts the largest number of asylum seekers and refugees in the world, at just over three million. Of that number, 2.9 million are Syrian.
Current law means all Syrian refugees in Turkey are seen as only temporary residents. They don't have the same access to jobs or social services as European asylum seekers or refugees. The United Nations High Commissioner for Refugees has urged the Turkish government to change the way it treats non-European migrants.
But that's unlikely. The Turkish government said it will only consider changing its restrictive laws if other EU member states step up with "the necessary sensitivity on burden-sharing."
* * *
"We lost our country," Amir says of Syria. Though living in a cosmopolitan city such as Istanbul was fun, the unwelcoming laws made it brutally obvious his family had to go elsewhere.
They came to Canada "because all countries closed their doors," he said, referencing hardline immigration approaches adopted by EU nations and the United States. Paying a smuggler to cross Mediterranean wasn't an option, because he didn't want to put his family at such risk.
"We lost our country."
As Amir and Noor began the necessary paperwork to move to Canada, on the other side of the world a group of friends and families in Toronto's Parkdale neighbourhood were mobilizing and forming a private sponsorship group to support one Syrian refugee family.
The Westside Refugee Response group included people like Elizabeth Bromstein. She told The Huffington Post Canada last year during a fundraiser that she was haunted by images of three-year-old Alan Kurdi, with his drowned body lying face-down on a Turkish beach.
"I look at his little shoes and his little feet. And you think about how someone put those shoes on his feet that morning," said Bromstein, who has a toddler. "It made it impossible for Canadians to look away anymore."
Bromstein lost members of her extended family in the Holocaust and said she lost sleep over the possibility of being witness to history seemingly repeating itself.
Because private sponsors are financially and socially responsible for the Syrian refugees they support for 12 months, the federal government recommends they come up with at least $27,000. Bromstein's group aimed for $50,000 and organized a fundraiser. Liberal MP Arif Virani attended, the Toronto Raptors donated a silent auction item and musician Jason Collett headlined the event.
Months later, Westside Refugee Response sifted through family profiles and settled on sponsoring the Fattals because they were a young family beginning of their lives.
"It's complicated, it's not impossible," Bromstein said of the effort it takes to resettle one Syrian family.
Nearly 39,000 Syrian refugees have resettled in Canada since last December, according to government statistics.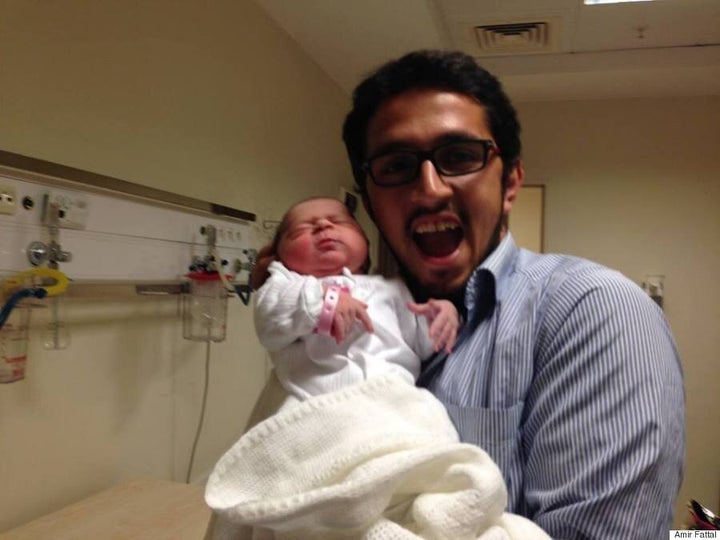 But people's generosity didn't end there. A landlord in the city's Dufferin Grove area offered a spacious basement apartment in downtown Toronto — and free rent for a year to boot.
"That was a huge score," said Mary Zontanos from the Westside group. Another member volunteered to build a kitchen counter and shelves. Someone's in-laws donated furniture.
Zontanos sees the Fattals at least once a week. On this particular visit in early December, she has Christmas presents for Sally — who is absolutely delighted by the sight of a large and colourful wrapped package.
"Do you remember how you told me how she likes fake food? So I found a big fake food thing," Zontanos tells Noor. It takes Sally three minutes to rip open the package and begin serving pretend hot dogs and pizzas to her parents and guests.
To Zontanos, whose mother fled Cyprus after the 1974 coup d'état, helping the Fattals resettle is a full-circle "pay it forward" thing.
"My mom ended up in Canada at 18 with nothing. And she lived in a basement apartment with no furniture. Nothing. She lived penny to penny. It was really really hard for her in those long first few years," Zontanos said. "If this was my mother in the '70s I would've hoped if someone made a commitment to help her that they fulfill that commitment and stay true to it."
* * *
Time is becoming a challenge for the Fattals and their sponsor group. They have six months to find stable jobs before their monthly stipends stop next August.
Zontanos says: "Getting them to that next step where they're financially independent and feeling good about the future. That's the focus right now."
Amir, who previously worked in conflict resolution, can't leverage his experience because he can't teach in Arabic here and his English fluency isn't strong enough to meet professional qualifications. But because he's been given permanent resident status — unlike in Turkey — Amir feels an obligation to show his gratitude and contribute towards a better Canada.
"I do not feel I am here for temporary time. I am here for long time. So I need to focus, what I can do for long time," he said.
Noor, a gifted cook, and Amir have their sights set on opening a food-related business. In between English classes, they completed a food handling course and are looking at kitchens around the city. With Sally's child care in mind, their sponsor group helped find them a kitchen-related, part-time job which they would both share.
Things are looking up.
"Some days I feel like I'm the president. I have behind me, staff," Amir jokes. Zontanos jumps in, "You feel supported. We make a good team."
We hit a pause in the conversation as Sally serves more plastic miniature hot dogs and chips. Looking up at the snow falling outside the ground-level windows, Amir asks how often this cold weather happens.
"Every year for about four months," I say.
"Oh. Thank you," he says, smiling.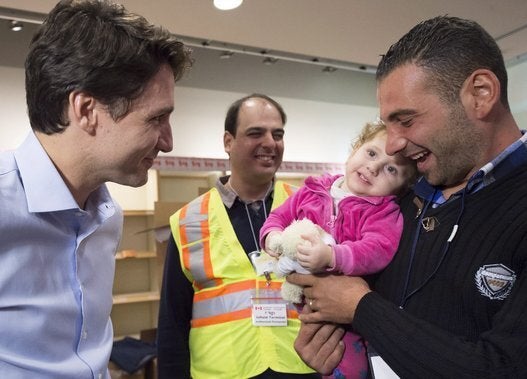 Trudeau Greets Syrian Refugees