Economy to grow half as fast as earlier projected
Budget deficits for years to come, even without Trudeau's plans
Housing headed for slowdown, but might still rescue economy
Canada's Parliamentary Budget Office handed newly sworn-in Prime Minister Justin Trudeau some early bad news on Tuesday, slashing its growth forecast for this year and predicting deficits in each of the next five years.
The PBO slashed in half its forecast for Canada's economy for 2015, and now expects the economy to grow a meagre 1.1 per cent this year, compared to a forecast of 2.1 per cent in April.
It slightly downgraded its forecast for 2016, and now sees the economy growing at 2 per cent, compared to an earlier forecast of 2.3 per cent.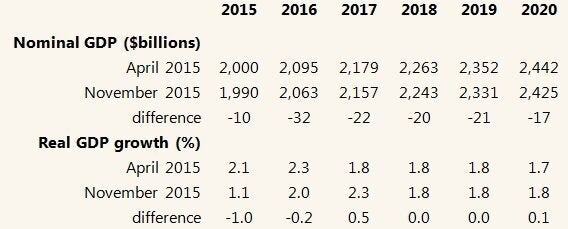 The PBO's forecast for GDP, compared to its April, 2015, forecast.
While it's predicting a slightly larger budget surplus for this year ($1.2 billion versus its April forecast of $1.1 billion), the PBO now sees a $3.3-billion deficit next year (versus a break-even forecast in April), and deficits in the $4-billion to $5-billion range for the four years after that.
The PBO's forecast is based on the Harper government's last budget, and doesn't take into account Trudeau's promise to run a $10-billion deficit to fund economic stimulus programs.
"Over the past six months, the outlook for the Canadian economy has deteriorated," the PBO said.

The PBO's forecast for the federal government's budget balance, compared to April, 2015.
The forecast says the federal government "structural balance" for this year is a surplus of $7.6 billion — that is, Ottawa would have had a surplus this large had the oil price collapse not led to a recession.
But the PBO warns that Canada's structural balance will turn negative by 2020-2021, meaning that, if the policies of the last Harper budget are left in place, Canada will be running a deficit of $3.4 billion by that time.
Yet Another Warning On Housing
The budget office became the latest institution to warn about Canada's heated housing markets, saying "we now anticipate a larger correction in residential investment."
The PBO sees household income growth slowing and interest rates rising, and when that happens, "gains in real house prices are expected to moderate and residential investment is projected to decline during 2016 to 2018," the PBO said.
But it still sees residential investment as being a major part of the economy. Even after the decline, residential investment is expected to remain above its long-term historical average.
And the PBO sees an "upside risk" in the housing market — that is, its economic projections assume that housing investment will slow. But the PBO doesn't sound entirely sure of that forecast.
"Residential investment could continue to surprise on the upside and/or the speed of the adjustment to its fundamentals could be more gradual than expected," the PBO outlook said. If that were to be the case, Canada's economy would grow faster than projected.
The PBO also reduced its forecast for oil prices. It sees oil prices gradually rising to US$59 per barrel by 2020, a 10-per-cent reduction from its April forecast.