Peaches Geldof's death at the age of 25 has been a shock, leaving family and fans to try and figure out how such a tragedy could happen to the mother of two.
Kent police announced almost immediately that the death of famed musician Bob Geldof's daughter was "sudden and unexplained" and that they did not suspect foul play. The Daily Mail reported that the police also found "'no evidence of hard drugs, no visible signs of injury and no suicide note."
Police are continuing their investigation into the death, though "they don't consider it suspicious," according to AP. Geldof's body has been taken to a hospital for a post-mortem to determine the cause of death. Results may take several days.
The British press are speculating about what might have happened, much of it centered on Geldof's history of dangerous diets.
In late 2011, Geldof told OK magazine about her vegetable juice diet, which she would consume exclusively for a month to lose 10 pounds.
"I do juicing. You juice vegetables and then you drink it three times a day. It's gross. I do it usually for about a month," she said at the time, "I have no willpower but with the juicing I'm like, 'I have to do it because I have to lose this extra ten pounds.'"
She added in that interview that, being in the public eye, she felt a lot of pressure to be thin. "Sometimes it's hard. If you open any high-fashion magazine, the girls in it are stick-thin and then they've been air-brushed down to the point where it's just like, ludicrousness. I have days when I wake up and think: 'I'm so fat.'"
At the time, Geldof's OK interview sparked a backlash from nutritionists, including a spokeswoman for the British Dietetic Association who told The Sun, as reported by The Daily Mail:
"Peaches joins a long line of celebs who are braindead when it comes to nutrition. Peaches is at high risk of electrolyte abnormalities which could lead to acute cardiac arrest. 'Rapid dieting like this not only makes you lose muscle strength but wastes away your internal organs. It is what kills anorexics. It is a stupid approach and it is irresponsible to promote this sort of disordered eating. 'It's worrying that somebody who has money and access to contacts would pick such a ridiculous way to diet."
Though this all happened in 2011, RadarOnline.com reports that worries about Geldof's weight were revived earlier this year:
Geldof's 'worringly skinny' body raised concern during London Fashion Week in February, when she posted Instagram shots of her jaw-droopingly tiny waist and arms on Instagram. Bloggers called the look 'super skinny,' 'scary,' and expressed concern for her health."
Whatever the cause of death, Geldof leaves behind a grieving family already shaken by the death of her mother, Paula Yates, in 2000 and the apparent suicide of Yate's second husband, INXS singer Michael Hutchence, in 1997.
Geldof's husband, musician Thomas Cohen, said on Monday, "My beloved wife Peaches was adored by myself and her two sons Astala and Phaedra and I shall bring them up with their mother in their hearts everyday. We shall love her forever."
Her father, Live Aid organizer and Boomtown Rats singer Bob Geldof, also released a statement: "We are beyond pain. She was the wildest, funniest, cleverest, wittiest and the most bonkers of all of us. We loved her and will cherish her forever. Writing 'was' destroys me afresh. What a beautiful child. How is this possible that we will not see her again? How is that bearable?"
"After years of struggling to know myself, feeling lost at sea, rudderless and troubled, having babies through which to correct the multiple mistakes of my own traumatic childhood was beyond healing," she wrote. "I felt finally anchored in place, with lives that literally depend on me, and I am not about to let them down, not for anyone or anything."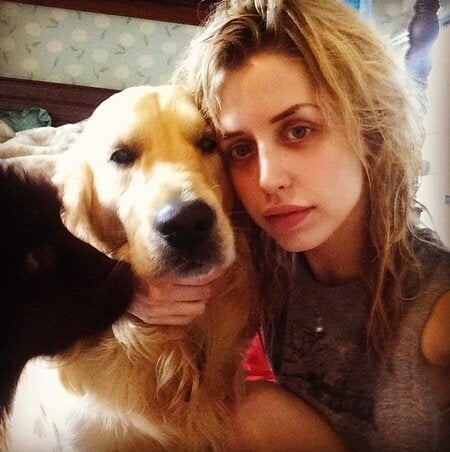 Peaches Geldof 1989 - 2014