Eddie Vedder didn't specifically name a country but many are inferring it was Israel during a speech near the homestretch of a Pearl Jam gig Friday night in Britain. The Jerusalem Post reports that in the YouTube clip the band was performing "Daughter" when Vedder launched into his speech.
"No more war, no more war," Vedder sings about three minutes and forty seconds into the clip which the audience at the Milton Keynes National Bowl repeats. "So what the f--k? What the f--k?" Vedder says. "We can have this many people having a peaceful time. We can have modern technology. We can reach our friends. They know what they're thinking before they're thinking it. The advertisers know what we're thinking before we're thinking it. We have technology – all this in our hands.
"But at the same time that something this positive is happening, at the same f---king time, not even that far away...f---ing dropping bombs on each other. And I get, if war is the last resort, if they're coming on your soil I could get it, I get it, you don't wanna be in that situation. But I swear to f--king god, there's some people out there who are looking for a reason to kill," the famed American rocker said. "They're looking for a reason to go across borders and take over land that doesn't belong to them and they should get the f---k out, and mind their own f--king business. Everyone wants the same goddamn thing."
Vedder then went into things people everywhere want: have lives, have children. work, eat, love, draw a painting, listening to music, procreate and love.
"Everyone's the f---king same, so why are people at war? Stop the f---king s--t now! Now! Now! Now! We don't want to give them our money. They don't get our taxes to drop bombs on children. Now! No more! Now!" The singer then broke into Edwin Starr's signature "War" with the crowd singing along before ending the song on his knees.
The Jerusalem Post article added Israeli fans of the band have voiced their criticism of Vedder's comments, including Israeli disc jockey Ben Red of Israel radio station 88FM who earlier helped launch a campaign in early 2013 to bring Pearl Jam to play in the country.
"Eddie Vedder, your true face is finally being revealed," Red wrote on his Facebook page on Saturday afternoon (July 12). "You are invited not to come here. I personally do not want to see you, and I will erase the Facebook page calling on bringing (Pearl Jam) to Israel, but not before I expose who you really are."
Vedder's comments also resulted in a flurry of arguments in the comments area of the band's Facebook page between fans.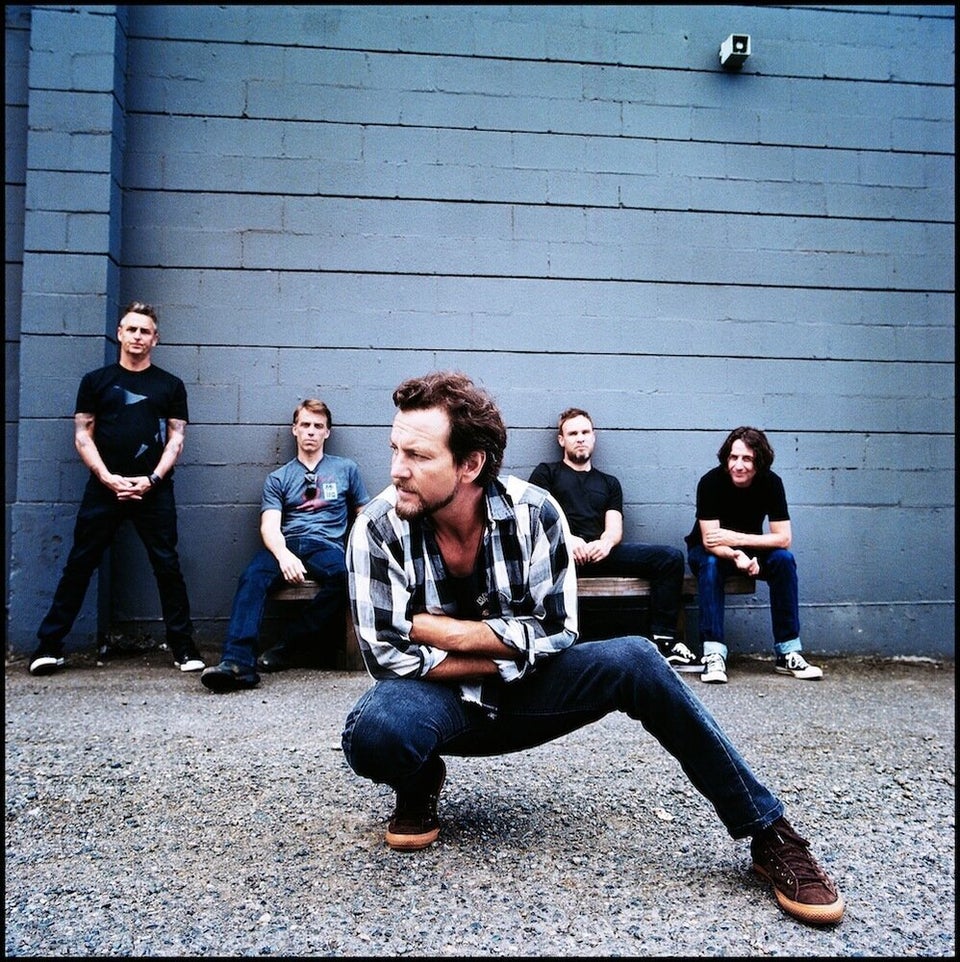 Pearl Jam Photos