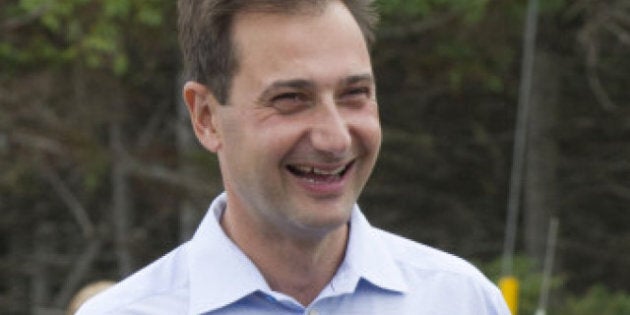 Almost everywhere in the country, Liberals are struggling.
Dalton McGuinty is running neck-and-neck with Tory Leader Tim Hudak in Ontario, Jean Charest could be defeated in Quebec by a party that does not yet exist and in Newfoundland and Labrador, Saskatchewan, Alberta and Manitoba, the provincial Liberals could be wiped off the map this fall.
But the Liberals are still dominating in one small part of Canada.
On Monday, Prince Edward Islanders head to the polls. Liberal Premier Robert Ghiz, the youngest premier in the country, is asking the province of about 146,000 people for his second mandate. The Progressive Conservatives, under rookie leader Olive Crane, are simply struggling to avoid being swept away completely.
True or false, it was the kind of scandal that could turn a campaign on its head. But the first (and likely last) poll of the campaign shows Liberal support has hardly been dented.
While this is a six point drop for the Liberals since the start of the campaign, it is the same amount of support they had in the 2007 election when they captured 23 of the provincial legislature's 27 seats.
For the Tories, they are up five points since the campaign began but are trailing their 2007 vote share of 41 per cent. With only one Tory MLA, the party leader, standing for re-election, the PCs on the island are in danger of being wiped out.
The good news for Ms. Crane, however, is that her party is still performing well in the eastern part of the island that elected all four PC MLAs in 2007. But the Tories are tied with the Liberals in Kings County, whereas in the last election they held a five point edge.
In Queens County, which contains Charlottetown, the Liberals hold an eight-point edge while in Prince County, the western part of the island, the Liberals are dominating.
The New Democrats are not having the kind of success their counterparts are having in other parts of Canada. The NDP is running fewer candidates than the provincial Greens and could easily finish fourth in the popular vote again.
It would be a break with tradition if Prince Edward Islanders did not give the Liberals a second term. The last one-term government was turfed out in 1935. With a majority of the population satisfied with Robert Ghiz's government, it seems almost certain they will give him another four years in power.
In at least one tiny part of the country, then, the Liberal Party is still a force to be reckoned with.
Éric Grenier taps The Pulse of federal and regional politics for Huffington Post Canada readers on most Tuesdays and Fridays. Grenier is the author of ThreeHundredEight.com, covering Canadian politics, polls, and electoral projections.