Many Ontarians took to Twitter Thursday to post proud photos of their election ballots. Elections Ontario was not pleased.
The body which administers voting in the province was quick to respond to any ballot tweets (and even retweets) with rebukes. As of Thursday afternoon, the agency's Twitter stream looked like this.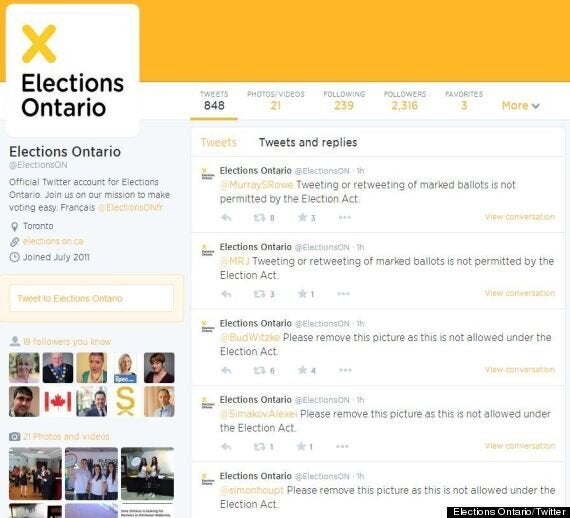 And not everyone was happy about the agency response, with many arguing that the laws banning sharing such information are outdated and anti-democratic.
There are several provisions in the Ontario Election Act which make sharing a photo of a ballot illegal. Section 42 of the Act contains the following rules:
On posting your own ballot:
Elector not to display ballot

(4) Subject to sections 14 and 55, an elector shall not display his or her ballot to any person so as to indicate how the elector has voted. R.S.O. 1990, c. E.6, s. 42 (4).
On simply using a phone in a polling station:
Communications devices

(3.1) No person shall operate a communications device in a polling place unless he or she does so with the permission of the returning officer, obtained in advance. 1998, c. 9, s. 29.
And for those retweeting the offending photos:
Communicating information as to how elector is voting

(6) No person shall communicate any information obtained at a polling place as to the candidate for whom an elector is about to vote or has voted or whether the elector declined to vote. R.S.O. 1990, c. E.6, s. 42 (6).
Peter Berry, a spokesperson for Elections Ontario, told HuffPost Canada that violating any of these provisions of the Act is punishable with a fine of no more than $5,000. He said any media organization reproducing the photos could also be fined.
And there is precedent for this actually happening. Elections Nova Scotia went after several people who tweeted photos of their ballots on election day in 2013. One of them, blogger Parker Donham, has said he would mount a challenge under the Charter of Rights and Freedoms if Nova Scotia pursues a fine. Donham has argued that the photo is protected under his right to freedom of expression.
"My guess is the election processes are going to be struggling to deal with new technologies that were never contemplated under these acts," Mr. Cooke told the newspaper.
"These technologies are also forms of … legitimate expression. So legislatures going forward are going to have to revisit and try to reconcile those technologies with the goals of elections and the goals of ensuring free expression in political discourse."
There has been a recent push to modernize Canada's elections laws. One of the less contentious measures in the Conservative government's controversial Fair Elections Act ends the ban on sharing voting results from one time zone while others are still voting. The bill passed third reading in the House of Commons in May and is currently before the Senate, which is widely expected to give the the legislation its blessing.
It remains to be seen whether Elections Ontario will actually attempt to fine those who tweeted ballot photos, but at least one prominent journalist could be among them. Globe and Mail media reporter Simon Houpt tweeted a photo of his unmarked ballot Thursday and received a response from Elections Ontario. He and many others on Twitter have so far declined to remove the pictures.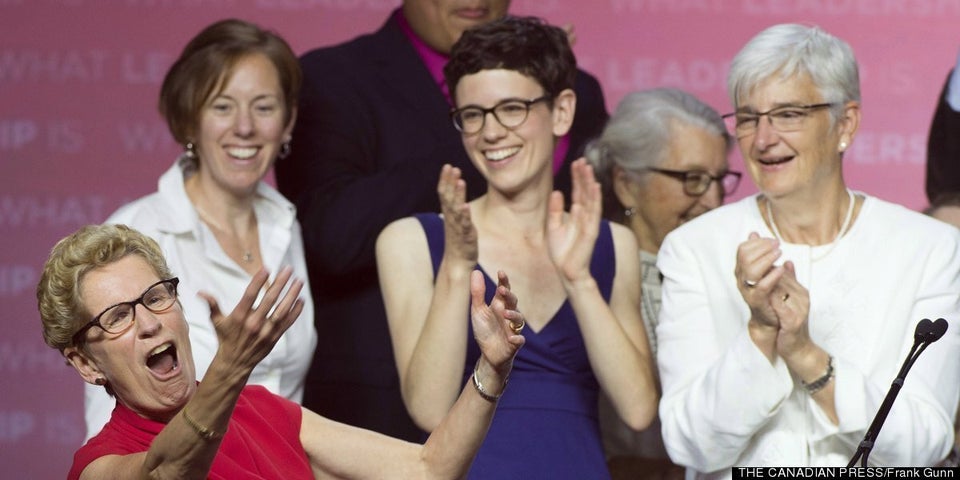 Best Photos From Election Night
Popular in the Community