Look out, Beyonce. The hottest album of the year just dropped, and it's coming for all your Grammy noms.
Plucky pink cartoon piglet Peppa Pig— of the uber-popular U.K. kid's TV show by the same name — has finally made her musical debut. Fans can buy or stream "Peppa Pig: My First Album" as of today.
The compilation of 16 recorded tracks is already turning heads, with many noting that pop queen Beyoncé and rap star Iggy Azalea also released new albums Friday ... and they could be in for some unlikely competition.
Peppa's debut album includes extended versions of "much-loved songs from the animated series composed by Julian Nott," a news release from Entertainment One notes. Some of those songs include "Bing Bong Zoo", "Rainbow, Rainbow" and "Jumping in Muddy Puddles."
It will also include some new compositions. And Harley Bird (the voice of Peppa Pig) sings on several of the tracks.
Fans are already raving about the album on social media.
The album also have five stars on iTunes, and includes reviews such as "album of the year" and "better than any Drake album."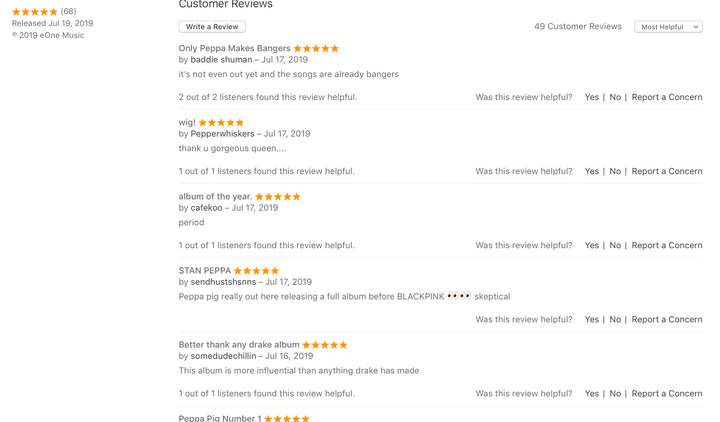 And if there are still any doubters about the influence of kid's music out there, may we use this opportunity to remind you that "Baby Shark" peaked at No. 32 on the Billboard Hot 100 chart this year, and a live tour has just been announced.