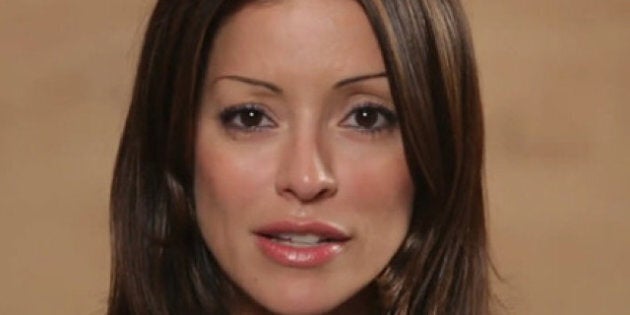 The image of a harp seal bleeding to death is apparently too graphic for Canadian television.
The Television Bureau of Canada, an industry group that approves television ads and public service announcements, recently told People for the Ethical Treatment of Animals (PETA) it would have to delete two scenes from a potential commercial if it wanted approval to run the spots on Canadian TV.
A close-up shot of a harp seal burping up blood as it dies was deemed too much for Canadian audiences, as was another image of a sealer hitting, hooking and dragging a seal across bloodied ice.
"The following scenes will need to be removed," wrote Jessica Bassermann, a senior bilingual telecaster analyst with the Television Bureau, in an email to PETA. "The scene at 39 seconds with the dying seal will need to be removed [and] the scene at 45 seconds will need to be revised so that the second seal the man hits is removed."
PETA's senior vice president Dan Mathews told The Huffington Post Canada his group wouldn't consent to the edits because they nullified the point of the ad.
"We think the truth should be shown. We think that if the government is this proud and goes to such great lengths to defend this program, this program should be seen by the country and by the people who pay for it," he said in a phone interview Tuesday.
"We don't want it whitewashed and we don't want it generalized, we want to show exactly what they do," he said.
Although the Television Bureau rarely vetoes ads, Bassermann made it clear that without the edits PETA was unlikely to get any airtime.
"We can't approve the spot with those images," she wrote in an email dated May 3, 2012, and provided to HuffPost by PETA.
Even if PETA's public service announcement was approved, Bassermann warned there was still a chance stations would not air the spot.
It's unclear exactly why Bassermann felt the images had to be removed. The guidelines relating to "issue and opinion advertising" don't speak to imagery but it is possible Basserman found the scenes too violent. She refused to speak to HuffPost on Tuesday.
PETA approached CTV Edmonton after being rejected by the Television Bureau hoping the station might air the spot uncut.
But alas, no luck there either.
"The CTV Edmonton General Manager & Vice President Lloyd Lewis has reviewed the submitted material and concurs with Telecaster. It is requested that the necessary edits be made to the material," wrote Sandra Tait, a sales executive at CTV Edmonton.
PETA wanted to run an ad arguing the seal hunt is not only cruel but a giant waste of taxpayers' money at a time when governments are pleading austerity.
"The one thing that is not as much common knowledge as it should be in Canada is the cost to taxpayers to this ongoing joke of a seal hunt. There are no markets left for seal pelts since Russia banned Canadian seal imports last year," Mathews said.
"The commercial seal slaughter is obviously cruel but it is also an example of government waste," says Vancouver-born actress Emmanuelle Vaugier in the ad.
"Canada spends more than $7 million Canadian dollars in taxpayer funds each year subsidizing this massacre. Millions more are spent propping up this dying industry even though income from this slaughter accounts for less than one per cent of the economy of Newfoundland where it takes place," Vaugier goes on to say.
Fisheries Minister Keith Ashfield spokeswoman Erin Filliter said the federal government doesn't itemize "this type of spending" so she couldn't confirm the amount the federal government spends defending and promoting the hunt.
The Conservatives, like the Liberals before them, have devoted many resources to supporting the seal hunt. The federal government is currently appealing a European Union ban against seal products to the World Trade Organization and the government has tried, so far unsuccessfully, to open new markets in China.
Fillier said the seal hunt provides important part-time seasonal employment for up to 6,000 people every year in remote coastal and northern communities where other economic opportunities are limited.
"The seal hunt is also conducted in a humane and respectful way and the full use of animals harvested is strongly encouraged," she said.
Mathews said PETA plans to air its ads online in a web-based campaign now that Canadian television stations won't help them get their message out.
Like Huffington Post Canada's Ottawa Bureau Chief Althia Raj's reporter page on Facebook and follow her on Twitter for all the latest news from Parliament Hill.
althia.raj@huffingtonpost.com