Outgoing Edmonton MP Peter Goldring is accused of bugging campaign computers to hack into someone's private accounts — and the Conservative party covered it up, alleges a former riding executive.
Matthew Altheim was the vice-president of the Edmonton-East riding association during the 2011 federal election campaign. Now the head of a video production company, Altheim claims that Goldring installed spyware on computers to access a campaign volunteer's email and other accounts in order to monitor his activities.
Illegally accessing someone's computer or private data is a criminal offence and carries a maximum prison sentence of 10 years.
"There will be no comment at this time," Goldring's executive assistant, Grant Peters, said in an email Wednesday to The Huffington Post Alberta. Goldring, first elected in 1997, is not running for re-election in the vote on Oct. 19.
Altheim claims that party members took the information to Ottawa at the time, where they met privately with Conservative party president John Walsh. They also emailed the Prime Minister's Office "hoping for help & assistance. No action was taken," according to allegations in a news release this week.
Altheim said he and other former campaign workers are bringing attention to the case now because they want to highlight the culture of the party, and "especially the PMO."
"I was so disgusted with our party that they were so willing to cover things up, to protect their establishment, and protect the party brand," Altheim wrote on Facebook.
"I hate to say it, but I don't think many of us can recognize our party brand anymore. If you don't think the Duffy scandal is relevant to showing the true culture of the Conservative Party, then you are living in a bubble. It is very relevant."
Suspended Conservative Sen. Mike Duffy is currently on trial for 31 charges of fraud, breach of trust and bribery in connection with disputed claims for Senate living and housing expenses. The prime minister's former chief of staff, Nigel Wright, has been testifying about what led him to front $90,000 for Duffy to repay the expenses in 2013.
"During the current Mike Duffy scandal, Canadians can clearly see the desire of the CPC organization to control the message and cover up information. Many Conservative members are breaking ranks and becoming frustrated," said Altheim, who ran unsuccessfully against Goldring for the 2011 Tory nomination in Edmonton-East.
The Conservative party has not responded to interview requests.
'Blond joke' reportedly angered MP
The 2011 audio recording of Goldring and an interview with one of the alleged hacking victims will be released on Thursday on "To The Point," an online current affairs show produced by Altheim.
Lawton obtained a transcript of a board meeting which revealed Goldring was reportedly angry over a "blond joke" about the MP's wife, which was sent in an email by a campaign worker.
Goldring is known to wear a "spy pen" in his pocket so that he can use the tiny video camera to record his conversations with people. He started carrying it after he was acquitted of a 2011 charge for refusing a breathalyzer test in Edmonton.
According to CBC News, Goldring believes he would have avoided such a charge if a spy pen had captured his conversation with the police.
In 2014, Goldring raised eyebrows when he suggested fellow MPs wear video recording equipment. In the wake of sexual harassment allegations by NDP members against two Liberal MPs, Goldring warned his colleagues about the dangers of "consorting without protection." He later issued a retraction and apologized for the news release.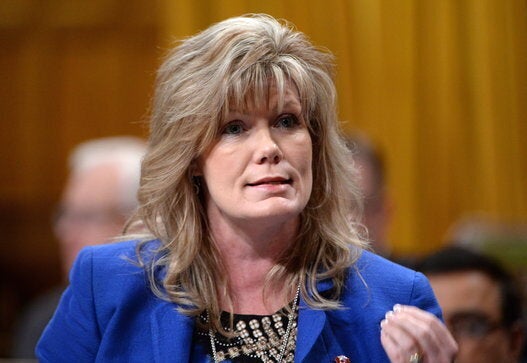 Notable MPs Who Aren't Running Again