A former Conservative cabinet minister says Prime Minister Justin Trudeau has "spit" in the eye of Atlantic Canadians by not guaranteeing the next Supreme Court justice will hail from the region.
In a column published Wednesday in the National Post, Peter MacKay — a former Nova Scotia MP and justice minister — accused the Liberal government of ignoring the very people behind the so-called "red wave" last October.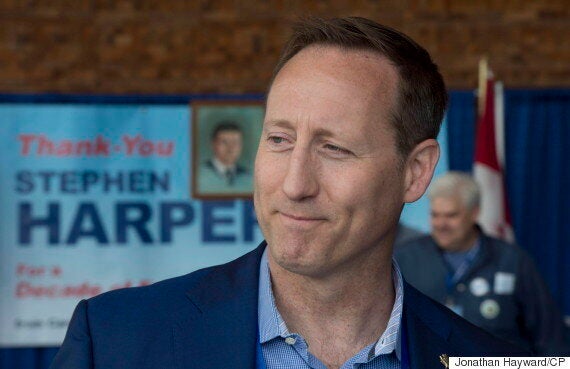 Peter MacKay is seen at the Conservative Party of Canada convention in Vancouver on May 27, 2016. (Photo: Jonathan Hayward/CP)
MacKay, who presently works for a Toronto law firm, also made his case for why Tory MPs are needed again in Atlantic Canada. He is believed to be mulling a Conservative Party leadership bid.
"Certainly no Canadian would find it acceptable to be told that their region of the country, for the first time in history, would have no representation on the Supreme Court," he wrote. "One could only imagine the outrage in Ontario, Quebec or the West if this were to happen."
Last October, all 32 seats in the region were won by Liberals. All four premiers in Atlantic Canada are Liberals as well, with majority governments.
Bar association's raised eyebrows
At issue is the seven-member advisory board that will help Trudeau name top court justices. The group will recommend up to five names to fill the seat of retiring Justice Thomas Cromwell of Nova Scotia, the only Atlantic Canadian on the bench.
By convention, the court has always included one member from Atlantic Canada. Despite saying applications from the region will be considered, Trudeau and Justice Minister Jody Wilson-Raybould won't commit that the next judge will be from Nova Scotia, New Brunswick, Prince Edward Island, or Newfoundland and Labrador.
'It defies all constitutional convention'
In his Post piece, which included a few digs about photo-ops and selfies, MacKay accused the Liberals of "astonishing neglect" of his home region.
"It defies all constitutional convention. It is also disrespectful and an insult to Atlantic Canadians to suggest that suddenly, of our entire legal population, none are qualified to sit on the top court."
MacKay argued the matter has been accepted with hardly a peep.
"No one has called out the prime minister for what this is — spit in our eye."
"No one has called out the prime minister for what this is — spit in our eye," he wrote.
MacKay also took issue with the Liberals' requirement that justices be fluent in both languages, likening it to a "social science experiment" that could prevent the best possible jurists from landing those roles.
He ended his piece by calling for Atlantic Canadians of all political stripes to make themselves heard on the issue.
"We are being taken for granted and ignored as a friendly backwater," he said.
That word — "backwater" — was recently used by another top Tory with roots in the region who is expected to jump into the race to replace Stephen Harper.
Lisa Raitt, who represents the Ontario riding of Milton but was raised in Sydney, N.S., has been vocal on the issue. She told CBC Radio earlier this month that Trudeau sees Atlantic Canada as a "backwater place."
"It just drives me around the bend when people assume that we're not good enough, that we can't be bilingual, that we don't have visible minorities here, whatever that mix is that they're looking for," Raitt said.
The Canadian Press reports Raitt will announce her leadership bid in September.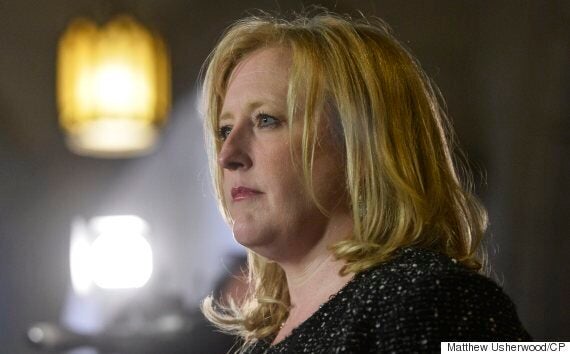 Lisa Raitt talks with media in Ottawa on June 1, 2015. (Photo: Matthew Usherwood/The Canadian Press)
Atlantic Canadian roots could prove to be advantageous for Tory leadership contenders, not only because Conservatives need to win seats there again if they hope to win government.
Unlike other one-member, one-vote leadership contests, Tories use a points-based system where every electoral district is given equal weight regardless of membership size. That means small Atlantic Canada districts have just as much power as those in the Conservative heartland of Alberta.
But if Trudeau's recent swing through the region is any indication, Tories have their work cut out for them.
Last week, the prime minister was in Atlantic Canada where he again offered no guarantee that the regional custom on the top court would be honoured.
The prime minister took to Twitter to share a photo of the large crowds greeting him in New Glasgow.
New Glasgow happens to be MacKay's hometown.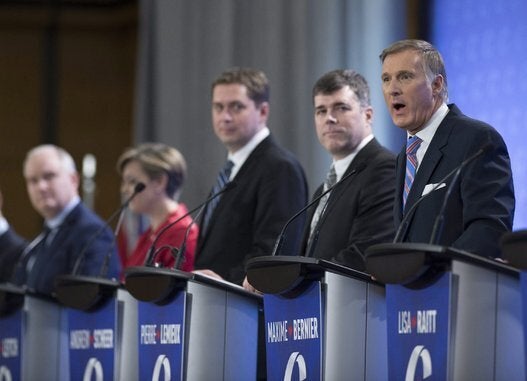 Conservative Leadership Candidates
Popular in the Community