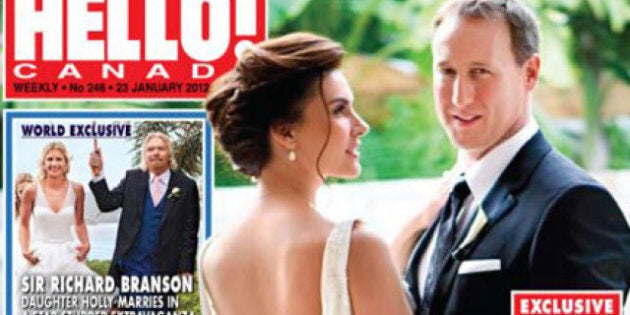 Afshin-Jam's manager and brother-in-law, Peter Karroll, told Hello the couple needed to be convinced that the photos from the Mexican wedding should be released.
Maclean's magazine also obtained rights to some of the photos and will donate $3,000 to the charity Soldier On, which helps ill or injured Canadian soldiers and veterans take part in recreational activities.
Afshin-Jam may be best-known for winning the Miss World Canada crown in 2003, but the Iranian-born Canadian is much more than just a beauty queen.
Her family came to Canada from Iran in 1981 following the Islamic revolution there. She holds degrees in international relations and political science from the University of British Columbia and also studied at the prestigious Institut d'Études Politiques de Paris and the International Study Center at Herstmonceux Castle in England. She speaks three languages: English, French and Farsi.
In 2003, she mounted a successful campaign to stop the execution of Nazanin Mahabad Fatehi, an Iranian teenager who was sentenced to death by stoning for killing one of three men who were trying to rape her and her niece. You can see a number of interviews Afshin-Jam did on Fatehi in the video slideshow below.
Following her success in Iran, Afshin-Jam started the Stop Child Executions charity, to which Hello donated, to help other young people facing death sentences.
On top of all her humanitarian work, Afshin-Jam is also a talented musician. She released an album, "Someday," in April 2007. You can see the video for the title track in the slideshow below, as well for her single "I Dance For You."
Between the schooling, languages, pageants, activism and music, Afshin-Jam somehow has found time to become a licensed pilot. She holds the highest rank possible in the Royal Canadian Air Cadets.