CBC anchor Peter Mansbridge was paid by a top oil and gas industry group to give a speech on energy, raising new questions about the broadcaster's conflict of interest policies in the wake of revelations about contributor Rex Murphy's ties to the energy sector.
CAPP spokesperson Geraldine Anderson told Canadaland's Jesse Brown that the lobbying organization procured Mansbridge's services through the Lavin Agency but that the terms of the speaking agreement prohibit releasing the fee paid. Mansbridge received $28,000 for one recent speaking engagement, according to the Toronto Sun.
The CAPP is one of Canada's most influential lobby groups and its member companies "produce more than 90 per cent of Canada's natural gas and crude oil," according to its website.
CBC spokesperson Chuck Thompson confirmed to HuffPost Canada that Mansbridge received permission from the public broadcaster to speak at the CAPP event and clears all his speaking engagements with the senior news team.
"Peter is encouraged by management to speak on a regular basis, it's part of an outreach initiative in place for many of our hosts that ensures CBC News and in this case our Chief Correspondent is talking to Canadians in communities across the country," Thompson said in an email.
"The content of those speeches is always about putting CBC News coverage into context and explaining what we do and how we do it but Peter never offers up his opinion or takes a position on anything that's in the news."
The text of Mansbridge's speech is not available online.
Thompson also highlighted that Mansbridge "speaks to a variety of groups and has given more than 200 speeches in the last ten years; some of those groups include associations or organizations looking out for the environment."
"There are occasions where he is paid to speak but given he's taking on extra work and doing so on his own time, we think it's fair that he gets compensated."
On Wednesday, Toronto City Councillor Gord Perks called on the CBC to take action and described Mansbridge's speech at the CAPP event as "so very wrong."
The questions about Mansbridge's speaking engagements come after the CBC responded to controversy surrounding another host's speeches. CBC Radio host and TV contributor Rex Murphy has given a number of paid speeches voicing support for oilsands development and then appeared on "The National" and attacked Neil Young for his anti-oilsands comments.
CBC News general manager and editor in chief Jennifer McGuire explained in a blog post that "the most important thing to understand is that Rex is not a regular reporter. ... As a freelancer, Rex has the ability to do other work." McGuire also stressed the Murphy's work is approved by CBC editors and that the network always strives to provide "balanced coverage."
The company's ethics policies outline a number of situations in which speaking engagements might constitute a conflict of interest. Some of those include:
No conflict should exist or appear to exist between the private interests of CBC/Radio-Canada employees and their official duties.
Gifts, benefits, money or other special considerations offered to CBC/Radio-Canada employees to influence, obligate or appear to influence a CBC/Radio-Canada decision must be refused.
Employees may not engage in activities likely to bring CBC/Radio-Canada into disrepute.
Employees may not take a stand on public controversies if CBC's integrity would be compromised.
Employees shall not engage without permission in outside work which involves services in competition with the CBC/Radio-Canada, exploits their connection with the CBC/Radio-Canada or restricts their availability, efficiency or causes a conflict of interest with their CBC/Radio-Canada duties.
The broadcaster subsequently explained that the majority of the money went to pay for a "jointly created and branded website" and the rest to Parks Canada's share for a charter plane and communications technology. They also said that they retained full editorial control over all coverage.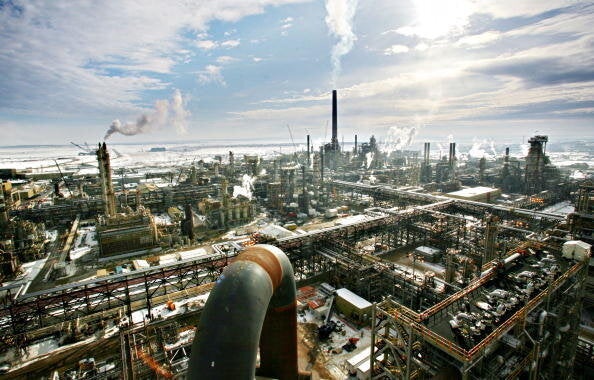 The Craziest Photos Of The Oilsands