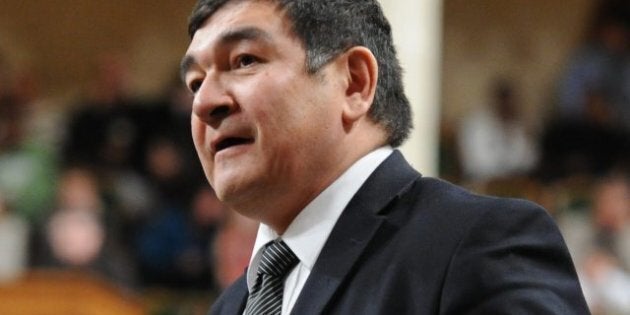 The Labrador MP had been under fire for questionable campaign spending and donations from his 2011 election victory.
More from The Canadian Press
OTTAWA — Conservative cabinet minister Peter Penashue has resigned his seat in the House of Commons and says he'll run again in Labrador in an effort to clear the air over election funding irregularities.
Penashue says an "inexperienced volunteer" in his organization — his official agent — was responsible for accepting illegal campaign donations during the 2011 election.
The campaign manager, Reginald Bowers, was subsequently appointed by the federal government to the Canada-Newfoundland and Labrador Offshore Petroleum Board, which regulates the oil sector.
Bowers resigned from the board late Thursday afternoon, effective immediately, according to a board spokesman.
"Although I was unaware of the inaccuracies in the return, I believe I must be accountable to the people who elected me and therefore I am stepping down as the member of Parliament for Labrador and will seek re-election through a byelection," Penashue said in release.
"I will also be stepping down as minister of intergovernmental affairs and president of the Queen's Privy Council for Canada.''
Penashue is the second member of Prime Minister Stephen Harper's cabinet to leave in the last month.
John Duncan resigned as aboriginal affairs minister after improperly lobbying a tax court judge on behalf of a constituent. Duncan, who was succeeded in his cabinet portfolio by Bernard Valcourt, remains an MP.
A curt news release from the Prime Minister's Office said Transport Minister Denis Lebel would take over Penashue's duties at intergovernmental affairs. Lebel has acknowledged he previously held a party membership with the separatist Bloc Quebecois in the 1990s.
"I would like to thank Mr. Penashue for his service as a minister and to the people of Labrador," Harper said in the release.
A PMO spokesman said "a byelection will be called in due course," while a Conservative party official confirmed Penashue will be the party's candidate, suggesting he need not seek the nomination.
Penashue won his seat by just 79 votes in an upset over Liberal incumbent Todd Russell in 2011. An Elections Canada review subsequently showed Penashue spent $4,000 over his limit of just under $84,500.
He also appeared to have accepted thousands of dollars in free flights across his expansive, remote riding — which would amount to a corporate donation.
Liberals are also demanding to know whether a $25,000 loan Penashue received from the Innu Development Limited Partnership came with a commercial rate of interest, as is required under the rules.
And Penashue has yet to explain how a St. John's construction company, Pennecon, showed up as a donor to his campaign account when the campaign issued tax receipts to six executives of the company.
Corporate donations are illegal under the Canada Elections Act.
Russell said Penashue should have stepped down months ago, but that he was nonetheless shocked to hear the news.
"In this part of the world, we use the word 'gobsmacked,'" Russell told The Canadian Press.
"Obviously there's an admittance here that something was absolutely and fundamentally wrong."
Elections Canada is refusing to comment on whether there is anything amiss in Penashue's file, but he says he is working with the elections watchdog to amend his 2011 campaign return.
NDP Leader Tom Mulcair said Penashue should simply resign and let the investigators finish their work.
"I mean, he's still not admitting that he did anything wrong but he says he's done enough to have to resign but not enough wrong to stop him from running again, whereas the investigation is still ongoing," Mulcair said in an interview.
"There's no way to justify the type of stunt that he's pulling now."
Penashue is not the only Conservative MP currently suffering under the glare of a campaign spending investigation.
Peterborough, Ont., MP Dean Del Mastro, the parliamentary secretary to the prime minister, is being investigated for his 2008 campaign return, with Elections Canada court documents suggesting he overspent his legal limit by $17,000 and then tried to cover it up.
The allegations have not been proven in court and no charges have been laid.
Penashue's decision to resign from both cabinet and his MP's seat in order to seek re-election in a byelection is not unprecedented.
Former Liberal cabinet minister Sheila Copps resigned briefly in 1996 to make good on her 1993 campaign promise to quit if the GST was not abolished. Copps was subsequently re-elected in her Hamilton riding.
— With files from Joan Bryden in Ottawa and Sue Bailey in St. John's, N.L.