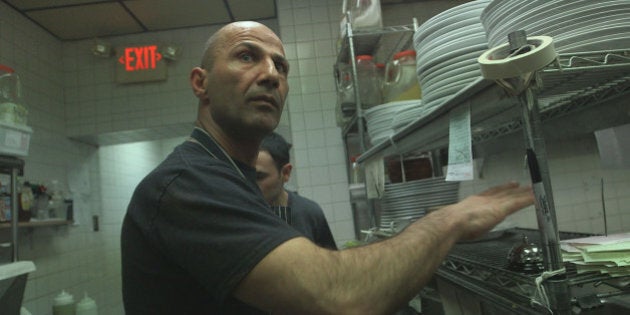 Giles Coren has eaten at the world's finest restaurants, but as a critic, nothing excites him more than discovering a hidden gem, a place that's doing everything right, but not getting the recognition it deserves. In each episode of W Network's Million Dollar Critic, he'll sample meals from five worthy North American restaurants and thrust one lucky winner into the limelight by giving it his million dollar review.
In Philadelphia, I lived the American dream. I saw the Liberty Bell, soaked up the birthplace of modern democracy, slobbered my way through a cheesesteak running with "wiz," ate noodles with the ex-Mayor of the city, ran up the steps of the Art Museum dressed as Rocky Balboa and, most importantly of all, ate some extraordinary food.
My noodles with the mayor were served at the lunch counter of a fascinating fusion place called 'Cheu' while the ex-politico insulted my national cuisine, shouting "British food sucks!" as if the war of Independence were still on and being fought mostly in kitchens.
There was the best vegan cooking I have ever had at Vedge, cooked and served with a passion I had never thought possible from simpering steak-swervers. There was Avenue Deli in the badlands of West Philly, where shaven-headed, tattooed Jews and one lovely Italian lady served me a crazy collision of the two cultures, and then The Mildred, where they serve everything in cast iron pots for no apparent reason and have almost no customers at all -- lucky I went on Whisky Wednesday and could drown my sorrows in a bucket of bourbon.
But the winner of what we blushingly call my "Million Dollar Review" -- because to win it, and win the show, could be worth more than a million dollars in future business -- was a place called Kanella, the best Cypriot restaurant I have ever been to, anywhere.
Kanella is the sort of place I wish I could review every week: a buzzing local taverna on a lively city corner, people of all ages and ethnicities sitting at outside tables, simply decorated inside, full of laughter, friends and family, and charming staff serving a cuisine rooted deeply in a foreign culture rather than just ripping it off, with a deadly serious chef at the helm.
Konstantinos Pitsillides lived and worked for many years in London, England, under some of the great chefs of the 1980s and '90s such as Nico Ladenis and Pierre Koffmann. But he is also a shine-headed, nut-brown, heavily-built hunk of Cypriot man, with forearms like legs of mutton and a blue-eyed stare that could freeze nitrogen.
I eat a lot of Cypriot and Greek food. We have thousands of Greek restaurants in London, all but a handful of which are Cypriot in disguise, and while many of them serve perfectly decent mezedes -- hommos, taramsalata, fried calamari, tsatiski, tabouleh, grilled lounza and halloumi, souvlaki, dolmades -- very few of them do what Kanela does.
For here I had a traditional Easter sheep's head soup, in which a traditional avgolemano contained also spoon-size chunks of tongue, cheek and eyebrow, awesomely authentic and very faintly daunting. Great regional cooking is often a little bit scary, and I welcome it.
Then there were two grilled octopus tentacles on huge borlotti beans, a great fattoush salad, home made merguez sausages wrapped in filo pastry, three fresh, plump "manki" dumplings and the best fried pork chop I have ever had. Simple, perfect.
Cypriot food done well is one of the world's great pleasures and a place like this makes a refreshing change from the usual round of Italian, French and Chinese.
Best of all, because Kanella is one of Philly's many BYOB places (there are hundreds of them due to ancient booze laws that have not been reviewed since the Declaration of Independence was signed here), you don't have to drink Greek wine but can take along whatever chunky Barolo, German Riesling or Californian pinot you choose to accompany your kebab. (It is one of the great paradoxes that having invented wine many thousands of years ago, and given it to the world, the Greeks never bothered to improve on it, and these days produce the very worst that there is.)
Konstantinos has a sign in the window of his restaurant that says, "The customer is not always right." But if that customer has chosen to go to Kanella, then he is a long way from wrong.
For more Giles, go to WNetwork.com. Million Dollar Critic airs Tuesday nights at 10 p.m. E/P on W Network.