Michael Phelps lost his last solo race at the Rio Olympics to the best possible opponent.
The king of the pool was defeated in the 100-metre butterfly by Joseph Schooling, a 21-year-old Singapore swimmer who has idolized Phelps since he was a boy.
As the New York Times reports, Schooling told reporters after his win that Phelps inspired him to improve himself.
"A lot of this is because of Michael," he said. "He's the reason I wanted to be a better swimmer."
Visual proof of School's admiration made the rounds on social media, when a photo emerged of Schooling as a child standing beside Phelps.
A half-naked Phelps grins at the camera, with his hand on the shoulder of a bespectacled Schooling.
Phelps and the U.S. swimming team had visited Schooling's training club one early morning in 2008. Awestruck, the boy had rushed to his hero for a photo together.
"I was so shell-shocked, I couldn't really open my mouth," Schooling told the Guardian.
Eight years later, they've reunited at Rio and Schooling has overtaken his idol. Schooling clocked the race at 50.39 seconds, setting a new record and breaking the one Phelps had set in the Beijing Summer Games. Phelps tied for silver with South African swimmer Chad le Clos and Hungary's Laszlo Cseh.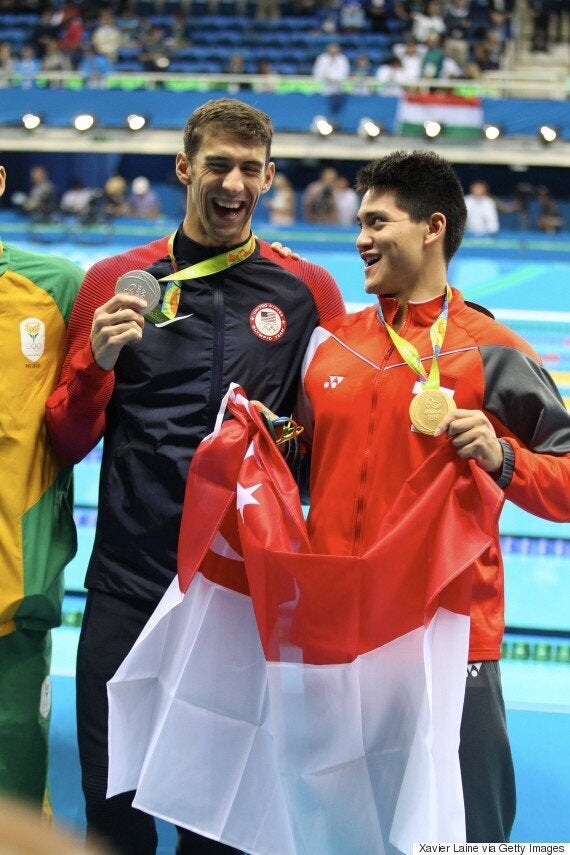 U.S. swimmer Michael Phelps poses with Singapore swimmer Joseph Schooling, following racing in the men's 100-metre butterfly.
With 22 gold medals, Phelps is the most decorated Olympian of all time. While he wasn't exactly ecstatic about being usurped, he told the Guardian he was proud of Schooling.
"I wanted to change the sport of swimming," he told the Guardian. "With the people we have in the sport now I think you are seeing it."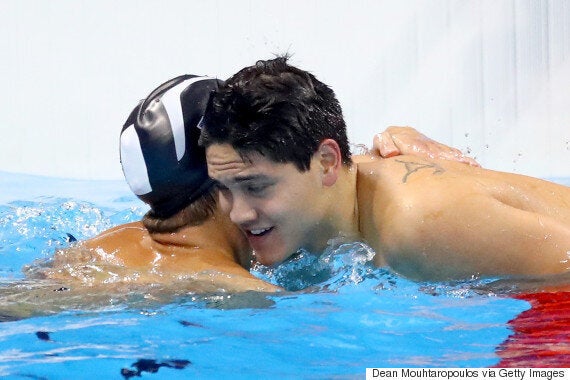 Singapore swimmer Joseph Schooling hugs opponent Michael Phelps, reacting to race results.
Phelps shares his pride with Singapore, which has its first ever Olympic gold medal thanks to Schooling. Prime minister Lee Hsien Loong congratulated the young swimmer on Instagram.
"It is an incredible feat, to compete among the world's best, stay focussed, and emerge victorious," Lee's post reads. "Congrats once again to Joseph, you made us very proud today."
"I hope that Michael can stay around long enough for me to race him again," he told the Independent. "I'd love that."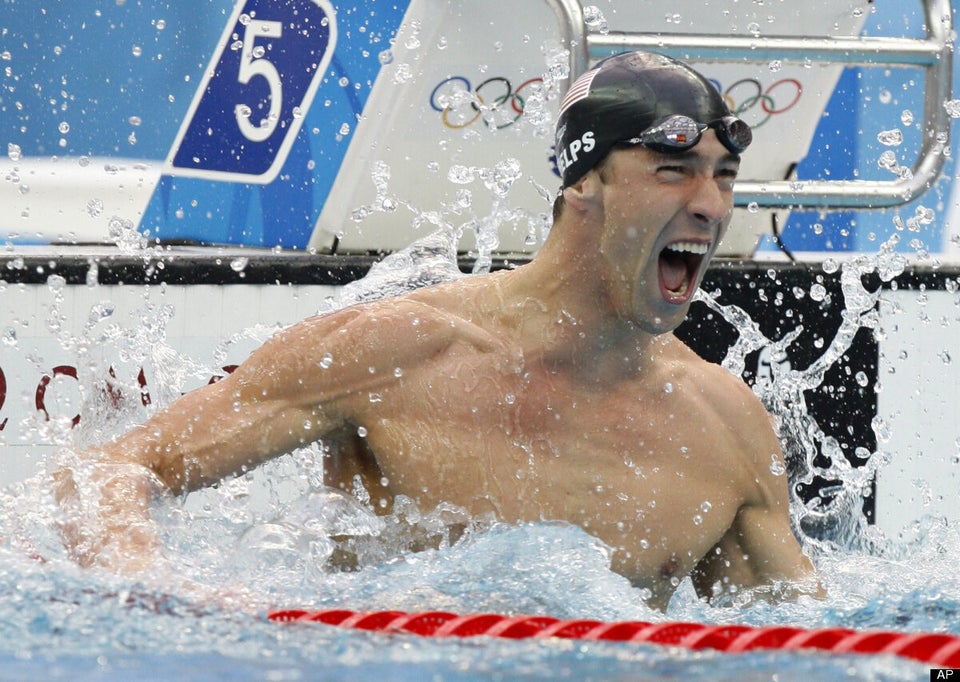 Michael Phelps Through The Years