Ivette Ivens, who is also a mother of two, originally took the photos as part of an art show, which took place earlier this month. Entitled "I Breastfeed My Toddler," the images capture women breastfeeding in various settings to show that nursing happens anywhere at any time.
"Children know when it's time to wean off. Mothers do, too. Strangers don't know, so they shouldn't care," the breastfeeding advocate told The Huffington Post.
The photographer herself breastfed her older son until he was over three years old and still nurses her 10-month-old baby today.
While Iven's glam shots of women and their babies might seem unrealistic, the 25-year-old says she's not trying to show the reality of breastfeeding, but rather the internal feeling of it. "[Breastfeeding] can be messy, uncomfortable and even painful at times, but the mother's inner consciousness tells another story," she says.
Iven's photos have received tons of praise on her Facebook page, which has over 111,000 likes. One user said: "Omg! Love it! Pure nature joy and bond between mother and her child."
Another was so moved by one of the images that he wrote: "Why am I crying?"
Thanks to the incredibly feedback Iven has received, she is now publishing a photography book called "Breastfeeding Goddesses."
To see more from Ivette Ivens, click through the slideshow below!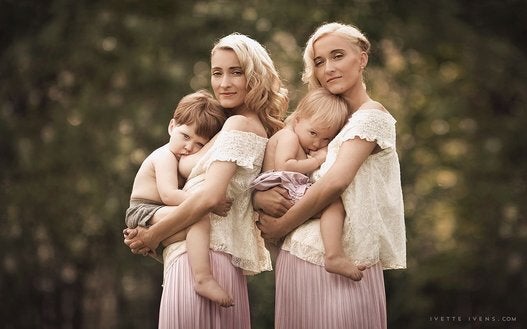 Stunning Photos Celebrate Extended Breastfeeding