OTTAWA — Pierre Karl Péladeau, the man who brought English Canada the Conservative-leaning and anti-separatist Sun News Network, is running for the Parti Québecois.
Péladeau, the former head of Quebecor which owns the Sun Media, the cable and wireless company Vidéotron as well as several French-language outfits such as television network TVA and Le Journal de Montreál, is the PQ's candidate in the Saint-Jérôme riding. He made the announcement with PQ Leader Pauline Marois Sunday morning when her campaign bus rolled into the riding.
"Today, I make the choice to serve Quebecers, and to devote myself to the economic prosperity of Quebec," Péladeau told enthusiastic supporters. It was a "big day" for him, he said. He'd spent the past 25 years of his life devoted to Quebecor, a company his father Pierre Péladeau founded and one that is often held up as a beacon of Quebec success. Now he believed it was on solid footing for the future, he said.
He was jumping into politics because of his three children, Péladeau told the crowd.
"I wish to contribute to leaving them a country for which they will proud," he said. If there was any doubt that Péladeau had misspoken, he later told reporters: "Clearly, I am a sovereigntist."
Marois praised her star candidate for his willingness to jump into politics and help Quebec overcome its economic challenges.
"It's not every day that we see a person in charge of a large corporation chose to invest in the public service and give his talents, his experience, his energy, to the service of his fellow citizens," she said. "Pierre Karl Péladeau embodies the entrepreneurial spirit, this desire to build, to innovate, to succeed," she added. "Together, we will take the means necessary to develop our economy, support job creation, and help our business people enrich Quebec."
Péladeau acknowledged he has alienated some people during his business career. Fourteen lock outs and the use of scab workers during a two-year job action at Le Journal de Montréal, for example, were cited by the rival party Québec Solidaire as proof the PQ wasn't a left-wing party at all.
"[The PQ] has chosen to include in its rank, as a member of the legislative assembly, one of the most intransigent bosses in Quebec," said Québec Solidaire spokeswoman Françoise David Sunday morning.
"Some people will say that I am pugnacious, others will say I am combative," Péladeau responded. "One thing is certain, it is true that I have one way of doing things, it's by looking ahead and moving forward with determination, no matter the obstacles, guided by the ambition to succeed."
The media mogul attempted to calm fears his vast media holdings would cause a conflict of interest. He said he resigned Sunday morning from his positions as chairman of TVA, vice-chairman of Quebecor and chairman of Quebecor Media. He also resigned from the board of directors of Hydro Québec. Marois appointed him chairman there last April.
Péladeau told reporters that if he's elected, he'll work with a conflict of interest commissioner but won't be selling his shares in Quebecor. When he stepped down from his position as CEO of the multi-million dollar company last March, citing the desire to spend more time with his family and concentrate on new projects, the Globe and Mail reported he still retained a controlling stake of the voting shares.
Two weeks ago, Péladeau was still denying rumours, first published in the Prince Arthur Herald in December, that he planned to join the ruling sovereigntist party.
"I will not be running in the election," he said on February 26, according to a report from the Toronto Sun. "I don't want to talk about it ad infinitum, but I won't be running."
Péladeau told reporters he had changed his mind. "I had no intention of running for office [when I was asked]," he said. Marois said she approached Péladeau several months ago about running for the PQ but he confirmed only last Sunday he would join her team.
The businessman was asked three times whether he was interested in replacing Marois, as head of the PQ and possible premier of Quebec. He deflected and chose not to answer.
"I intend to be elected and represent the riding and the constituents of Saint-Jérôme," he said.
Moments later, when he was asked why he was leaving his powerful position to run for office he said: "I'm 52 years old, it's not at 65 years of age that I will be getting involved in politics. I've asked myself in the last few years, do I want to do this [Quebecor] for the rest of my life, or do I want to do other things?"
Marois is 64. She will turn 65 later this month.
The Saint-Jérôme riding is currently held by outgoing MLA Jacques Duchesneau of the Coalition Avenir Québec. Sunday, CAQ Leader Francois Legault told told reporters Péladeau was making a mistake and his involvement with a significant media company raised questions.
"I'm afraid Pierre-Karl will be disappointed, Legault said.
"At the Parti Québecois, all proposals to reform the economy and the public sector are taken hostage by one topic: a referendum on sovereignty."
Péladeau told reporters he supported Marois' plan to consult Quebecers on the possibility of a new referendum. She has not promised to hold one but most analysts suspect she will.
Quebec Liberal Party leader Philippe Couillard, who was campaigning in the Lac-Saint-Jean region, told reporters it was clear Marois was heading towards a referendum that would divide and impoverish Quebecers.
"No matter which candidates are running, that will be the ballot box question," he said.
Sun Media vice-president Kory Teneycke did not immediately return requests for comment. Teneycke is a former director of communications to Prime Minister Stephen Harper.
Harper's current spokesman Jason MacDonald told HuffPost that the "issues and questions [raised by Péladeau's candidacy were] for the voters in Quebec to address."
When asked how he thought his decision to join the PQ might play in the rest of Canada, Péladeau responded: "business is business."
Quebecers head to the polls on April 7.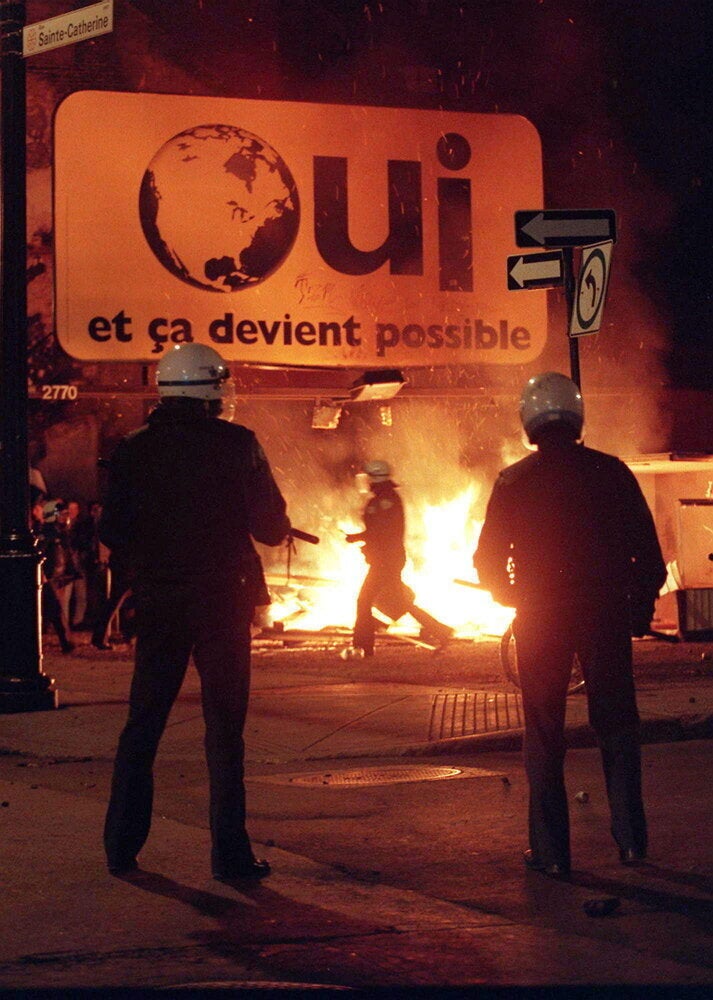 FLASHBACK: The 1995 Quebec Referendum