A truckload of pigs bound for a Toronto slaughterhouse recently received at least a moment's respite from animal rights volunteers.
The animals were packed into the cargo hold, sweltering in the hot sun two weeks ago as the transports were stalled in traffic, when volunteers at Toronto Pig Save descended on the scene bearing water bottles. The animals, earmarked for Quality Meat Packers in downtown Toronto clustered near the vents in the side of the truck, clambering for a sip from water bottles.
A heatwave hit Toronto two weeks ago, with temperature hitting daily highs ranging from 26 C to 35 C (95 F), with humidex making the hottest day feel as warm as 43 C or 109 F.
The experience left some of the volunteers visibly moved.
"It was incredibly uncomfortable to exist anywhere without air conditioning in Toronto let alone on a street corner with no shade or breeze at all," volunteer and musician Mark Spicoluk told the Huffington Post, "But as the trucks approached it was heart shattering, the heat coming out of them.
"You could see it in their eyes as the trucks would stop at the red light and we would approach. The fear. the anguish. the suffering. And the shock and momentary relief, when the water hit their snouts."
Another volunteer, Karen Bowman described the experience as "incredibly overwhelming."
"It's impossible to relay the suffering I witnessed that day. I just can't. I don't know how to."
She was grateful, however, that the plight of the doomed pigs was captured on video.
"This video is important because it shows, without question, the suffering of living beings that are the meat and dairy industry," she explained. "How can one watch this video and ignore the connection between a life and a meal?"
"It's really, really horrible," local resident Jessi Ehret told CBC News, earlier this month about the stench coming from the slaughterhouse. "It's nauseating sometimes."
According to the organization, the idea would allow for transparency in the industry, essentially allowing people to bear witness to what typically goes on behind closed doors.
The group holds weekly vigils outside the plant, as a form of protest.
"Experiencing vigils really opens your eyes to the fact that they are no different than the dog in your house," said Toronto Pig Save volunteer Mariia Dos Santos. "They also need shelter, water, food and love... Lots of love."
Check out the slideshow below, but be warned, it isn't for the faint of heart.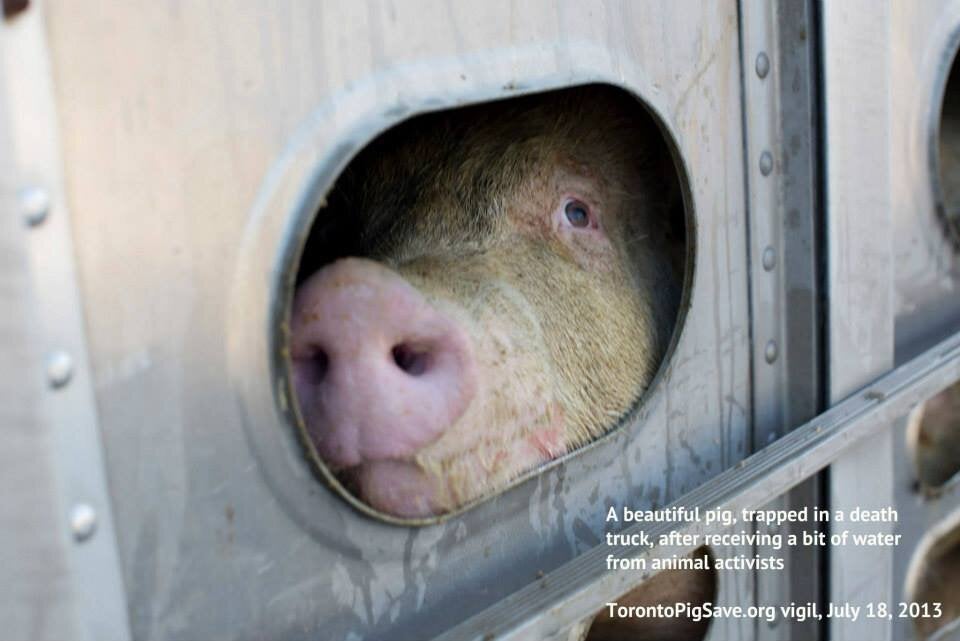 Pigs Left To Swelter In Toronto Heat Wave
Popular in the Community