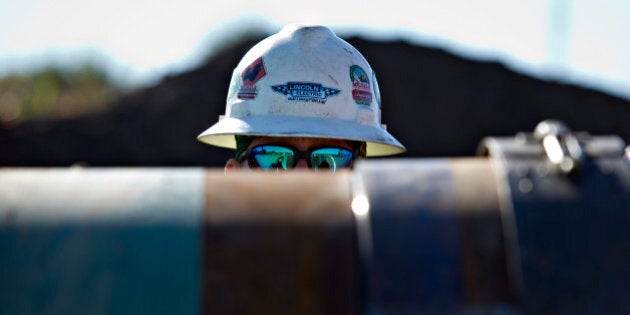 "Under-promise and over-deliver" is a concept politicians would do well to master early in their careers. The three pipeline companies currently trying to ram through their projects in the face of massive protests have gotten the concept, but in reverse. Enbridge, Kinder Morgan and Transcanada Pipelines have all trumpeted the creation of thousands of jobs their star-crossed projects would create, but a closer look reveals the massive scale of their over-promising and under-delivering.
Enbridge boasts of the creation of 3,000 jobs at the peak of construction of its Alberta-to-B.C. Northern Gateway pipeline, but the Canadian Centre for Policy Alternatives says the pipeline will create 1,850 construction jobs per year for three years and a "handful of permanent new jobs" when complete.
Robyn Allan is an experienced economist who writes extensively about the oil industry. She says Enbridge's estimates are actually based on a dodgy-sounding 'person-years' of employment during construction, and the peak of construction only lasts three months. Person-years of employment are often used interchangeably as jobs, but they are not jobs. They represent a full-time equivalent of one year of employment.
Allan has harsh words for the deception;
"Enbridge has misrepresented Northern Gateway to the public and the project is neither needed nor is it in the public interest. The project represents serious economic risk to the Canadian economy... From a public policy standpoint, Canada is being outplayed." She has little patience for the oil interests who "deliberately mislead, misrepresent, and obfuscate in order to exaggerate benefits, deny the costs and underplay the environmental risk. We are told half-truths, we are made false promises, and since our needs and concerns are inconvenient we are viewed with contempt."
Kinder Morgan wants to expand the capacity of its 1,150-kilometre Trans Mountain Pipeline between Alberta and Burnaby, B.C. They are trying to do survey work on Burnaby Mountain that involves drilling 250 metres into the mountain to test whether they can tunnel through it to drastically increase the flow of diluted bitumen from the Alberta oil sands. Protesters have been in their faces since day one. Over 100 protesters have been arrested to date, including environmental activist David Suzuki's grandson Tamo Campos. Suzuki himself showed up on the mountain on Nov. 23 and roared at the Mounties in a voice hoarse with emotion; "My grandson was dragged across the line and was arrested! I'm disappointed and it grieves me because of the respect we have for you."
A report by Simon Fraser University says operating the expansion project would create only 50 direct full-time jobs in the province. The proposed new pipeline would triple the capacity of the system from the current 300,000 barrels per day to at least 890,000 barrels per day. The new pipeline would exclusively carry heavier oils such as diluted bitumen, which are far more corrosive than regular crude and very difficult to clean up in the event of a spill.
Kinder Morgan is the biggest pipeline company in the U.S. CEO Richard Kinder is the 110th richest man alive with a net worth of $8.2 billion. For the record, it's Kinder as in "kindergarten" not as in "kinder, gentler." While Kinder Morgan makes about $70 million a year off the Trans Mountain pipeline, Canada only gets about $1.5 million in tax revenue.
TransCanada Pipelines is another over-promiser/under-deliverer. Their proposed Keystone XL pipeline stretches over 1,897 kilometres between Alberta and oil refineries on the Gulf coast of Texas. Because the proposed pipeline crosses the Canada-U.S. border, the State Department is the responsible agency. The State Department's March 2013 review of the project stated outright that the pipeline will spill oil. Not "may" but "will." The same review estimates that it will create only "a handful" of permanent, operational jobs in the U.S and 2,500 to 4,650 temporary jobs.
A New York Times editorial in March 2013 sought to hold President Obama to the promises he made in a speech on the pipeline: "A president who has repeatedly identified climate change as one of humanity's most pressing dangers cannot in good conscience approve a project that -- even by the State Department's most cautious calculations -- can only add to the problem." It recalled Obama's hard-line stance on global warming that so gladdened environmentalists: "...in his State of the Union address, President Obama pledged 'if Congress won't act soon to protect future generations, I will.'"
On June 25, 2013, the president showed his bold words weren't just rhetoric. Obama told students at Georgetown University that he refuses to "condemn your generation and future generations to a planet that's beyond fixing." He hinted, for the first time, that approval of the Keystone XL pipeline might not be a slam dunk, and for climate change-related reasons. "Our national interest will be served only if this project doesn't significantly exacerbate the problem of carbon pollution," Obama said.
So let's do the math here: three pipelines stretching 4,197 kilometres, generating tens of billions of dollars in profit, the vast bulk of which will leave Canada, for 228 permanent jobs at Enbridge, 50 at Kinder Morgan and 35 at Keystone XL. That's 14 jobs per kilometre. A word to the wise -- don't leave your day job.
This is an excerpt from Trevor Greene's new, self-published book, co-written with Mike Velemirovich, There Is No Planet B: Promise And Peril On Our Warming World.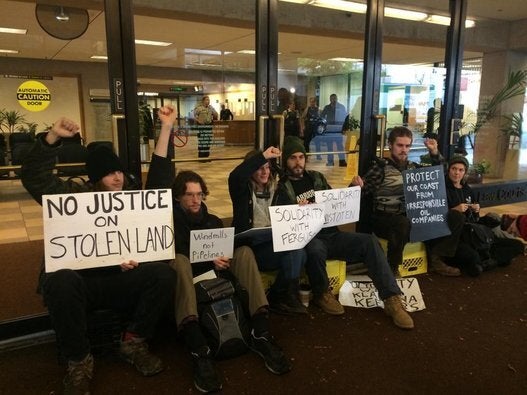 Kinder Morgan Pipeline Protest, Fall 2014