When I was 10 years old, I was at a bowling alley with my friends for a birthday party. I remember that a boy I didn't know walked up to me, and made an anti-Semitic remark right to my face. I don't recall the exact words, but they don't matter, because the feeling has been branded in my memory and heart forever.
I remember that event from my childhood well, and so, in light of the recent mass shooting in Pittsburgh, I was struggling to put together the words to explain what happened to my six- and seven-year-old boys.
How do I tell them that last Saturday, a man walked into a synagogue similar to ours, and opened fire on the congregation gathered for weekly Shabbat prayers? They understand the concept of a "bad guy," but a "bad guy killing Jews because they are Jewish?" I simply couldn't cannot fathom how their little brains will absorb such information.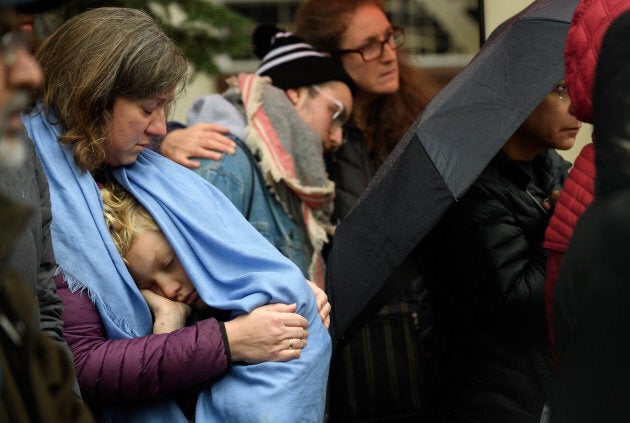 Part of me was stalling, ignoring the fact that I know I need to tell them, because it's best they hear it from their parents before anyone else. But what on earth would I say?
As I grappled with trying to find the words, I couldn't help but think about my grandfather who was from Dusseldorf, Germany. He fled to South Africa just before World War Two to escape the inevitable fate of the gas chambers.
Alone, with not one word of English in his vocabulary, he began his life from scratch, And, oh, what a life he had. One filled of success, love, wealth and family, to the ripe old age of 86, when he died of an aneurysm doing what he loved most: playing golf.
Most of us have a grandparent or distant loved one with a similar story of how resilience, strength and grit drove them to live lives of meaning, depth and substance, even in the harsh spotlight of hate. It's these important qualities I want my kids to embody and project to the world, without having to face any of the same hatred, opposition or challenges as our ancestors.
I finally introduced them to the concept of anti-Semitism
This led me to decide to approach this conversation with my kids by talking about Anne Frank. Since the public school they attend is named after Anne Frank herself, I was curious to find out exactly how much they actually knew about her and her legacy. When asked, my boys told me she was a girl who had to hide in a house, and wrote a book, and then bad guys came and killed her. They knew no more than that.
I knew this was my moment, so I proceeded to explain who the bad guys were, and why they killed her. I finally introduced them to the concept of anti-Semitism, and it was one of my toughest parenting moments to date. I had to fight back some tears as I spoke, partly for the devastation that was the Holocaust, and partly because I knew I was shattering my boys' view of the world.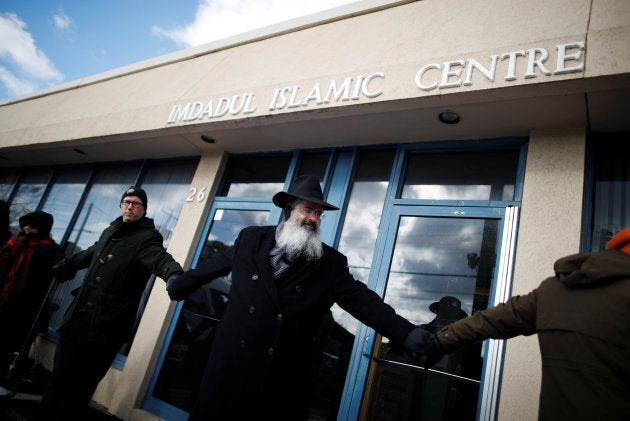 I kept it short, and then moved on to the basics about what happened. My oldest son went noticeably quiet and slumped down in his chair. I could see an element of fear in his eyes. He started asking questions about his own safety, and if a bad guy had ever done something like that here.
My younger son was asking factual questions such as, "How did the bad guy get into the synagogue," "What did he use to kill the people" and, "How many people were killed". Interesting how differently they processed this information despite being only 17 months apart in age.
I shared brief details answering their questions truthfully, and told them they're safe at school, home and in our world — at least I pray that this is, and will be, true. I ended by explaining the reason I told them all this is because of a very important lesson they can take from it: we should love and respect all human beings, no matter what religion, race, skin colour or background. I hope they understand.
What happened in Pittsburgh, and all the senseless anti-Semitic tragedies that I've read and heard about in my lifetime, drives a burning need to say and do something to end this extremist madness.
As helpless as I feel, I think the small part we can play as parents to young children, who mirror our actions every day, is to keep reiterating the message of love and tolerance. Being kind, inclusive and polite to the crossing guard, the Starbucks barista, the person who cuts in front of you in the school kiss and ride lane — everyone.
We need to love deeper, listen intently, talk louder, include widely and embrace our different heritages with great pride.
This post was written by Liat Horovitz, blogger and content creator from www.momjo.ca. She is an Israeli-born, South African bred, Jewish mother to three children living in Canada.
Have you been affected personally by this or another issue? Share your story on HuffPost Canada blogs. We feature the best of Canadian opinion and perspectives. Find out how to contribute here.