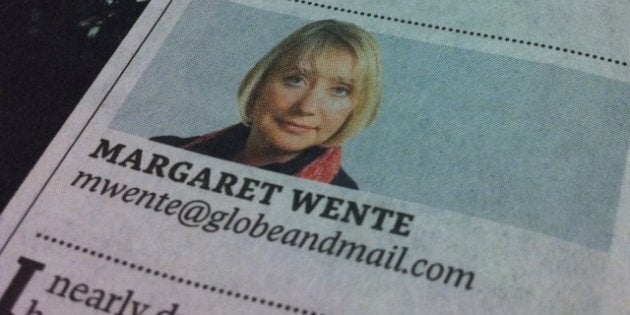 UPDATE: 10:55 p.m. ET Monday.

The Globe's editor in chief John Stackhouse has responded to the Margaret Wente crisis, saying that the work "did not meet the standards of The Globe and Mail." He said Wente has faced disciplinary action, without disclosing details. Also, the public editor Sylvia Stead is now reporting to the publisher. Previously, she was reporting to the editor in chief.
At the heart of the plagiarism scandal hitting the Globe and Mail is the role of the journalistic institution in an era of transparency. How the newspaper navigates its way through this crisis will show if the "old grey lady" has lost her way in a digital age.
Globe columnist Margaret Wente has come under investigation after allegations of plagiarism that started with the Media Culpa blog by writer Carol Wainio. The Globe has since said that it's looking into Wente's work. Meanwhile, this story has been propelled by social media and other coverage led largely by digital sites, including must-reads by John Miller, Colby Cosh and a host of others who are doing the public editor's investigation for her.
The Globe's public editor, Sylvia Stead, says the newspaper investigates all complaints (much to the chagrin of some watchers), but I won't spend time on the legitimacy of the allegations, which other worthy posts and columns have covered off.
(Full disclosure: as I told a writer seeking my views on this "hot story," I am a former Globe employee. I spent more than eight years working in the newsroom, helped to launch globeandmail.com and most recently served as editor of the same site until May, 2011. I know Stead, who hired me as an intern in 1998, and I'm familiar with Globe culture, for good and bad. These are also my personal opinions, and do not reflect the Huffington Post Canada's position on the story, which our news staff will report fully and factually.)
So why do the Wente allegations warrant a story? On Friday, I asked our staff to cover this story as I do believe the Globe's reaction to the allegations on Friday was a newsworthy event. Many publications in other parts of the world have had to deal with plagiarism or allegations of plagiarism, and make no mistake, the stature of the columnist and the reputation of a national newspaper makes this newsworthy.
There is also the question of the public editor and whom they serve. In conversations I've had with colleagues at other publications in the past few days, a constant talking point zeros in on the independence of a public editor. Stead reports to editor-in-chief John Stackhouse, the head of Globe editorial. In other shops, the public editor (or ombudsman) serves a publisher or president, which ensures they act as a voice for the reader rather than the newsroom.
In the case of Wente, the question has to be asked: Is the Globe trying to protect her, or should it be looking to protect its own reputation? Thankfully, the digital age has brought about an era of transparency, but also an urgency on how that transparency unfolds.
I've watched the decisiveness (and reluctance) with which other media outlets have moved to discipline journalists who are tainted with plagiarism or fabrication allegations, most recently at the New Yorker and Wired in the case of writer Jonah Lehrer. The case of Fareed Zakaria at Time and CNN also comes to mind. Journalists no doubt remember names such as Jayson Blair, Stephen Glass and Janet Cooke, and more recently Sari Horwitz from the Washington Post.
Plagiarism and fabrications hurt the craft of journalism because they chip away at public trust in our journalistic institutions. If our readers can't trust one of us, can they trust any of us? If getting the real story is at the heart of every journalist's mission, how they get at the facts that help the truth emerge is also important.
What is notable about this story is how the Globe stayed silent while Wainio was a lone voice in the blogosphere. The latest post she wrote shocked many journalists, and the resulting fuel of social media forced the Globe's Stead to respond. Many have pointed out that Stead referred to Wainio as "anonymous," as if to diminish her investigation.
Last year, when then-Research In Motion's CEO Mike Lazaridis took days to apologize to customers for a global system outage, many noted the responsibility of a company to communicate with its customers. The apparent lack of care shown by RIM's upper management to the needs of its customers was obvious, and the apology was not only the right thing to do, but a necessary one amid hashtags and a Twitter backlash that showed a real crisis in confidence in the smartphone maker.
Last week, RIM's new CEO took hours to address yet another outage.
That lesson seems apropos for the Globe, in a time when a tweet can spark a thousand more, when media companies need to think about their relevance on a day-to-day basis, when readers are more engaged than ever with their news. In the age of social media, one-way communication is over.
So as I watch -- as a fellow journalist and a former Globe employee -- on how this vaunted newspaper handles this crisis, I think how it reacts in the coming days will speak to the standards it wishes to hold itself to. In the digital age, public trust can be earned as quickly as it takes to do a Google search or read a few tweets -- and that trust can just as quickly be lost.
CORRECTION: An earlier version of this story incorrectly called Carol Wainio's blog 'Mea Culpa' instead of 'Media Culpa'.