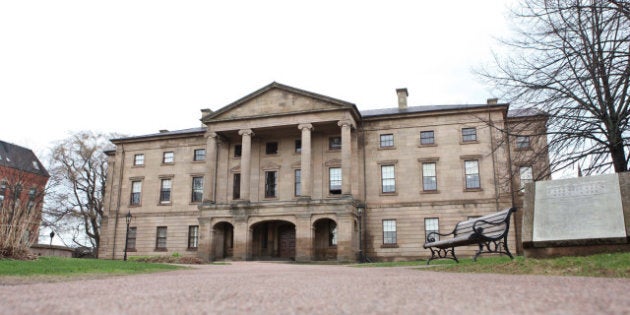 If you've ever seen the Tourism Department's ads about Prince Edward Island, you may conjure up an image akin to their tag line, "The Gentle Island." Rolling green hills, relatively empty beaches, friendly faces enjoying a laid-back lifestyle in towns where you're greeted with a smile and everyone knows everyone's name. The allure of this pace I'd grown up with was what called me back after years of the rat race in the big smoke.
Screw being a sardine on the subway, I'ma drive my car 10 minutes down the road to the ocean; lakes just aren't my thing, thank you very much. While I'm pretty jazzed to be back in my homeland, I'm deeply saddened to return and discover that the folks running the show here at the moment are suffering from what I can only guess is a severe case of some form of short man syndrome. Or maybe, like the guy with the small penis...? I dunno, but whatever it is, I don't like it. And I'm not alone.
If you've spent any time here of late, perhaps you've witnessed the placards and bumper stickers posted everywhere pleading, "STOP PLAN B," and wondered, "WTF?" To an outsider, or as we Islanders have a habit of saying, if you're "from away," you might think, "Do they mean the morning after pill?" Since abortion and midwifery are still illegal here, that wouldn't be a terrible guess, but no, it's in reference to a multi-million dollar project the provincial government has latched on to, so they can pave paradise and put up a...highway!
A brief synopsis of the sordid tale is that essentially the Federal Government told little old P.E.I. they've got millions of dollars set aside for us if we agree to a realignment of a teensy portion of the Trans Canada Highway. The only catch is that we've gotta pay for some of it too (and the numbers are pretty vague on this front), and we absolutely have to spend this money on that road (don't you love those kind of gifts?). The estimated total cost is to the tune of some $20 million dollars.
The first suggestion for this brand spanking new straightened highway was that it go directly through a beautifully diverse Provincial Park, and when concerned citizens piped up, saying, "Um, no thanks, we have an entirely sufficient highway we've already paid for, and we kind of like that park," the oh-so-concerned Old Boys' Club decides, "You're right guys. You spoke up, we listened, we'll scrap that, and go ahead with this plan instead. You're welcome," hence the moniker, "Plan B." Presenting a dumb initial idea that people will inevitably protest, just to swoop in with a convenient, pre-prepared "magical" solution that is so clearly what they wanted to do in the first place is such a classic move by the manipulative morons at the top.
The really contentious part here is that the current scheme still goes straight through an extremely delicate ecosystem consisting of old growth forest existing long before this country did (Avatar, anyone?), peoples' homes and farmland that in some cases have been passed down through generations have been expropriated (a delightfully obfuscating word that means the government forces you out of your home whether you like it or not, for the "public good"), a proper environmental assessment of the inevitable side effects of this massive undertaking was never really completed, and proper public consultation just didn't happen.
The worst part is, we already have a perfectly good stinking highway. Seriously, such a waste. It's a few kilometres of road between the Confederation Bridge and Charlottetown that has a couple of curves, and despite the fact they've fudged the statistics saying, "But it's unsafe! Look at all the accidents! Safety, safety, safety!" people just aren't buying it. The main cause of the few accidents there is speeding and the odd drunk driver, and anyone who's driven on the side of a B.C. mountain can attest, this whole "the road's too steep" argument is a load of bunk, and seeing as they've recently raised the speed limit for some bizarre-o reason, it's a real tough pill to swallow. It's so painfully obvious, especially when you look at their list of campaign contributors, that the few construction companies awarded these contracts are the only ones who stand to gain anything from this backwards, back room deal.
This whole project has become a deeply heartbreaking sore point for most (rational) Island residents, and very much the opposite to our "gentle" persona we're known for, shit's getting real, and things are only getting started.
In keeping with the many movements cropping up across the globe, there's an ever-growing number of seriously pissed off Islanders who've organized themselves and are speaking up and fighting back. Since the project has been shockingly fast-tracked to 'break ground' or perhaps more aptly, 'bulldoze the trees,' citizens have made their point loud and clear they will not stand for this kind of blatant abuse of power and the elected officials' inability to fulfill their duty as civil servants and listen to the people.
People have written hundreds of letters to the editor, organized a plebiscite, with 90.7 per cent voting NO to Plan B, they've set up camp in the woods, stood in front of bulldozers and faced intimidation tactics from both the construction workers and the RCMP (and yes, people have been arrested, including the leader of the Green Party of P.E.I.), rallied together for protest after protest, even hosted a community art event that was packed to the rafters.
Oh goodness, this kind of power struggle is becoming so commonplace, we're practically desensitized to it. It's like, "Oh yeah, the government, they just do what they want, just don't even bother trying to fix it."
Thousands of Islanders are members of the Facebook group that's actively engaged in strategizing a response to this, and there are many more who are afraid to speak out; when you're a place this small that is so deeply seeped in political patronage, it can be terrifying to make your opinions known to help affect change. After all, we're meant to be laid-back folks, not apple-cart upsetters.
Regardless, the apples are a-flying. Musicians, poets, film-makers, writers, children, seniors, and political party leaders are spending enormous energy bringing whatever they can to the table to put a stop to this senseless waste of taxpayers' money. The Mi'kmaq First Nation Band lit a sacred fire on the protest site, and were promised it would be respected, but similar to the rest of this story, that was nothing but lip service, as we watched the RCMP storm in and desecrate the fire during one of their ambushes on the protesters. Completely not surprising, given they'd gone ahead and spent $4 million to force people off their property to make way for the project before it was even approved.
And this is where I can't help but parallel the short man syndrome. A tiny little Island with 140,000 people IN TOTAL, equivalent to some city blocks in Toronto, with a government that thinks it's possible to keep up with the big guys in Upper Canada, trying to offer all of the amenities of a metropolitan centre while blindly pushing forward on initiatives we can't afford, utterly missing the benefits of this small, quiet gem we should be preserving.
These small town politicians, with their big time egos, barging forward with short-sighted, greedy mindsets in a place whose wealth comes in other forms, they most certainly are the poor ones here. With such few people to look after, you'd think organizing a place this size would be easy-peasy, but the dudes at the top can't for the life of them seem to manage it. The promising part is, and the silver lining here, Islanders are taking this as an opportunity to organize themselves, and are gaining momentum in an impressive movement to turn the tides of power back to the people.
Popular in the Community