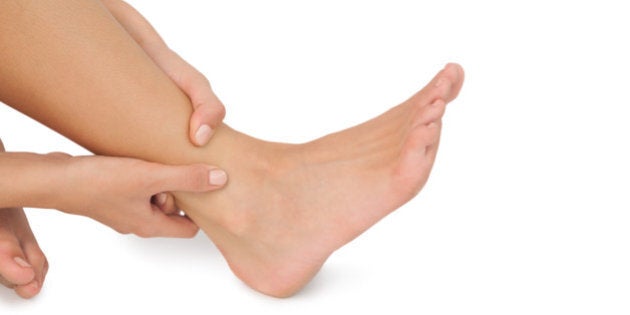 Lao Tzu, an ancient Chinese Taoist philosopher, said, "A journey of a thousand miles begins with a single step." It's a wonderful piece of wisdom, but what if you can't take that first single step? Brian and Kamali Abelson's latest book Resolving Plantar Fasciitishelps you do just that.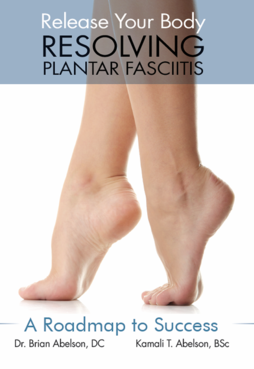 Plantar fascia is the thin band of fibrous tissue that runs from the heel bone to the base of the toes. Plantar Fasciitis (PF) refers to an inflammation in this tissue that makes walking and sometimes even just standing up in the morning extremely painful. It's one of the most common causes of heel pain; it occurs in over 10 per cent of the population. It is usually seen among athletes (particularly runners and dancers) and sometimes nicknamed 'Jogger's Heel'. In today's environment of growing fitness awareness, where all of us are trying to do our part to stay healthy and active, this issue and its resolution becomes important in literally keeping us on our feet.
The Abelsons seem the ideal couple to write a book on PF. Just as a step is an essential part of a journey and the foot is an essential part of the body, for Kamali and Brian Abelson this book is an integral and natural product of their lives. It has organically grown out of their deep professional and personal interests and experiences. Brian is an experienced chiropractor who has been practicing in Calgary for over 25 years. And equally important, he is a marathon runner and a triathlete who has competed globally. Kamali is a writer and editor, previously of systems users manuals for business clientele. And on the flip side, she is a classical Indian (Bharatnatyam) dancer. Both not only have the professional expertise to write a definitive book on this topic, but also the personal interest and life-experience in the topic to make the book practical and usable.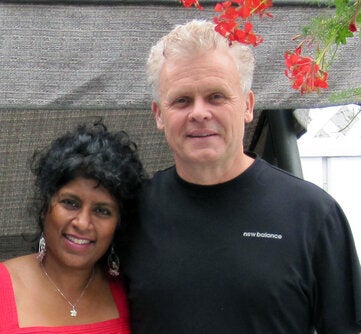 In this comprehensive manual, Brian first explains PF, its causes, its part in the kinectic web of the body's connective tissues, and the anatomy involved in the issue. Then he describes the process of resolving PF via three phases of self-evaluation and exercises. The first phase is the Foundational Exercise Program. It addresses the most common causes and issues of PF, focuses on the feet, and offers specific exercises. The second phase views PF as part of the broader kinetic chain and offers numerous exercises that strengthen various related parts of the body. Phase three is for the more difficult cases requiring professional intervention, active release techniques, instrument assisted techniques, joint manipulation, and massage therapy.
The Abelsons have already published three books (Release Your Pain - Resolving Repetitive Strain Injuries with Active Release Techniques; Exercises for the Jaw to Shoulder - Release Your Kinetic Chain; and Exercises for the Shoulder to Hand - Release Your Kinetic Chain). These three, plus their most recent one on PF, are all part of a planned 16-book series called Release Your Body, dealing with a various common soft-tissue conditions such as Carpal Tunnel Syndrome, Bunions, Ankle Sprains, Golfing Injuries, Groin Injuries, ITBS, Meniscus Injuries, Rotator Cuff and Shoulder Injuries, Sciatica, Shin Splints, TMJ, Tension Headaches, and Frozen Shoulder. Like the previous books, Resolving Plantar Fasciitis is also available in both hardcopy and e-book format. Its launch is scheduled for April 21 at 7 p.m. at Shelf Life Books, 4th street SW, Calgary.
While there are other books in the market on the condition of PF, this one is different. Kamali Abelson explains:
"Plantar fasciitis is one of the most common injuries that Brian treats in athletes, and one that is rarely successfully resolved by traditional methods. The methodology for analysis, diagnosis, and treatment that Brian uses is quite unique, and extremely successful. Brian really wanted to share that method with the general public, to show them that it is a very treatable condition, and to give them hope of restoring their active lifestyles."
Furthermore, this book is also different in terms of how it presents the information. The book has a detailed table of contents and index, making it easy to find just the information desired. Every chapter has extensive illustrations, photos, as well as numerous links to online videos with audio explanations and visual demonstrations of the exercises to be done. There are also suggested readings for more information -- although this book itself is so detailed and comprehensive that it's difficult to imagine more would be needed. The book is an excellent resource for people suffering from PF; it offers methods of self-evaluation as well as self-treatment via "the right combination of exercises": "stretching, myofascial release, strengthening, and balance."
A thousand-mile journey may seem daunting for many of us, but the mores of our society encourage people, young and old, to be independent and stand on their own two feet. With the help of the Abelsons' latest book, Resolving Plantar Fasciitis, more people will be able to not only do so, but also to begin on their own individual and rewarding pain-free journeys.