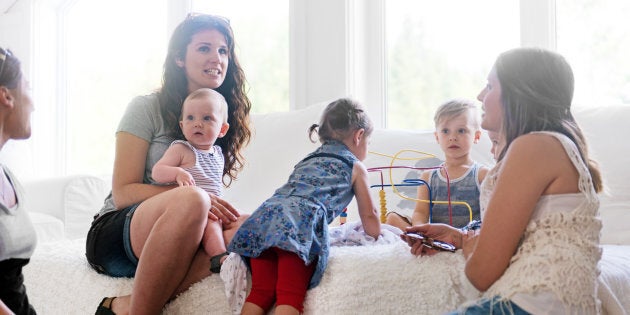 By 10:30 a.m., the drop-in playgroup in downtown Toronto was packed. A young mother entered with a new baby in her arms and a toddler at her side. She breathed a deep sigh of relief as that toddler ran toward the kids his age, and another mom handed her a cup of tea.
Playgroups like this offer a sense of safety, inclusion and mutual support. It's exactly what most parents need. And it's exactly what Vanessa Wright didn't get. Wright, who works in media in Toronto and asked for her name to be changed, has two young kids with her same-sex partner.
"I remember feeling very alienated, just waiting for someone, after looking at my kid, to ask if his father is tall," Wright told HuffPost Canada.
"Even in spaces where I self-identified as queer or made a point of saying 'he and his other mom,' [people] felt like they were entitled to information about who the donors are."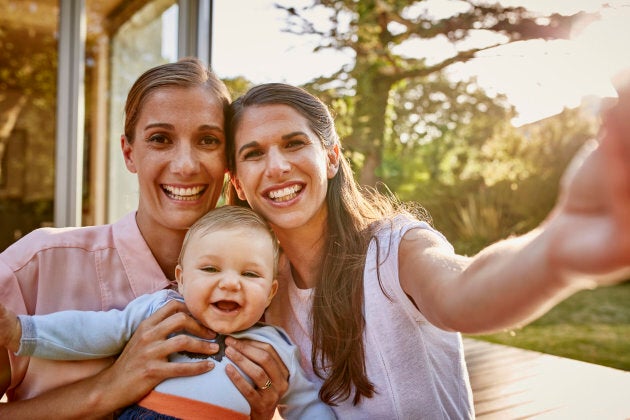 For those who identify as LGBTQ2S+, entering playgroups with their kids can be a source of anxiety. For those who do not fit expectations of what a male- or female-assigned person "should" be like, the discomfort of these spaces increases.
Wright said that she is one of the "lucky" ones.
"I am cis[-gendered], I pass, and although I'm not super-femme, I don't really get second glances when I go into parenting spaces," she said.
Rebecca Schooten is a Calgary-based mother who identifies as bisexual and queer. She told HuffPost Canada that "safety and inclusion haven't been pronounced enough" in playgroups for all parents to feel the mutual support they are so in need of.
Schooten described being in mothering circles, for example, as the conversation turns to relationships with men. Chiming in with her experiences of dating women "often gets a bit of a shocked reaction ... as if inserting my lived experience into the lived experiences of cis[-gendered], hetero[sexual] women is unacceptable," she said.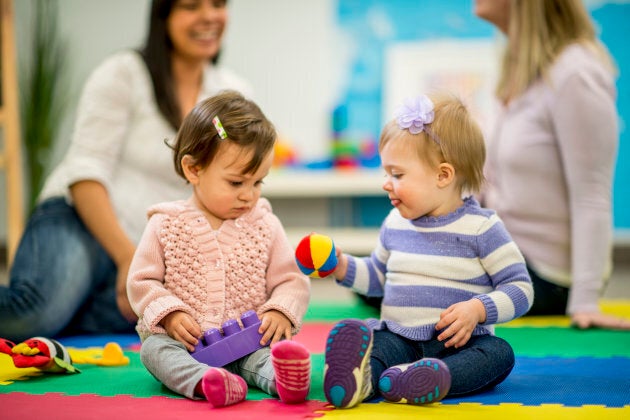 As a parent to young children, there is something particularly painful about feeling alienated from the very places that should provide community.
"The kind of erasure that happens systemically to bisexual, pansexual, and asexual people becomes so intensified in the experience of parenting," Tiffany Sostar, a therapist and community organizer who works with Calgary's LGBTQ2S+ population, told HuffPost Canada.
"[Parents are] afraid to talk about it because they don't want to be ostracized from parenting groups, and because parenting young kids can be so lonely already."
It's a challenge whether you're in the community or an ally
These issues are always really challenging whether you're in the community or an ally, Diana Werk, a training centre facilitator for Calgary's Centre for Sexuality, told HuffPost Canada.
"The thing that always got my back up was people ... saying things about my daughter like, 'Oh do you have a boyfriend? You're so cute!'" Werk said.
Werk would answer them bluntly, she said, and ask why they would assume her daughter is straight.
"I didn't ever want her to think, ever, that that was the only option. For parents ... trying to actually shield our kids from these messages ... is a full-time job."
Story continues below video:
"The transphobia, homophobia, and biphobia is so ingrained in the social fabric that it's still something that we don't talk about very clearly," Werk said.
How to fight discrimination
Language can be important, Sostar noted, and making a habit of using non-binary pronouns signals that all are welcome. (This could include saying "parents" or "families" instead of "moms and dads," for instance).
"In terms of orientation, we can talk about partners instead of talking about husbands and wives," Sostar said.
Wright said that the burden often falls on the marginalized community to be their own advocates. But there are myriad ways that allies can make a difference as well. The responsibility rests not only on individuals — organizations are also stepping up.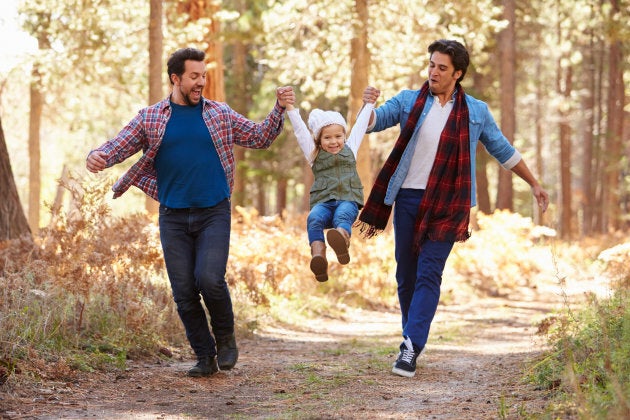 Attachment Parents' Village Calgary is actively revising its user agreement, which was inadvertently "supporting racism and heteronormativity," board president Lindsey Fiebig told HuffPost Canada. And in an effort to celebrate and include diversity in the community, the Parent Link Centre of Cochrane, Alta., has created a "Family Night OUT" playgroup, which welcomes all families including LGBTQ2S+ families, gender-diverse children and allies.
Jaclyn Laliberté, who helped launch the program, regularly attends with her same-sex partner and their young daughter. She said she feels very supported in her playgroup experience so far.
"It's been a very positive experience — better than what I would have expected," Laliberté said.