Whether you're thrilled about a promotion, anxious about a move abroad, or devastated over a break-up, music makes it better. An exuberant tune lifts you even higher when you're on cloud nine, and a sad song is like a kind hug from a friend when you're down and out -- equal parts comfort and permission to break down.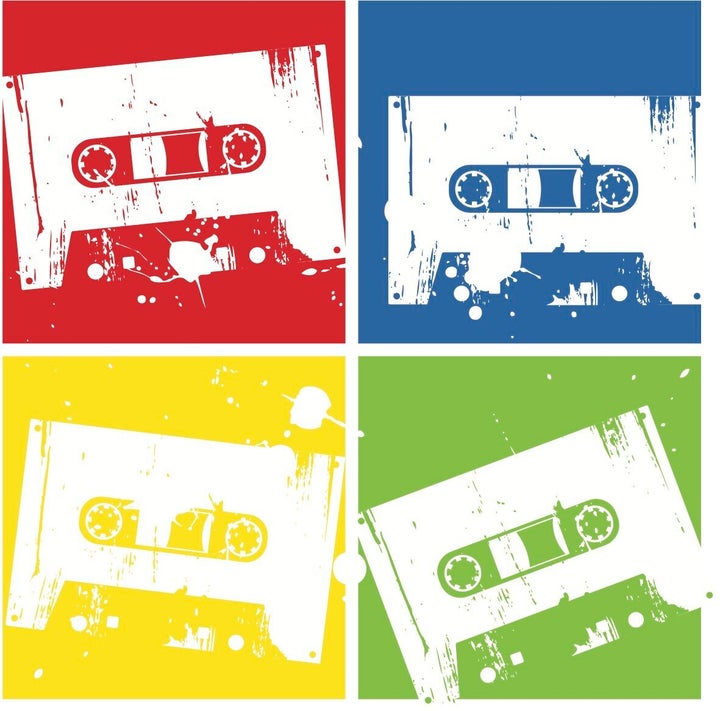 A recent study in the International Journal of Psychology confirms that music induces mood. This will be no surprise to you if you listen to one playlist for your morning run, and another for gearing down at the end of your day. The use of music to enhance or induce mood is nothing new, but people are increasingly using music in a much more deliberate way.
Just ask any of Canada's million plus users of Songza, the free website and app with mood matching playlists. Search by mood and you may find yourself browsing angsty to find a playlist titled "Soul Suckin' Jerk" (an ideal soundtrack for quitting your job), or introspective, which offers the sad melodies of "Meloncholy Morning" for days when you're crying into your coffee.
The link between music and mood means that music can be more than just a soundtrack for life. It can be a powerful tool during the various stages of a change cycle, whether your change relates to your personal life, family life, or work life. Most change cycles look something like the one pictured below, with four or five stages and a big fat danger zone -- or what I affectionately call a turning point -- somewhere mid-cycle.
A period of major change in one's life often provokes fear (I got laid off. How will I pay the bills?) or anger (My ex is an a--hole), before making way for angst, uncertainty, and melancholy. And then, eventually, a more buoyant feeling of hope, optimism, and happiness. There is music for all of that. Use it.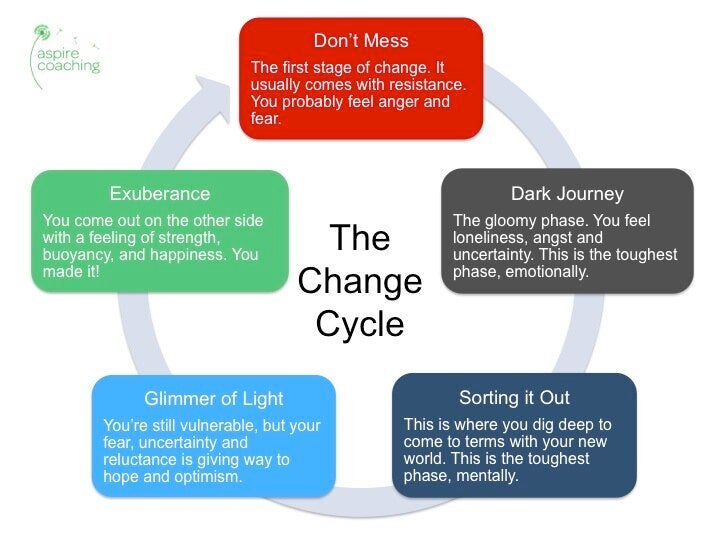 I have playlists of my own to help me through the change cycle -- one playlist for each stage. Thanks to the publish option on Songza, you can use them too. Stream them for free to help you through whatever stage you're at.
Don't Mess: Songs for kicking ass and taking numbers.
AC/DC, Aritha Franklin, Snap, LL Cool J, Drake, and more.
Warning: Lyrics in some songs are explicit, but some moments in life just call for an f-bomb.
Dark Journey: Songs for trudging through the mess.
Pearl Jam, The Eagles, David Gray, Serena Ryder, Adele, and more.
Sorting it Out: Songs for connecting the dots and figuring things out.
Stevie Nicks, Mumford and Sons, Indigo Girls, Rush, KT Tunstall, and more.
Glimmer of Light: Songs for turning the corner, seeing the light.
Florence and the Machine, Fun., Stars, Fugees, Michael Jackson, and more.
Exuberance: Songs for cloud nine!
Annie Lennox, Starship, Roxette, Journey, Stevie Wonder, and more.
What's your go-to song when navigating change? Comment below.