It's that time of year again — that time when you get to wear the shiniest and sparkliest of dresses.
Maybe you rack up the holiday invites so you can wear as many glittery ensembles as humanly possible, or perhaps you take more of a dread-it-until-the-last-possible-moment type of approach. Either way, this year there are more options than ever before for women over size 14 to shine bright this holiday season.
Finding the right dress can be a challenge for some, especially when you have work events, family get-togethers, and New Year's Eve to think about. Finding the right fit for your body can be a struggle for women, especially when shopping online.
Thankfully, there seems to be a lot of selection this year in varying silhouettes: from fit and flare to sheath, and basically everything in between, we've got you covered this holiday season.
Most plus-size brands have all their holiday looks out so you can plan your outfit for each affair. We've taken a look through our favourite brands and put together some of the best ways to sparkle all the way into 2017.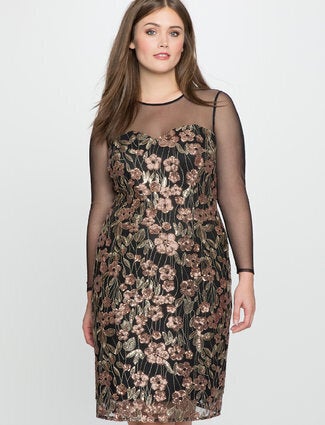 Holiday Plus-Size Dresses
Every woman, with no exceptions, deserves to feel comfortable in her own body, and to believe that the world is made just as much for her as the next person. That's why with "My Curves Have No Bounds," we're going to get real and talk about our bodies, what we put on them, and how we feel about everything in between. We want to break down the barriers and outdated notions that plus-size women encounter everyday. So check back every other week for more from "My Curves Have No Bounds," by Amanda Montgomery of Latest Wrinkle.