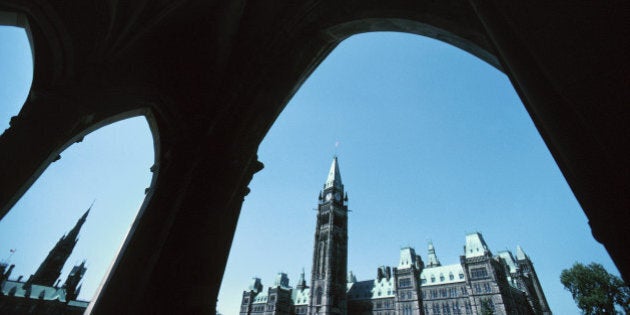 A few weeks ago, TVA Nouvelles released a story about alleged inappropriate behaviour by Claude-Éric Gagné, an influential staffer in Prime Minister Justin Trudeau's office. I received a lot of questions in the past several days.
I wrote this blog post to explain what I experienced in my own words. Everything I have to say about this is written here, and I will not be granting any interviews to any media outlet. I hope reading this post will inspire other victims, men and women alike, in the political sphere or elsewhere, to speak out and to denounce those kind of behaviours.
On May 26, 2016, I received a LinkedIn request from a man named Vahid Vidah. I was actively looking for a job and my headline on LinkedIn was "Looking for new opportunities." According to Vidah's LinkedIn profile, he was an "innovation policy adviser" at the Parliament of Canada.
I had never met or heard anything about this person. I accepted the LinkedIn invite, thinking it was probably someone who wanted to network with me.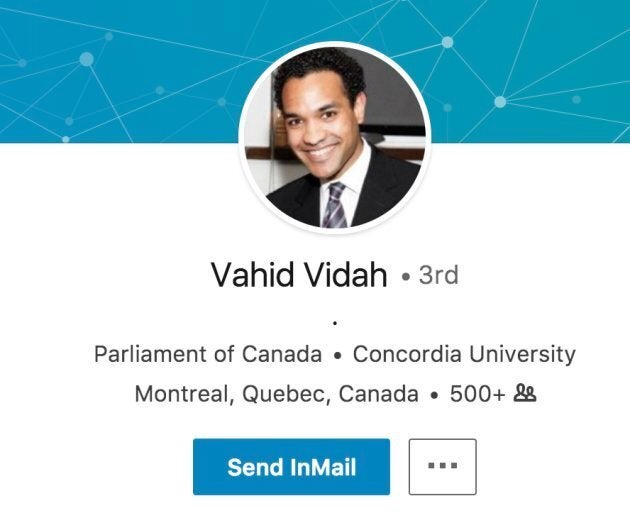 Shortly after I accepted this LinkedIn request, he sent me a Facebook friend request. I replied to ask who he was and whether I knew him. He told me we had crossed ways in the Quebec Liberal party. I have no memory of this and I doubt we ever have — he is about 10 years older than me and was a candidate for the Quebec Liberal party in 2007, for an election in which I was barely of voting age.
Vidah said he was employed in the office of Bardish Chagger, the then-minister for small business and tourism. He specified he saw my profile and thought we had things in common. At this point, I thought the conversation was a bit weird, so I asked him if he had anything specific to ask or tell me. He responded that there was an opening for a job in Minister Chagger's office and that he had seen I was looking for a job. He gave me his cellphone number and told me to send him my resume at his @canada.ca email.
Usually, in a minister's office, it's the chief of staff that manages hiring, but I figured the chief of staff was probably on vacation or busy, and had delegated this task to a lower-level employee.
After I sent my resume, he asked me to meet him for breakfast in a restaurant in Montréal. I showed up, dressed in professional clothes, expecting a legitimate and formal interview. I had a bit of a weird feeling at the beginning of our meeting, because Vidah arrived dressed in very casual clothes and had brought a big dog, who wouldn't stop barking. That is not the kind of impression I would want to give as an potential employer, but I figured he was maybe just a bit eccentric.
The interview started relatively normally. He told me about the position, what my tasks would be, and how the minister was. He specified that he was leaving to go work in the startup world and that the job I was "interviewing" for was his current position. He even told me what the salary would be.
He told me when he saw me in a bikini in some of my public photos, he thought "Wow, nice bikini body!"
At some point during this meeting, he placed his hand on one of my thighs and told me he had scrutinized my Facebook profile — and that if I did get the job, I should really clean up which photos are private and which are public. He told me when he saw me in a bikini in some of my public photos, he thought "Wow, nice bikini body!" — and then asked if I thought that this gave a professional impression. I was speechless.
I was too stunned to reply anything to that, so I laughed awkwardly and I changed my sitting position to get rid of his hand on my thigh. The interview ended shortly afterwards.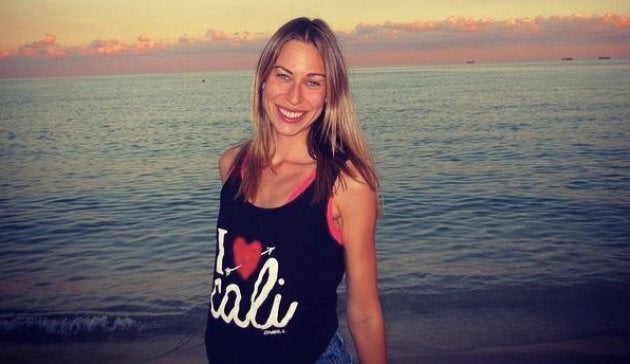 A few days later, he got back in touch with me via email and told me to send my resume and a cover letter to his chief of staff. I started to doubt whether the whole thing was legit. If this man really had the delegation of authority from his chief of staff to hire someone, it made no sense to then ask me to write a cover letter, after already approaching me on LinkedIn and interviewing me.
But I was still looking for work and I thought that if I did get the job, at least I wouldn't be working with that guy since he was leaving, so I went ahead and sent my resume and my cover letter.
A few weeks later, the chief of staff got back to me. We had a phone interview, followed by an in-person meeting. I still had a weird feeling because in all of my chats and encounters with the chief of staff, she never mentioned Vidah, the fact that he had approached me on LinkedIn, or my first interview with him.
Selection process dragged on
On July 18, 2016, Vidah contacted me via Facebook Messenger. He was still employed in Minister Chagger's office, and I was still in the interview process with the chief of staff. He asked me if I wanted to go for a drink. I told him we could meet for a coffee to follow up on the interview process.
We met in a coffee shop downtown the next morning. I tried to keep the conversation professional. I told him I was wondering where I stood and that I thought it was a bit weird that the whole selection process had been dragging on for months, especially since I had been directly approached by him for the job.
It's as if he thought that his position gave him the right to contact women for no legitimate reason.
He gave me a few, very vague answers about where officials were at with the selection process, and then randomly started talking to me about how he was still seeing his ex-girlfriend and having sex with her all the time and that they were unable to stop. I was again, speechless.
The last step of the interview process was a phone interview with the chief of staff, Minister Chagger, and a few other key people on Parliament Hill. One of them was Claude-Éric Gagné. I had never met or spoken with this man, until that interview.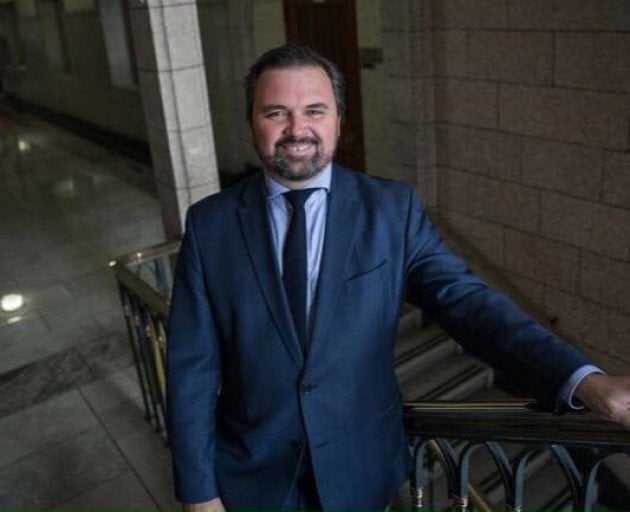 On Aug. 8, 2016, the chief of staff got back to me to tell me that they had decided to go ahead with a different candidate for the position. I sent her an email to thank her for following up with me, and I told her about my interactions with Vidah during and after the interview process.
A few days later, the chief of staff got back to me. She thanked me for making her aware of my experiences. She told me that this entire thing was inappropriate and that she was very disappointed that I had to experience this interaction. She also specified that at no point had she asked to Vidah to reach out to me. She finished her email by mentioning that he was not working in Chagger's office anymore.
This confirmed my suspicion that the entire thing was bogus, and that this man was basically using his position in a minister's office to approach women on the Internet, waste their time in fake interviews, and then make inappropriate and uncomfortable comments. He did all of that from social media accounts that show his real name, his position in Ottawa, and even his @canada.ca email address. It's as if he thought that his position gave him the right to contact women for no legitimate reason.
A few weeks after I had told the chief of staff what Vidah had done, I noticed he had changed his Facebook name. Maybe he decided he wanted to try out a new first name and a new last name. I'm sure a lot of people do that, all the time.
'Unable to control' himself
A few months after this entire ordeal, I got a Facebook friend request from Claude-Éric Gagné. I did not accept and asked him in a direct message who he was and whether I was supposed to know him.
I remembered his name from the phone interview — but had no other interaction with him apart from that — so I was confused as to why he was adding me on Facebook.
He told me that I was so pretty that he couldn't resist and control himself. He then told me he could not wait until we would talk. He specified that he "never does that" (I assume he meant here adding on Facebook women 15 years younger than himself that he had previously interviewed professionally), but that he was "unable to control" himself. He then asked me where I lived. I replied "Toronto" and stopped responding shortly after that.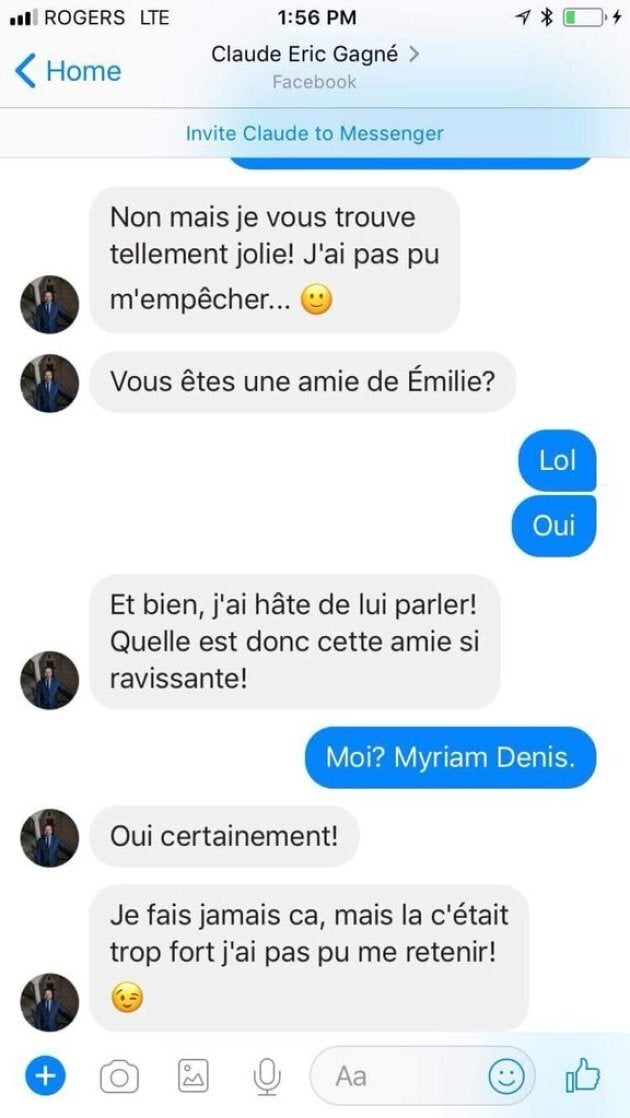 I was again speechless, not only because one of the seemingly highest-ranking staffers in Trudeau's office would be dumb enough to hit on a woman he interviewed for a job, but also that he would do it out in open from his Facebook account that clearly shows his name and position in Ottawa.
When the story about Gagné broke in Canadian media outlets following the story released by TVA Nouvelles on Dec.13, 2017, I reflected on all of these events. I posted on Facebook with the link to TVA's article and said I was pleased this was finally coming out.
A friend of mine asked me on one of my public Facebook posts if I had ever met this guy. I answered with a short answer that summarized my interaction with Gagné and what he had told me on Facebook Messenger after he had interviewed me for a job.
A day later, I received a Facebook Messenger message from a man named Brett Thalmann. The message read as follows: "Hi Myriam, I handle HR in the Prime Minister's office and saw your post and want to offer you an opportunity to provide us with more details about what happened if you want to. my cell xxx-xxx-xxxx".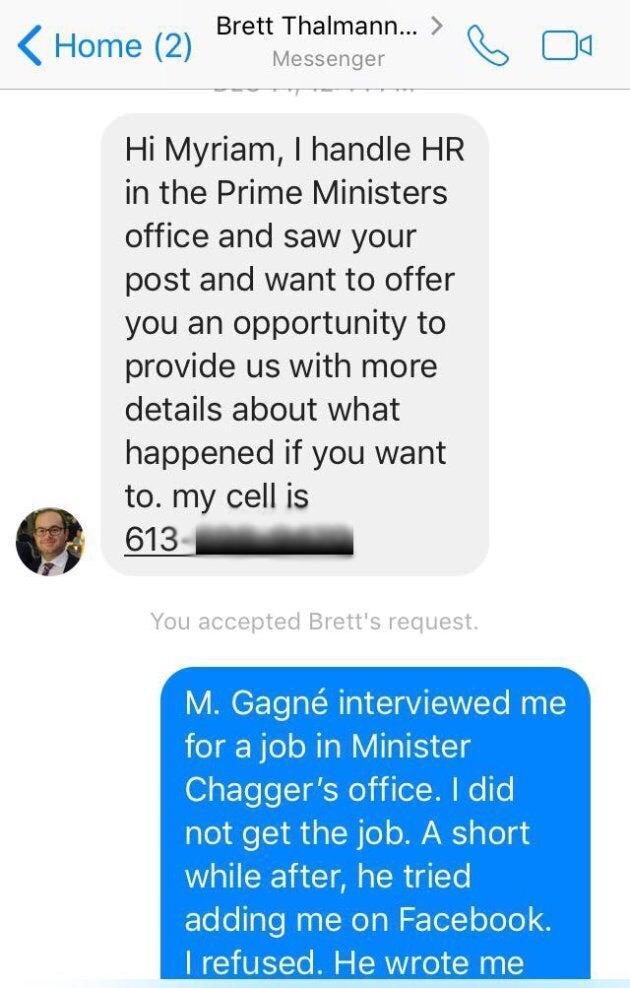 I was, once again, speechless. First of all, Trudeau's director of communication Kate Purchase, had issued a statement that clearly stated an external investigator was handling the investigation into Gagné's behaviour. It was revealed after that the external investigator is the law firm Rubin Thomlinson. When there is an external party doing that kind of investigation, it is extremely inappropriate for any employee of the concerned organization to contact potential victims to do their own inquiry.
On top of that, Thalmann introduced himself as someone who handles "HR in the Prime Minister's office." However, a quick Google search revealed that his title in the PMO is "director of administration and special projects." Not HR.
The page also contains information about his immediate coworkers in the PMO, and clearly indicates that the HR person is someone named Trish Renaud. I've taken screenshots, in case there was another random name change.
It would appear that following TVA's reporting that Gagné was on a leave of absence for alleged inappropriate behaviour, at least one PMO staffer is combing through social media accounts to find someone like me, who is speaking out about incidents with Gagné.
This is wrong on so many levels. Even if he was truly the HR person in the PMO, it would be extremely inappropriate for him to be contacting potential victims when there was an ongoing examination by a third-party investigator.
I feel a lot of sadness and empathy for the women who are currently working there.
Until the moment I received the Facebook message from Brett Thalmann, I was willing to believe that Vidah and Gagné were just two cases of "bad apples" within a big organization. I am not so sure anymore. This third strange experience makes me think that it might be more than a few isolated incidents of reprehensible behaviours.
I feel a lot of sadness and empathy for the women who are currently working there. At the same time, I cannot help but laugh at how weird, awkward and pathetic the whole thing was.
In the Bible, the number "3" represents a symbol of completeness. When I look back on this experience, I am thankful the chief of staff chose another candidate, because it really appears that there is a systemic problem within the entire work culture on Parliament Hill under the current federal administration.