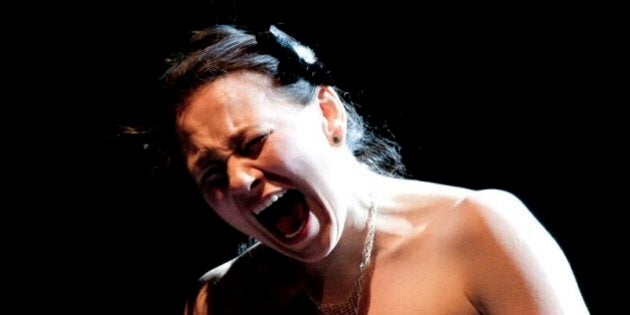 Tanya Tagaq's album "Animism " won the 2014 Polaris Music Prize. The Inuit throat singer beat high-profile albums by Drake and Arcade Fire to lay claim to the best Canadian album of the past year.
Though the decision is not based on gala performances, which took place at the Carlu in Toronto, Tagaq certainly made the decision feel that way. She delivered a jaw-dropping, powerful, and astoundingly strange performance backed by a choir and a scrolling list of Canada's missing Indigenous women.
Upon winning, Tagaq praised her record label Six Shooter ("It was like reverse sliding into a womb") and advised the crowd that "people should wear and eat seal as much as possible because, if you can imagine, an indigenous culture is thriving and surviving on a sustainable resource: wearing seal and eating it. It's delicious and there's lots of them."
"F*** PETA," the Nunavut-raised singer added with considerable relish.
Backstage she discussed her win, noting "people told me I was supposed to make proper songs, or be more in the box," but staying true to her Inuit throat singing roots clearly paid off.
"Humans, we're having a hard time, we're all pretending we're not," Tagaq said. "I get sick of living in that world, where we're supposed to pretend. I just want to take that out and shake it. We can be honest with each other, we can be real with each other."
Tagaq also discussed consumerism ("people are brainwashed by consumerism, just buy one more thing and it'll be fine but it's never fucking fine") and meeting Stephen Harper at a Canada Day event ("I always felt in my gut he wasn't right") but the best part was when she revealed what she plans to do with the $30,000 prize money.
"I'm gonna take care of my family. I'm gonna give my girls a nice education. Money just trickles away really quickly anyway. I'm not going to donate it to a special cause, I'm going to donate it to my cause," she said.