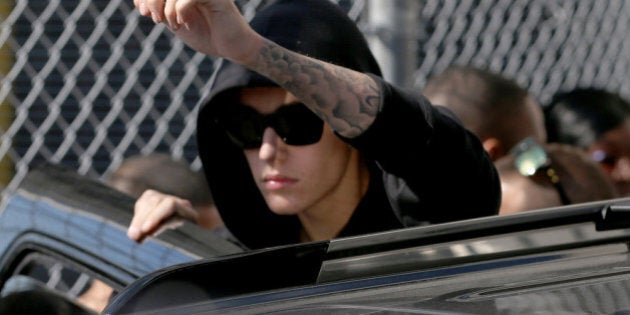 Miami Beach police know that Justin Bieber was charged with driving under the influence, resisting arrest without violence and driving with an expired license. What they still need a course on however is geography as mistakes found in their police report have caused a huge stir regarding Bieber's official citizenship.
After Justin Bieber's arrest yesterday, many were questioning whether or not such charges could leave Bieber being booted out of the U.S. However, as The National Post reports when police wrote out their police report they erroneously believed Bieber had American citizenship which has caused even more confusion. On the first page of the report under the "Citizenship" area "USA" is written in.
Bieber considered applying for American citizenship last summer but there was no indication if Bieber did file the papers or if he did the paperwork went through and he was approved. It's most likely Bieber wouldn't become an American only but instead have dual citizenship as a Canadian and American.
News of Bieber's reportedly being American caused The New York Daily News to create a page aimed at getting the pop star out of the U.S. as soon as possible. The paper has the following headline: "News to pothead, drunk-driving Bieber: Here's your ticket outta U.S. -- on us! First-Ass" Bieber's mug shots are shown with a plane ticket in Bieber's name and "Anywhere Outside U.S." on it for today (Jan. 24) at 7:25 a.m. "You are a menace to our nation and we want you out!" the paper wrote in a small sidebar, adding if Bieber contacted the paper they would supply him with the plane ticket free of charge at Miami Airport.
Another mistake found in the report regards Bieber's place of birth. Bieber was born in London, Ontario but the police report states he was born in Toronto. It's unknown if police assumed he was from Toronto or if the pop star provided the information incorrectly. Even a mistake such as placing Stratford, Ontario would've been understood given Bieber growing up (chronologically, at least) in the area.
Yet another tidbit of controversy has surfaced regarding claims Bieber was drunk and on other drugs at the time of the arrest. Various early reports indicated Bieber allegedly told police he had used alcohol, prescription medication and marijuana. However the police report has marked "Known" when it comes to "Indication of alcohol influence" but "Unknown" is the box checked regarding drug influence. So had Bieber informed the police what he was on, they didn't put it down as such.
In a press conference Thursday morning following his arrest, Miami Beach Police Chief Raymond Martinez said Bieber failed a drug test when brought into custody. Martinez also told the Miami Herald yesterday Bieber admitted to police he had a beer or two, took prescription medication (anti-depressants) and had smoked marijuana.
The singer's choice of language also irked a few people, with the police report stating Bieber telling the arresting officer he "ain't got no fucking weapons" and later asking the officerm "What the fuck did I do? Why did you stop me?" Perhaps it was his impoliteness that led them to assume he was no longer Canadian?
Finally, what might end up being another problem for Bieber was a third item placed in the police report, namely Bieber's exact address in Casablancas, California found in the police report. Knowing his legion of obsessed fans, it wouldn't be a stretch to suggest fans could attempt to flock to the home (or nearby area) to show their support for Bieber.
Meanwhile Bieber's manager Scooter Braun tweeted the following after Bieber's arrest:
As has been well reported, Bieber was released on $2,500 bail following a court appearance.