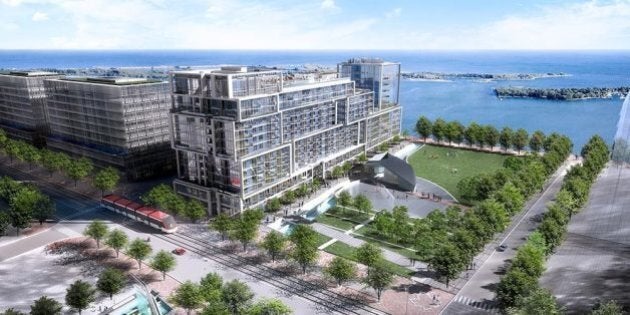 Closer inspection revealed that such "poor doors" are nothing new in New York, but in these days of concern about the income gap, the developer's move to segregate lower-income residents seemed like an apt symbol for an unequal age.
But as it turns out, the same phenomenon has now started taking place in Toronto, with a handful of new residential projects planning separate entrances for the affordable-housing segment of the building.
Metro News reports that a condo development on the city's waterfront will feature a separate entrance for residents of city-subsidized rental units in the building.
The Aqualina at Bayside, from developer Tridel, will feature 80 artists' residences for rent, with a separate entrance from the rest of the building. Residents of the building's 225 condos, to be sold at market rates, will enjoy access to a gym, a party room, and a rooftop pool and deck.
As BlogTO reports, the rental part of the building will be managed by a separate company from the rest of the complex, Artscape.
"The residents [of the affordable units] have their own amenities space that doesn't include … things that you would find in an upscale condominium. The affordable component is designed to be affordable," said Sean Gadon, the city's director of affordable housing, in an interview with Metro.
Gadon explained that the city in essence bought the part of the building that will house the artists' residences, and a separate entrance was a question of keeping common costs down.
The situation at the New York condo is similar; there, the affordable housing units will also be managed separately, and like in Toronto, the separate-doors policy was officially approved by the city as part of an affordable-housing strategy.
But that hasn't quelled the controversy, and New York municipal politicians are lining up behind an effort to stop the practice.
And in New York the phenomenon appears to be nothing new -- it had simply not garnered public attention. In Toronto, the practice appears to be newer but is not limited to the Aqualina development. According to Metro, several other condo towers under development are planning similar separate entrances for affordable housing.
And the city has long maintained buildings with separate entrances for co-ops and for subsidized housing — though in this case the income gap would not be as large as in the Aqualina project or the one in New York.
An exec at Artscape, the company that will manage the affordable units at Aqualina, suggested that maybe the residents of the affordable units don't want to mingle with the market-rate owners in the other part of the building anyway.
"We build communities for artists," executive VP Celia Smith told Metro. "We co-locate artists in one space. It was important for us to have our own entrance, our own space."
Check out these pics of the upscale part of Aqualina at Bayside, the condo complex with separate entrances: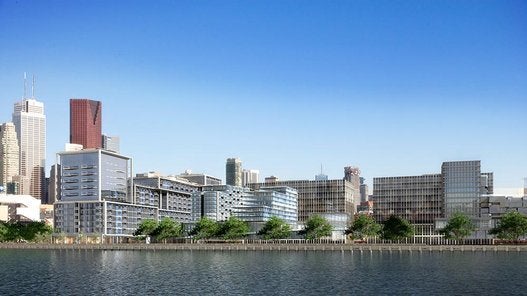 Aqualina - Toronto Condo With 'Poor Door'