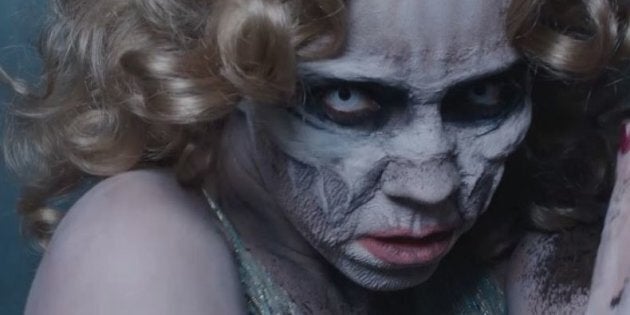 Pop culture is the Holy Grail for many of us when it comes to dressing up for Halloween. Whether it's the movie monsters that made it from page to screen or the viral celebrity photos that got everyone (even your mom) talking, that's when you know it's epic.
This year, there are plenty of notable pop culture moments and on-screen characters that will surely make an entrance at your Halloween party. From Queen Bey to Taylor Swift to the nightmare-inducing Pennywise, here are some epic costumes and how you can sport them like a pro.
1. Beyoncé's twin pregnancy announcement
We still remember the day this happened. It was one of those viral moments that had everyone talking. Since then, several people have tried reenacting Beyoncé's epic shoot, including CBC TV host Jessi Cruickshank, who shot a similar photo when she was pregnant. All you need for a Queen Bey makeover is a burgundy bra, blue underwear and a veil wrapped with flowers. Oh, and don't forget the belly.
2. Riverdale
We '90s kids need no further explanation. After "Riverdale" hit Netflix, Archie and his gang became the kids to hang out with. You and your squad could dress up as Archie, Betty, Veronica, Jughead and Reggie. We'll just catch you at Pop's Diner, then?
3. Zombie Taylor Swift
Taylor Swift is all the rage right now. From the moment her heavily-coded "Look What You Made Me Do" video dropped, all we could do was debate which one of her personas we should channel this Halloween. The video tapped into many creative minds, and channeling Zombie Taylor (sans her reputation) is definitely one of her most wild looks yet. You and your girl squad can go all out and dress up as Tay's 13 demons personas for a Swifty look.
4. The Handmaid's Tale
This year's popular series "The Handmaid's Tale" has given us an easy DIY costume. Simply use a red dress or robe and a white bonnet to channel your inner Offred.
5. Beyonce's twin birth announcement
Of course, Queen Bey had to unveil her newborns to the world in an epic photo shoot. A gorgeous purple dress and blue veil are all you need. And two babies, of course.
6. Pennywise
7. Marvel's The Defenders
This Netflix show has given us #squadgoals. Daredevil, Luke Cage, Jessica Jones and the Iron Fist are the superheroes you can choose to dress up as this year. Plus, they'll be on-point and within budget. After all, they are humans who dress just like us.
8. Pregnant Kylie Jenner
And of course, inevitably, there's already a sexy pregnant Kylie costume retailing at Yandy. It's called "Reality Star in the Making" and comes with a classic Kylie white dress and a faux belly. No lip kits included, unfortunately. Simply plump up those lips and pout all night long with endless selfies and you're Jenner-approved.
9. Belle and Beast
"Beauty and the Beast" is the epic couple's costume that you and your partner can try this year. It's a classic and with a little effort, you'll be ballroom dancing in no time. To the Beast in question: don't forget the rose. Your life depends on it.
10. Wonder Woman
With the release of "Wonder Woman" this year, there's bound to be a ton of Gal Gadots running around. It's sexy, independent and you'll slay.
11. Beyonce's Grammys look
Another look from Bey that was epic was her 2017 Grammys outfit. Remember the gold dress with the head crown? An easy look to pull off for expecting moms or if you stan Bey.