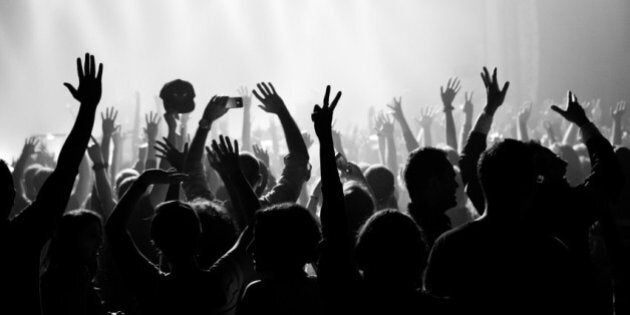 Now entering its 12th year, POP Montreal has solidified its status as a well-rounded festival and, at times, a weird one. Featuring an eclectic bill of acts – heavily teetering on rap/hip-hop on one end and guitar-fronted indie rock acts on the other – this annual festival is a place for exploration and discovery.
But beyond music, POP also boasts a long list of other compelling activities, from arts and crafts fairs to panel discussions. Here is a list of the ten best things we caught at this year's festivities.
Jian Ghomeshi brings Q to a live audience at L'Olympia
Recording his popular radio show in front of a live audience, CBC personality Jian Ghomeshi brought his program Q to POP Montreal last week. In front of a sold-out crowd at L'Olympia, Ghomeshi brought out special performers Patrick Watson and Braids (the former being a Polaris Prize-winner and the latter being a previous shortlist nominee) alongside novelist Louise Penny, actor Antoine Bertrand and comedian Sugar Sammy. As always, Ghomeshi's live conversations were compelling to watch and performances from the bands were delightful in a theatre setting. In a way, this was what Q would look like as a late-night talk show and it really worked.
Colin Stetson at Theatre Rialto
Fresh off his Polaris Music Prize gala performance – as well as a recent broken finger – bass saxophonist Colin Stetson returned to his hometown for a warm welcome back show at the Theatre Riato. The two-time Polaris shortlist nominee proved his prowess as he fought through the lingering pain of his injury to brave out a spellbinding set of cuts from his New History Warefare album series. Though he originally planned to preview new songs, his sore fingers prevented him from tackling those new tunes. But, alas, his one-man show was still captivating enough to silence an entire theatre, rending them speechless and amazed; a common sight at Stetson's shows.
Coverage continues after slideshow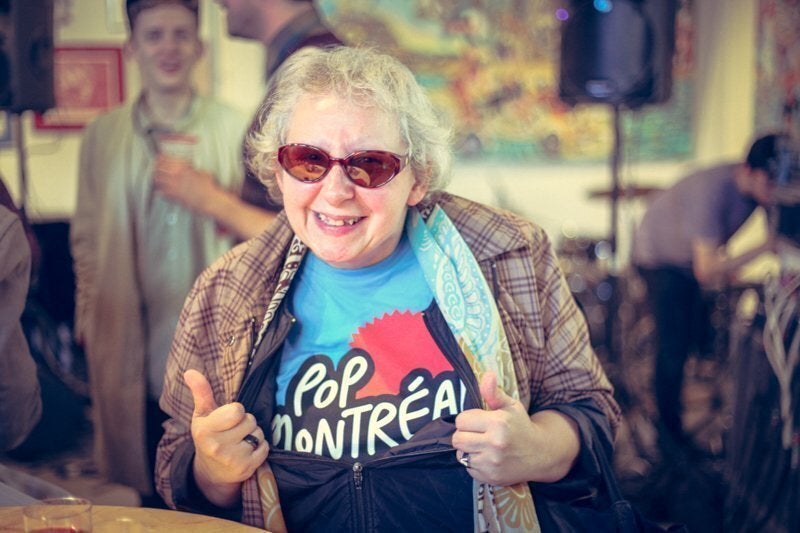 Pop Montreal Pics
Arbutus Records free day show
One of Montreal's hottest record labels, Arbutus Records (home to Grimes and Braids), hosted a free day-show featuring their own signee TOPS as well as Edmonton's Calvin Love and Jackson, Mississippi's Dent May. The sunlit loft space quickly packed in a crowd of friends and fans taking in the free beer and music while observing the space around them decorated by paintings, Arbutus Records signs and, of course, artwork of the label's artists. TOPS stood out of the bunch with their '80s washed synth-pop, which has evolved since their days being known as Silly Kissers, proving that Arbutus continues to produce some of Canada's most intriguing bands.
Every year, POP Montreal hosts an arts & crafts fair that shines the spotlight on a number of talented artists, jewellery makers and clothing designers. Whether you're looking for a Drake-related t-shirt ("No New Friends" by Stay Home Club), archived POP Montreal posters by artist Jack Dylan or the latest literary offerings from local bookstore Drawn & Quarterly, Puces POP is a guaranteed one-stop shop to satisfy any shopping needs a DIY fan had during the festival.
Music aside, one of the most interesting parts of POP Montreal are the panel discussions as part of the POP Symposium. This year, we were treated to one-on-one discussions featuring everyone from Shuggie Otis and Yellowman to The Dears' Natalia Yanchak and Kid Koala. Highlights included a post-gala Polaris Music Prize salon discussing this year's winner Godspeed You! Black Emperor! as well as a panel about music criticism featuring Glenn O'Brien (GQ, Harper's Bazaar), Andrew "Noz" Nosnitsky (Pitchfork, The Fader) and Sylvie Fortin (Art Press, C Magazine).
Local Natives at Metropolis
Having spent much time recording their latest album Hummingbird in Montreal, California indie-rockers Local Natives feel a special connection to La Belle Province. Performing tracks from said album, as well as their debut release Gorilla Manor, the band's three-part harmonies, heart-pounding rhythms and ferocious riffs echoed throughout the historic Metropolis theatre. It's emotive rock at its best and with emotions oozing out of every sing along chorus, the audience ate it all up and threw their hands up in applause over stunning tracks like "Heavy Feet," "Breakers," "Camera Talk," and closing number "Sun Hands."
Marking his first appearance in Canada, singer-songwriter-producer The-Dream took to the stage performing in front of a cult following of fans ready to hear his original songs as well as a couple he has written for other artists. Known for being the man behind some of Beyonce, Rihanna and Britney Spears' biggest hits, the crowd cheered and sang along to some of his best hits, "IV Play," "Fast Car," and "Shawty is a Ten," alongside covers of "Dirty Diana" and "Blame It (On the Alcohol)." With any luck, this won't be the last time Canada sees the artist.
Buzz Records showcase at Club Lambi
Montreal may have been the host of the festival, but plenty of talented travelled up from Toronto to showcase their skills as well. The highlights of Saturday night belonged to Toronto label Buzz Records and their stellar cast of garage-rock acts Dirty Frigs, Weaves and HSY. Dirty Frigs surfed a wave of lo-fi grunge rock built around lead singer Bri Salmena's Courtney Love growls, Weaves veered towards the art-rock weird vibes with Jasmyn Burke delivering some of the most acrobatically mind-boggling vocals since Johanna Newsom (if she fronted a rock band) and HSY's sludged-out noise set was the very definition of buzz. Toronto's always buzzing, but especially so with Buzz Records and its growing roster of talent.
Continuing to flourish from the release of their debut album, "Perpetual Surrender," Toronto's DIANA made a stop in Montreal as they toured through Canada, before heading off for even more dates in Europe this fall. The band's sensual electronic sounds have grown leaps and bounds both on record and live since the band's inception a little over a year ago and the garnered praise and attention is the payoff for such hard work.
Other free day shows – How Sad
A number of free day shows and events allowed for music fans to discover new acts while soaking in the sunlight outdoors at a park or sipping on beers in a bar during the day. One of the best discoveries of the week was Montreal's How Sad. A synth and rhythm-led indie rock band (who used to go by the name of Goose Hut), How Sad's infectious penchant for pop melodies is at the heart of every song and with new member Katie Lee (formerly of Braids) on hand, the band can only build and grow from here.