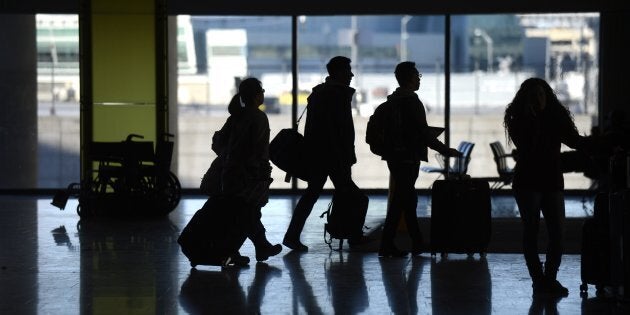 Population growth in Canada has accelerated in the past few years, thanks to higher federal immigration targets meant to help Canada cope with an aging population and a labour shortage.
And while experts generally agree that this will be a boost to Canada's economy in the long run, in the short run the population boom is causing a rental crisis in Greater Toronto, and it appears the country continues to waste the talents of many of its skilled immigrants.
Population growth is "exceeding even the most optimistic demographic projections," Benoit P. Durocher, the senior economist at Quebec's Caisse Desjardins, wrote in a report issued Monday.
Watch: Precarious work is on the rise. Here are 2 solutions to fight back (story continues below)
Some 413,000 people arrived in Canada in the 12 months to July, a growth rate of 1.4 per cent, the fastest among G7 countries. The population passed the 37-million mark earlier this year, according to Statistics Canada.
"Canada has close to double the growth of the second-ranked country, the United States," Durocher wrote.
"However, this quicker growth does not yet appear to be making a significant difference in the number of people who are actually participating in the labour market."
As Canada's population ages, the share of retired people has been growing and the share of people with a job has been declining. This is part of what has led to a record large skilled-worker shortage in Canada this year, with some 400,000 jobs going unfilled in recent months.
The federal Liberals' increase to immigration levels was meant to help halt this trend, among other things, but Durocher says it hasn't been enough.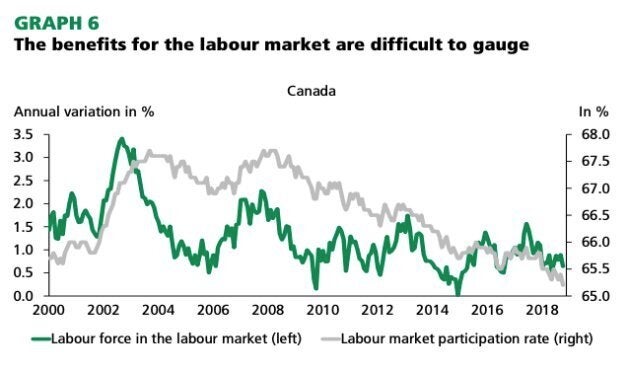 "It is also possible that a certain proportion of new immigrants have still not fully integrated into the labour market and are therefore still not part of the labour force," Durocher noted.
"For now, the faster population growth therefore does not appear to be sufficient to solve the country's labour shortage."
A separate report issued Monday, from the Toronto Region Immigrant Employment Council, suggests even Canada's most skilled migrants are struggling to integrate into the economy.
The report found that immigrants in Toronto — the single largest destination for those coming to Canada — have a jobless rate that's twice as high as among non-immigrants, at 12.5 per cent in 2016. However, the gap has shrunk over the years, the TRIEC report noted.
Women immigrants with a university degree earn on average half the amount of their Canadian-born counterparts, the report found.
"This has barely changed in 15 years," the report said.
Immigrant men with a bachelor's degree have a median income that is 74 per cent of Canadian-born men, the TRIEC report found. But the average male immigrant income was just 41 per cent of the Canadian-born average, suggesting that very few immigrant men are at the top of the income ladder, the report said.
"We need to do more if we are to be able to deliver on the promise of prosperity for all people—including immigrants— and if Canada is to remain competitive in the fight for global talent," the TRIEC report concluded.
The report urges policymakers to look at creating supports specifically for women immigrants; to move away from "Canadian experience" requirements among those hiring; and to create more pathways for foreign credentials to be recognized by Canadian employers.
Toronto housing 'in crisis'
Canada's strong population growth is also boosting the real estate market, something that Durocher sees as a positive development given residential real estate has slowed significantly this year amind higher mortgage rates and tough new lending rules.
"The population aged 25 to 34, often identified as being the age group for first-time home buyers, has also accelerated in recent years in most parts of the country. This boosts demand for homes, which drives residential construction and existing home sales," Durocher wrote.
This "partly offset the adverse effects of the gradual increase in interest rates on the housing market."
"We're at a crisis and we don't even realize it: Our transit, traffic problem and housing problem are urgent matters."Richard Florida, University of Toronto
But the evidence is mounting that Canada's cities are not prepared for an unusually large influx of newcomers. In Greater Toronto, which has seen its population jump by 100,000 in the past year, including refugees and students, the rental housing market is under severe pressure.
Market rents for one-bedroom apartments have soared by 15.6 per cent in the past year, according to data from Padmapper, and now sit at an average of $2,220 a month. The apartment vacancy rate sits at a very low 0.5 per cent. And with the slowdown in sales seen over the past year, developers are cutting back on new home construction.
"We've reached a point now where given the amount of people, industries we're attracting, we are already becoming terribly unaffordable for everyone," University of Toronto professor and famed urbanist Richard Florida told Bloomberg News.
"We're at a crisis and we don't even realize it: Our transit, traffic problem and housing problem are urgent matters."
Disagreement over solutions
The provincial government of Premier Doug Ford recently dropped rent controls on new buildings, something the previous Liberal government had implemented in 2017 in an effort to improve home affordability.
The new government says eliminating rent controls will encourage developers to build more rental housing. Supporters of the previous Liberal policy point out that there were no rent controls on newer buildings until 2017, and yet developers failed to build rental buildings in any significant quantity; there is more money to be made building condos.
Florida suggested Toronto needs to get more creative in addressing its housing issues. For instance, developers could focus on cheaper, faster modular construction of homes.
Still, for all the short-term problems, Durocher says Canada's large immigrant wave will give the country a competitive advantage over countries with slower-growing populations.
"A more rapid population increase means a higher potential for economic growth for Canada in the long term," he wrote.
"It is reassuring to see that Canada is in the lead among G7 countries despite its many demographic challenges. Keeping population growth faster in Canada than in most other industrialized countries could prove beneficial in the long run."
Popular in the Community