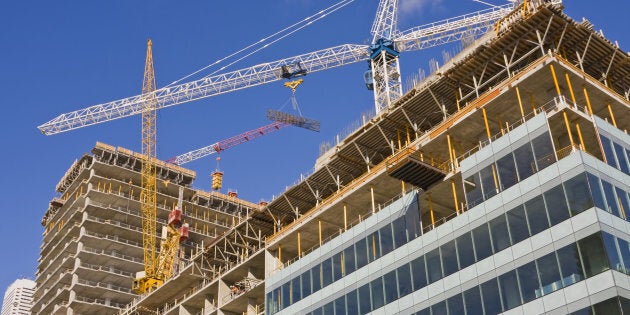 Many Canadian homebuyers are sitting on the sidelines these days, wondering if the slowdown in home sales this year is a sign of lower prices ahead.
Don't bet on it, is the message coming from Bank of Montreal economists. Canada's population growth has accelerated, and that means upward pressure on the housing market, and potentially higher-than-expected interest rates as well.
In an analysis issued Thursday, economists Doug Porter and Robert Kavcic noted that Canada's population passed the 37 million mark in the second quarter of this year, having grown by about 506,000 over the past year.
It's the fastest percentage growth Canada has seen since 1991, making it the fastest-growing country in the G7.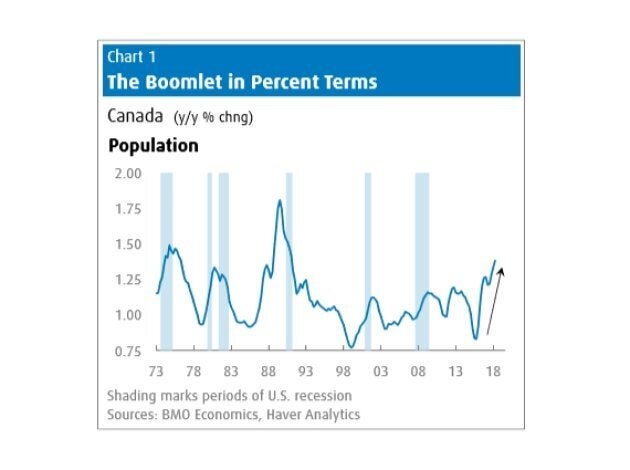 Those numbers are setting some records. "It took two years and two months for the Canadian population to go from 36 million to more than 37 million," Statistics Canada noted in a report last month. "This was the shortest length of time ever observed for an increase of this magnitude."
International migration accounts for the lion's share of this growth. A record 380,000 people moved to Canada in 2017, the BMO economists found.
Much of this is the result of policy. In an effort to offset Canada's aging population, the federal Liberals back in 2016 boosted immigration targets to around 300,000 per year, from the 250,000 pace Canada had seen for years beforehand. The target is set to rise to 340,000 by 2020.
BMO's Kavcic said that some — though by no means all — of the big boost to house prices in the Toronto and Vancouver areas in recent years was the result of this population boom. New home construction is at elevated levels these days, but those high levels may be appropriate given population growth, Kavcic said. And that growth will continue to prop up the housing market.
Canadian home sales took a dive in the first half of this year — they were down 10.7 per cent in June, from the same month a year earlier — but Kavcic says that was the result of tougher new mortgage rules that went into effect at the start of the year, as well as rising interest rates.
"Sales and price activity got heated even beyond what those demographic fundamentals would suggest and now we're seeing a correction response," he told HuffPost Canada. But "we do think sales are going to stabilize and, in fact, they have stabilized in the Greater Toronto Area."
Higher mortgage rates ahead?
For mortgage borrowers, the trend could have a downside. Faster population growth increases a country's economic potential, which can lead to higher inflation, and therefore higher interest rates.
"If estimates of potential (economic growth) are lifted, it would also boost where the Bank (of Canada) would see neutral interest rates," the BMO report said.
Simply put, don't expect a housing bust in the near future — but don't expect lower mortgage rates, either.
Popular in the Community