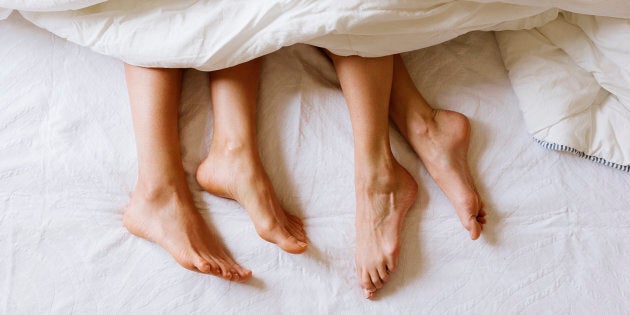 If you're a new parent, your ultimate Valentine's Day fantasy might still involve bed sheets and a blindfold, but in this non-sexy scenario you're also solo, asleep, and your partner is keeping your children entertained somewhere out of earshot.
You're far from alone if your sex life is disappointing, non-existent, or you just plain don't want to be touched after having kids. In fact, a recent Canadian study found that 90 per cent of couples with babies between the ages of three months and 12 months reported at least 10 sexual concerns that they found moderately distressing, including frequency of sex, changes in the mom's body image, a mismatch in sexual desire, the impact of sleep deprivation on sexual interest, and the woman's physical recovery after delivery.
"We wanted to take our research findings and get them into the hands of the people they were intended to help — parents themselves. Brief videos that could be easily shared on social media seemed to be the ideal way to do this," Rosen told HuffPost Canada in an email interview.
The short videos touch on a few key issues (common sexual concerns, empathizing with your partner, differences in sexual interest, understanding sexual needs, and explaining sexual differences) and provide tips and guidance for new parents looking to get their groove back (or who are worried it may never happen).
"New parents are faced with so many novel stressors — one thing they are often not thinking about and not prepared for, are the changes to their sex lives. With these videos we are trying to normalize the sexual concerns of new parents and help open the lines of communication between couples, and also between healthcare providers and new parents," Rosen said.
Rosen and her team from the Couples and Sexual Health Laboratory officially launched the videos at an event on Feb. 12 in Halifax. The #PostBabyHankyPanky hashtag has reached over 460,000 users and made over 1 million impressions on Twitter so far, according to Keyhole analytics.
"Ultimately the aim is to promote happy and healthy sexual relationships post-baby. This is important because sex is a key contributor to sustaining long-term satisfaction in relationships, which is good for the whole family," Rosen said.
"Parents need to give themselves a bit of a break," Rosen said.
"This is a major life transition with all sorts of new stressors and changes and things going on in their relationship and their body, especially for new moms, and a little bit of self-compassion and a little bit of empathy can go a long way."
Popular in the Community